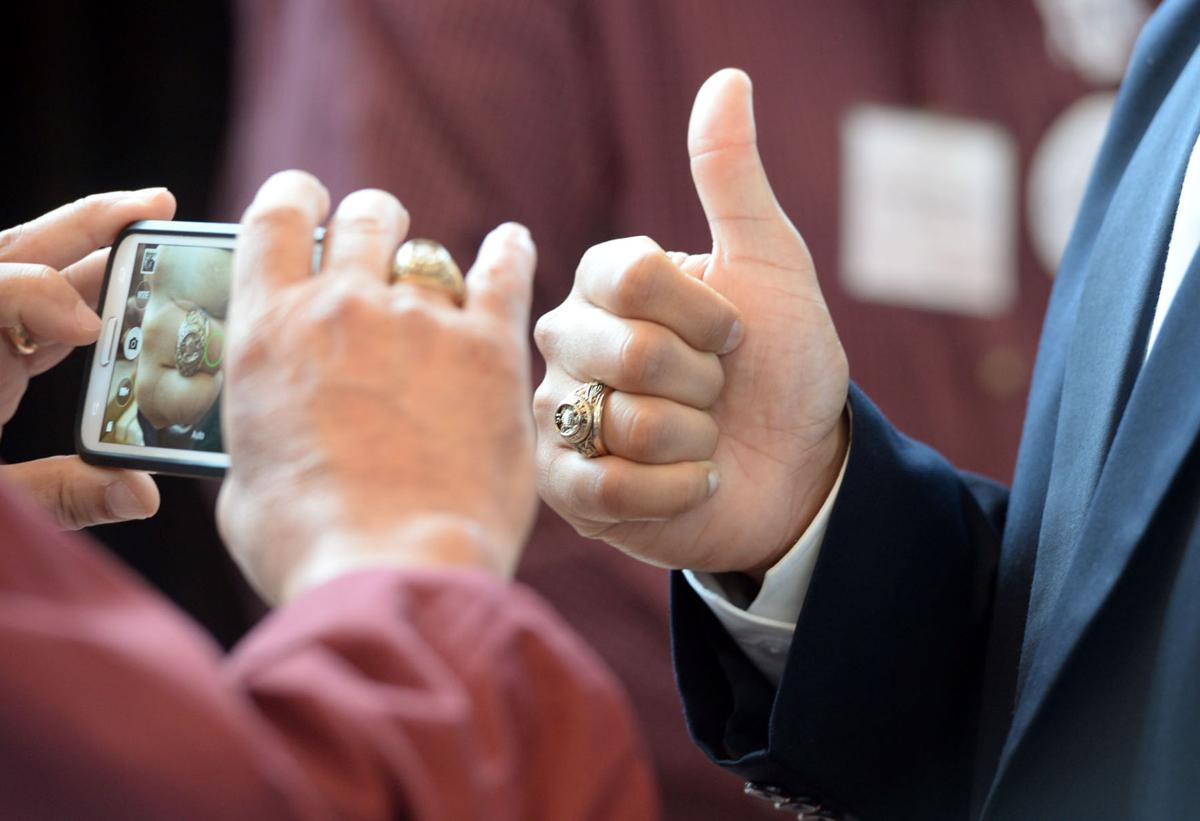 Hours before the big moment, Meagan Petter mentally prepped herself for what thousands had done before her: Christen a new Aggie ring in a pitcher of beer and chug the 60 ounces.
"I'm nervous because you can't just go to Northgate and practice for your ring dunk," the senior recreation, parks and tourism sciences major said. "You have one chance. It's once in a lifetime. You either finish it or you don't."
More than 3,800 rings were picked up by students Friday, the last of three Aggie Ring Day events celebrated since September. An estimated 10,000 rings were purchased and delivered over that seven-month period as part of a tradition that started in 1889 and never stopped.
And many of the symbolism-rich gold bands that an estimated 94 percent of Texas A&M undergraduates buy sink to the bottom of a pitcher of brew before finding a home on the ring finger of an Aggie.
This underbelly of the Aggie ring tradition -- which isn't supported by the university -- was spawned apparently in the late 1970s inside the Dixie Chicken bar when a Corps of Cadets member accidentally dropped his new ring in a pitcher and decided drinking it all was the easiest way to get to it.
That's at least the story that was told to Katy Jackson, vice president of Dixie Chicken Inc., by her father Don Ganter, then-owner of the bar who died in 2004. She said it's a mystery how the tradition spread, as the bar didn't advertise it.
Ring dunking has moved from Northgate's bars and into private events and parties after the Texas Alcoholic Beverage Commission began in 1996 enforcing a state law that prohibits serving more than 32 ounces of alcohol in one sitting.
"It's sort of a rite of passage," Jackson said. "Most people get their rings right about the time they are turning 21. I think it probably just goes hand in hand."
Some medical professionals wish that wasn't the case.
Alcohol poisoning likely isn't a concern with that amount of beer, but Elizabeth Gray, an internal medicine physician at the College Station Medical Center, worries about future compulsive behaviors and alcoholism that events like ring dunk could reinforce.
"They should celebrate their accomplishments in a way that won't put their health in jeopardy," said Gray, a 2004 Texas A&M graduate. "If they do dunk their ring, they should have a designated driver and have friends they could trust."
There are alternatives to gulping a pitcher. One of the students, Emily Koehler, a senior recreation, parks and tourism sciences major, downed 12 shots of a mix of Vodka and Kool-Aid.
"I don't chug," she said. Another alternative Jackson and others have heard of is eating about a pitcher's worth of ice cream.
So what's worse for your health -- a pitcher of beer or a pitcher of ice cream?
"I've got to split the vote on that one," Gray said.
On Friday, at 8:12 p.m. -- in military time, that's 20:12, as in Class of 2012 -- Petter and four friends stood behind a table in her College Station backyard, the moment for which she had been awaiting.
The previous night, she poured Natural Light into her pitcher and whisked it for a few minutes every time she passed by the kitchen. The purpose was to eliminate carbonation and get it to room temperature, the theory being that makes it go down easier.
One accepted ring dunk law of nature is that what goes down usually comes up. That's why Petter stayed away from her favorite, Lone Star Beer, so she wouldn't associate it with vomit.
The crowd of about 40 family and friends began a countdown from 10 as the Aggie War Hymn blared and sparklers and icicle lights lit the darkness. The chugging and cheering began. One person called a "party foul" on Petter for spilling much of her pitcher on her shirt, but there was no referee, not at this event.
All finished. All the beer drinkers -- except Petter -- hurled, some forcefully.
"It was Exorcist-style," said Danny Degollado as a glassy-eyed Alex Martinez, a technology management major, emerged from a dark, grassy corner of the yard that dunkers used to throw up in privacy from the gaggle of cell-phone-weilding amateur videographers.
Petter admits that she spilled at least a beer's worth on purpose. "The beer got in my nose, and I was like, I need to spill a little while I catch my breath and regroup."
She said she's glad she'll never have to do that again. Her time was 1:48.
"I never felt drunk. I just felt extremely bloated and was like, 'Why did I do that?'" she said. She answered her question: "I did it because it's the tradition."
A&M System Chancellor John Sharp, a Class of 1972 die-hard Aggie, was a student before rings were dunked in beer. But he had an explanation for why the tradition endures.
"I like any tradition that involves drinkin' beer," the former student body president said in a text message. "We drank it for no reason at all. It's nice to have an excuse."