Just over 300 members of the Fightin' Texas Aggie Band performed inside Kyle Field for the first time this school year on Wednesday morning. With Col. Jay Brewer's voice projecting out over the empty stands, the band recorded its first halftime drill in advance of Texas A&M's Sept. 26 football home opener.  
After the Kyle Field practice, Aggie Band director and head of music activities Timothy Rhea said in an interview with The Eagle that the current plan is to bring all 330 members of the band to home games and play as normal, though without the halftime drill.
The Southeastern Conference announced last week that bands will not be allowed to perform on the field before games or at halftime for the upcoming season. Bands and spirit squads will also not be permitted to attend away games played at SEC stadiums.
"The halftime drill, which is kind of what we're known for, we're not allowed to do that. It was an SEC decision and not a Texas A&M decision, and we understand that. And we don't have to like it, it's just how it is. So our thing was just how do we move forward with it," Rhea said.
"We were able to record our first halftime drill this morning over in the stadium, and that was spectacular for all of us. It just symbolized 'normal' for the first time in a long time," Rhea said. "We did our normal thing — there just wasn't anybody in the stadium."
Texas A&M Athletics posted a video from Wednesday morning's practice that included Athletics Director Ross Bjork addressing the band.
"Hey, look, I know that it's been unusual — it's not right, maybe it's not fair," Bjork said while wearing a mask and using a megaphone. "But whatever happens this season, we are prepared.
"I can't tell you exactly what it's going to look like throughout the season, but I can assure you that we are doing everything to provide you the platform, you the opportunity to represent this great university — and you do it the best. There is no band in the country that is like the Fightin' Texas Aggie Band," Bjork said.
While in the stands, band members will wear masks and have more space to spread out, Rhea said. He said the practice in the stands Wednesday went smoothly.
"It's gonna be fine. Does it look like it normally looks? Not exactly, but it works very well for the current environment," he said.
Rhea said Brewer, who informs game attendees that the "nationally famous" band is forming at the stadium's north end and guides the crowd through the halftime performance, is retiring at the end of the year.
"This is his last year, and it was pretty emotional for him as well," Rhea said.
Rhea expressed gratitude for the 70,000-square-foot John D. White '70 – Robert L. Walker '58 Music Activities Center, which opened in August 2019. He said that its size, spaces and air filtering mechanisms have made it easier to support the university's various orchestras, bands and choral groups. 
"The concert bands, the jazz ensembles, the choirs, the orchestras — thank gosh we have this great new facility, because if we didn't, we probably wouldn't be having those groups," Rhea said. "It's still very different."
Rehearsal times are limited to 30 minutes before a 15-minute break is needed, he said; student vocalists are singing while wearing masks, as well, and bell covers are being used on instruments, with student musicians printing out their music. As needed depending on their positions, student musicians are wearing masks with slits in them, and he described other sanitizing processes as intense.
Student musicians returned to campus in early August, Rhea said, and staff and students together have adjusted over time.
"While it was very, very different for us the first week, once we got into the second week of it — while it certainly doesn't look like what we normally do, we're grateful to have a musical experience," Rhea said.
Susan Haven, administrative assistant for university bands, said in an email that just over 950 students are participating in A&M music programs this semester.
"Many of our students are doing remote learning from home for the fall due to COVID-19 and are hoping to return in the spring," Haven wrote. "All the practice rooms are in heavy usage. We have an average of 30 students a day coming in on their own time to use them, and about 100 to 170 students per day are using them during their class time. At all times, the rooms are checked out by individuals with only one person per room at a time, and cleaned and locked between uses."
Rhea said Aggie Band rehearsals are all outdoors, a departure from last season's protocol, with more distance between band members than normal.
Asked by The Eagle about COVID-19 cases within the music program, Rhea said, "We've been very fortunate so far."
Instructors worked with students on Zoom over the summer, and Rhea articulated gratitude for the ability to resume face-to-face interactions, however different.
"The students are so happy to be back. They're doing anything that we ask them to do," he said. "Their attitudes have just been wonderful, and they're doing anything possible to make it work."
Aggie Band marches on Kyle Field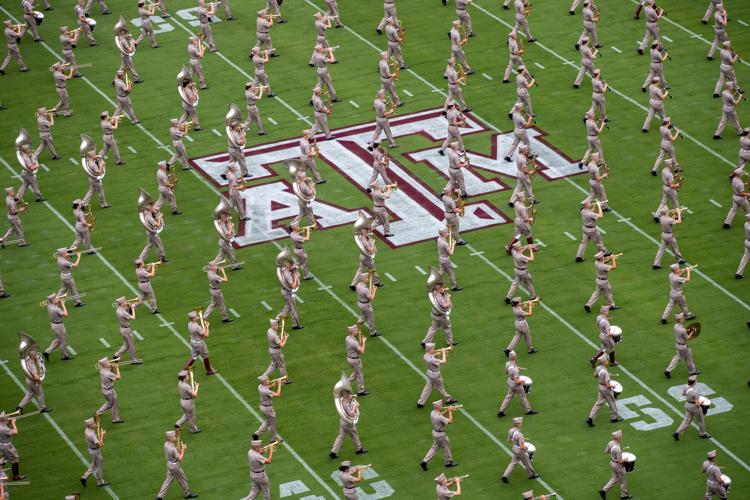 Aggie Band marches on Kyle Field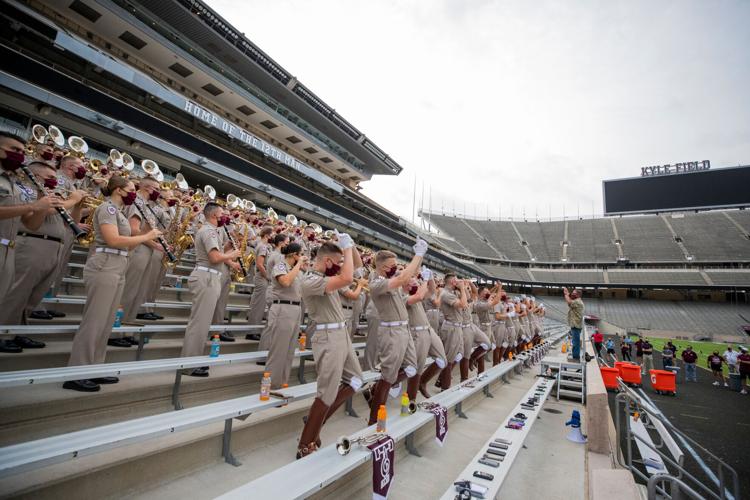 Aggie Band marches on Kyle Field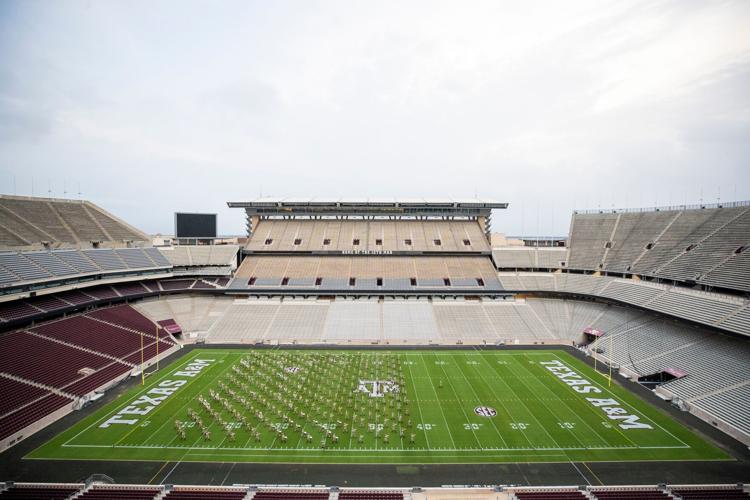 Aggie Band marches on Kyle Field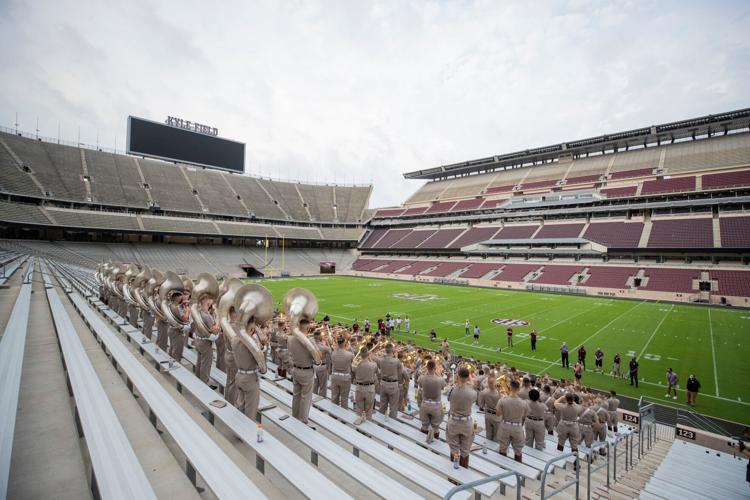 Aggie Band marches on Kyle Field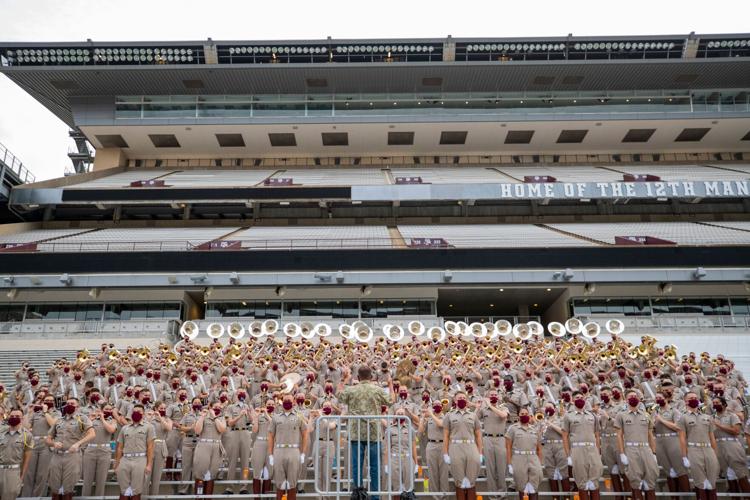 Aggie Band marches on Kyle Field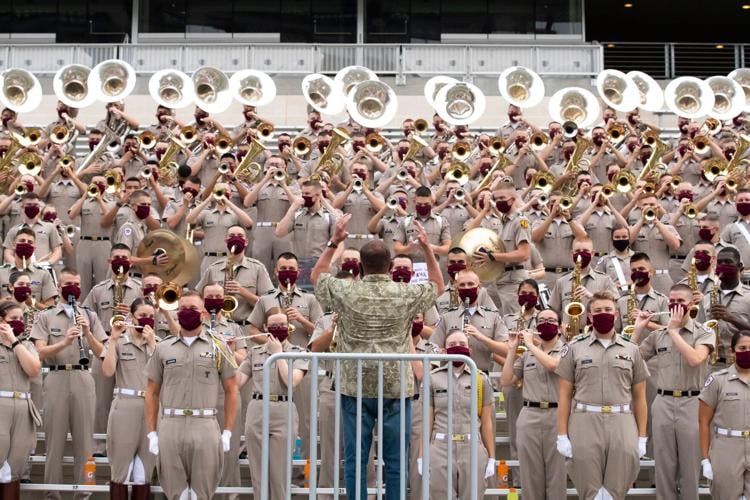 Aggie Band marches on Kyle Field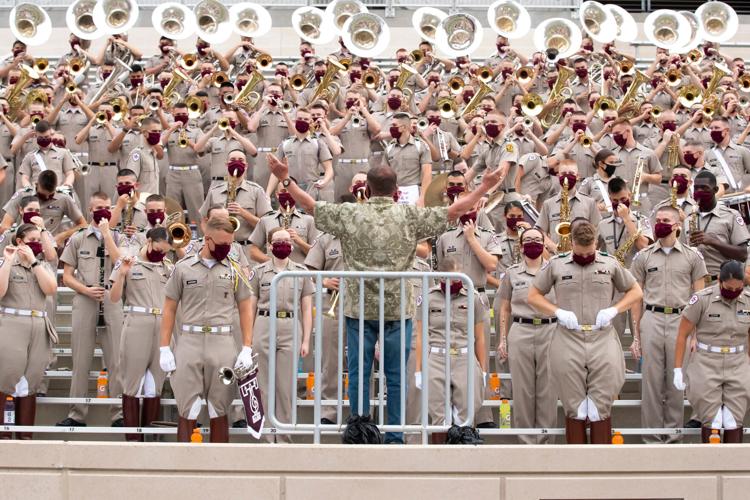 Aggie Band marches on Kyle Field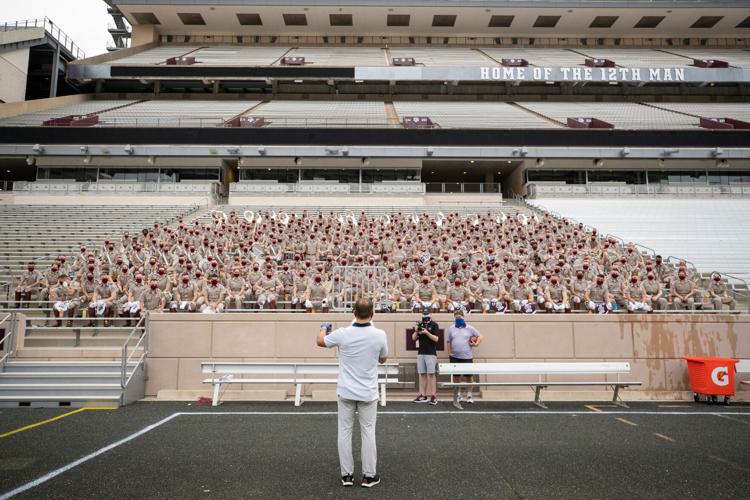 Aggie Band marches on Kyle Field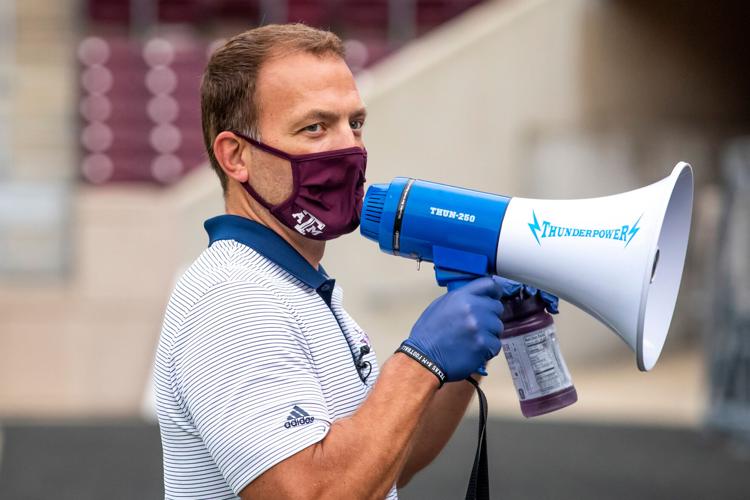 Aggie Band marches on Kyle Field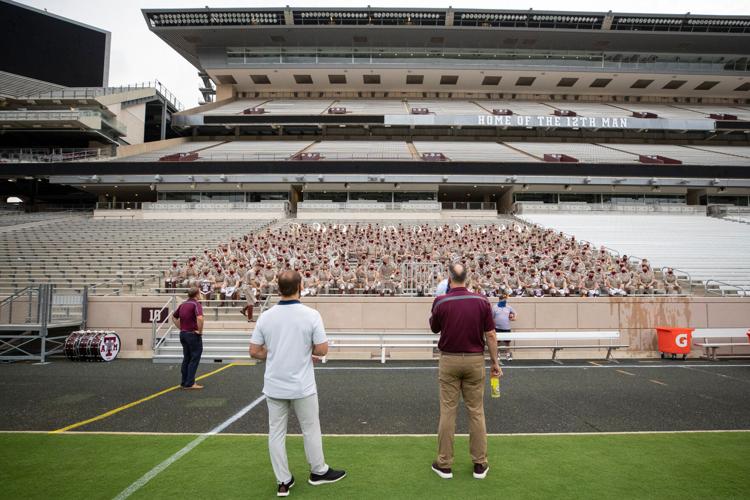 Aggie Band marches on Kyle Field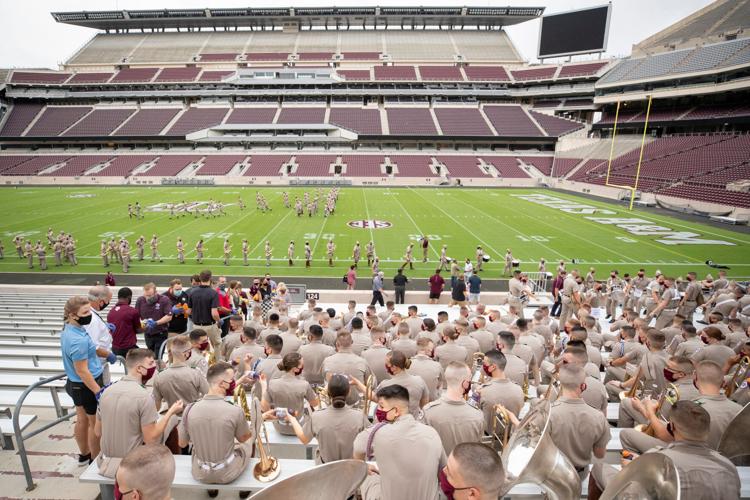 Aggie Band marches on Kyle Field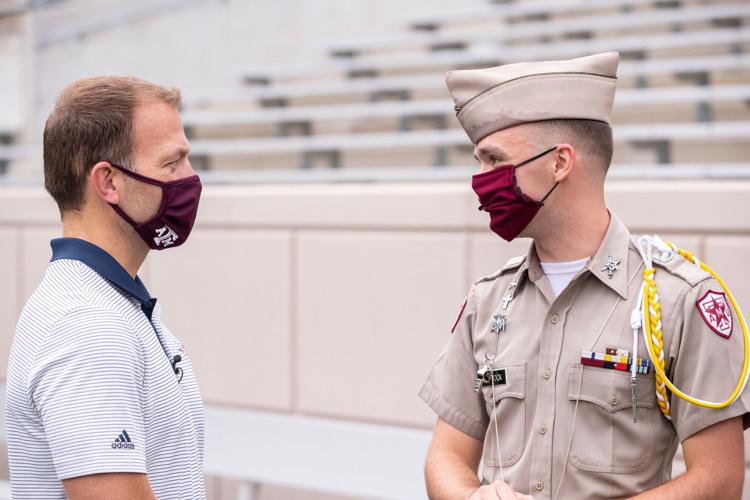 Aggie Band marches on Kyle Field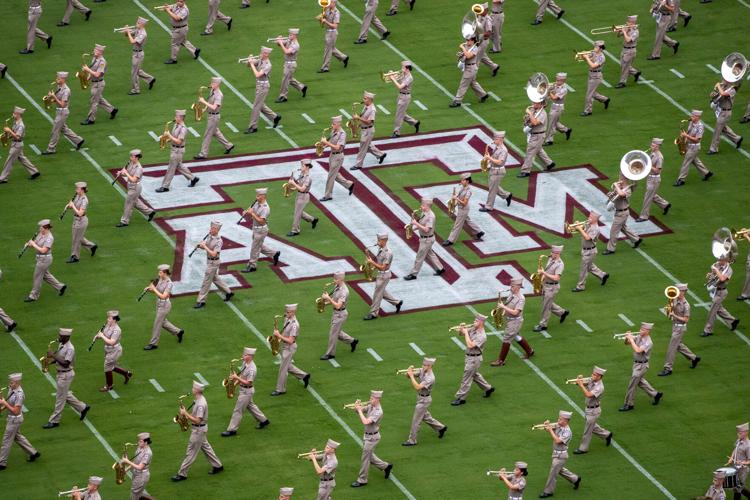 Aggie Band marches on Kyle Field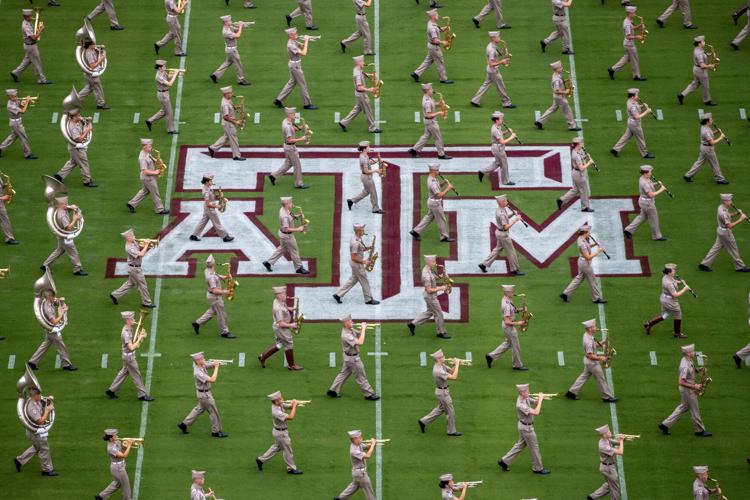 Be the first to know
Get local news delivered to your inbox!