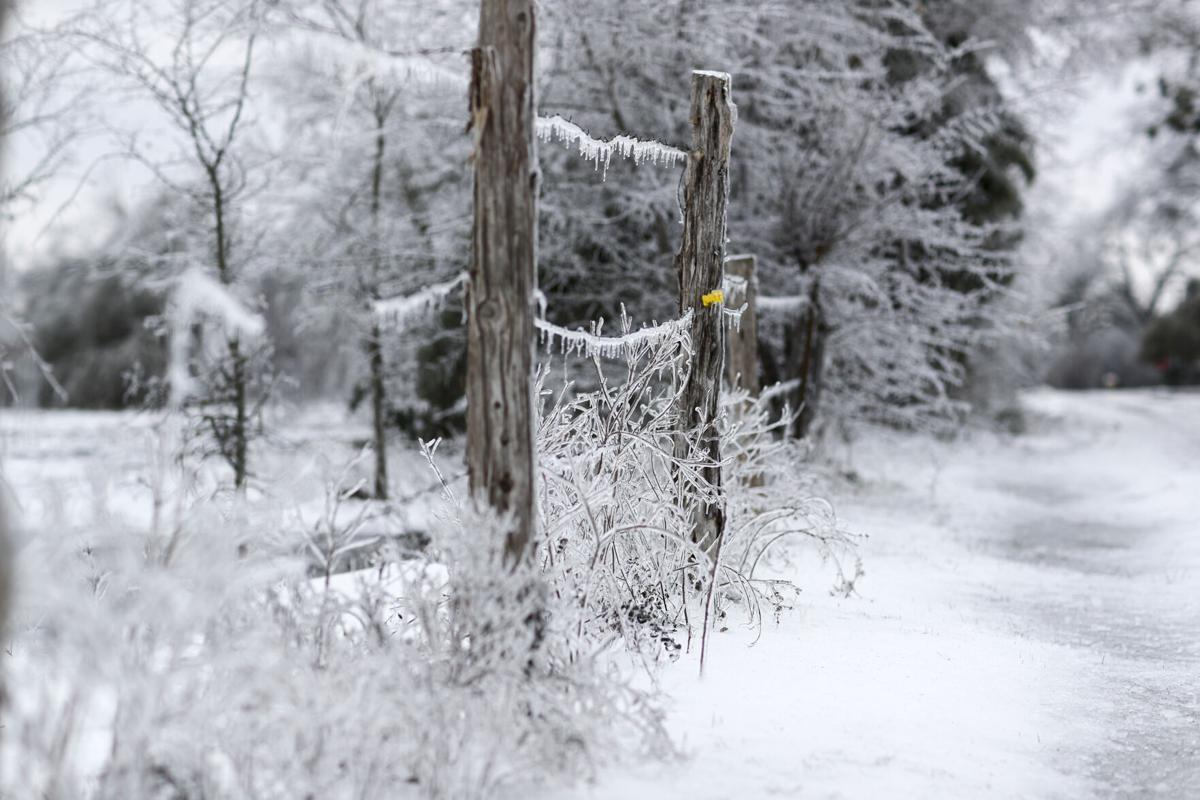 Feb. 11
• TxDOT begins treating elevated roads, bridges overpasses and shaded areas with saltwater solution.
• Navasota Valley Electric crews trim tree limbs and make sure power lines are clean and clear.
Feb. 12
• Texas A&M University moves to asynchronous virtual learning and local school districts begin to cancel classes for Monday and Tuesday in preparation of incoming winter weather. A&M and local school districts would later close all week.
• Winter storm watch issued for Brazos County beginning 3 p.m. Feb. 14 until 6 p.m. Monday.
Feb. 13
• Winter storm warning issued for the entire Brazos Valley through Monday evening. Officials predict freezing rain to turn to snow overnight Feb. 14 with up to 6 inches of snow expected.
• Brazos County officials push back vaccinations at Brazos Center vaccine hub until Friday in anticipation of inclement weather.
• Gov. Greg Abbott issues a disaster declaration for the entire state, warning: "All of Texas is facing an extremely dangerous winter storm."
Feb. 14
• ERCOT warns of rolling blackouts from the evening of Feb. 14 until Tuesday morning due to record-low temperatures and increased demand for electricity.
• The high in College Station was 31, which tied the city's record for coldest high temperature, set in 1895.
Monday
• ERCOT begins rolling power outages at 1:25 a.m. as almost 34,000 megawatts of power are forced off the system. Local utility companies tried to keep rolling outages to 15-45 minutes, but some outages lasted three or more hours.
• Brazos Center vaccine hub closes for the week and reschedules all appointments for next week because of winter weather.
• College Station's high temperature was 19, which set a new record for coldest high temperature. The previous record for the day was 35 in 1951.
• Snowfall from Sunday and Monday amounted between 2.5 and 7 inches in the area, with snowdrifts over a foot.
• Winter storm warning extended through Thursday morning as second winter storm approaches.
Tuesday
• Temperatures dipped to the single digits throughout the area, including 5 degrees recorded at Easterwood Airport — just one degree warmer than the record low for the day set in 1899.
• Brazos Valley lawmakers State Rep. John Raney and State Sen. Lois Kolkhorst say Texas' electrical grid is inadequate and must be fixed. They add the state had deployed an assortment of resources to help amid winter weather conditions and power outages.
• Brazos County Judge Duane Peters signs a disaster declaration for Brazos County due to the winter weather conditions and power outages.
• Reed Arena opens as a warming center for individuals and families in the community impacted by power outages.
• Rolling power outages continued locally and across the state. Between 2 and 3 million Texans remained without power in near record-breaking temperatures.
• College Station's high temperature was 27, which set a new record for coldest high temperature. The previous record for the day was 32 set in 1899.
Wednesday
• City of Bryan asks residents and businesses to conserve water because the city's water pressure is critically low, putting essential services such as firefighting in danger. Later in the day, the city of College Station water services department requests that customers cut back on nonessential water use due to high water demand. In the afternoon, Texas A&M issues a Code Maroon urging people to avoid unnecessary use of water until further notice, as campus water supplies are nearing a critically low level.
• Three warming centers open in Robertson County for individuals and families in the area impacted by power outages and winter weather conditions.
• Boil water notices issued by the Wellborn and Wickson Creek special utility districts.
• As of 4 p.m., 2.6 million Texans were without power, according to poweroutage.us. A total of 46,000 megawatts of generation had been forced offline as of early Wednesday, most of the power being from thermal generation.
• ERCOT authorizes utility companies across Texas to restore power to all customers late Wednesday night as generators across the state began coming back online.
Thursday
• The Brazos Valley's winter storm warning expires at 6 a.m. Thursday, and is replaced by a winter weather advisory due to the residual effects of the ice, sleet and snow accumulation.
• ERCOT announces at 10:30 a.m. that operations have returned to normal after dropping from Energy Emergency Alert 3 to Energy Emergency Alert 1.
• Texas A&M extends availability of Reed Arena warming center until noon Friday.
• Officials plan for 7,000 COVID-19 vaccine doses to be administered at Brazos County vaccine hub next week.
• Chances of wintry mix, sleet, snow officially end in weather forecast.
• U.S. Rep. Pete Sessions says he plans to visit all 12 counties in District 17 over the weekend in an effort to gather information about winter storm damage and infrastructure challenges across central Texas and the Brazos Valley.
Friday
• Final hard freeze warning in place for the Brazos Valley starting at 11 p.m. Friday through 9 a.m. Saturday.
• ERCOT no longer asks for energy conservation as power grid conditions improve.
• The cities of Bryan and College Station tell residents the need to conserve water has passed.
Saturday
• Texas A&M announces that the campus community can return to normal water usage.