LAS VEGAS (AP) — Have you ever wondered what your dog would say if it could speak to you?
FluentPet promises the next best thing — buttons the company says you can train your pet to push if it's hungry, needs to go outside or wants to play.
It's among the latest products shown off by tech companies this week at CES, formerly known as the Consumer Electronics show.
The show officially opened Thursday, with crowds of investors, media and tech workers streaming into cavernous Las Vegas venues to see the latest tech from big companies and startups alike.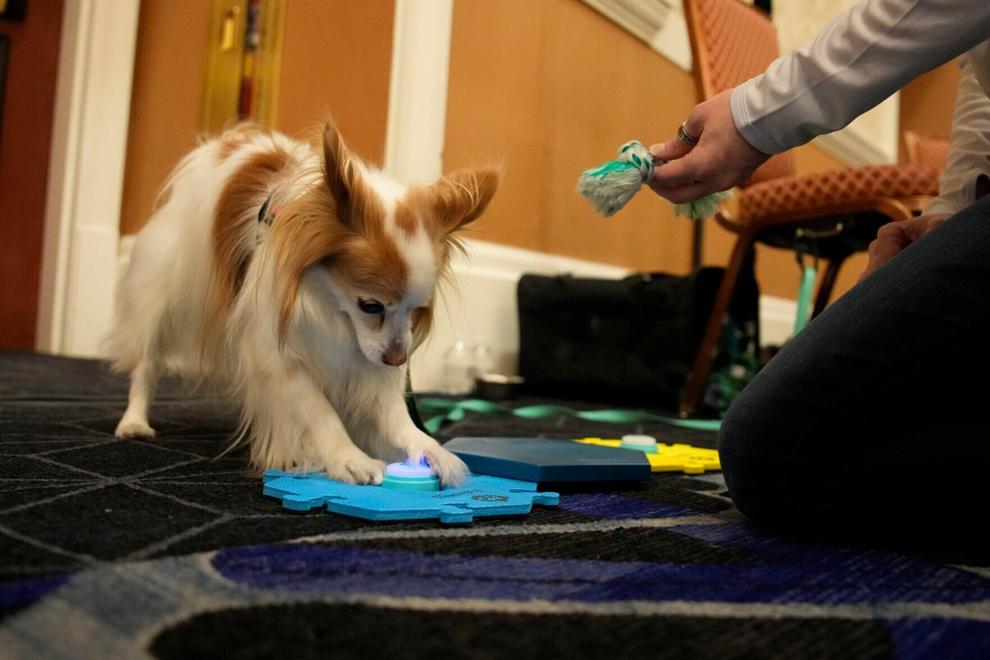 FluentPet's buttons come in a hexagon-shaped plastic mat called a hextile. Hextiles can be connected to each other to form a bigger collection of buttons.
"We find that actually when dogs kind of know that they're being understood because they have the precision and specificity of the buttons, then they complain less because they're no longer wondering whether they actually communicated what they wanted to," said Leo Trottier, FluentPet CEO.
At CES, the company announced FluentPet Connect, a new app that notifies owners when their dog presses a button and collects data on how the buttons are used.
Fluent Pet's starter kit comes with hextiles, a speaker and six buttons for $159.95. The app does not require a subscription.
Robot dog
Meet Dog-E, the excitable robodog.
Unveiled by toy maker WowWee, Dog-E has more than a million possible combinations of lights, sounds and personality traits.
Dog-E begins as a blank canvas and develops its personality as you set it up.
The app-connected toy has audio sensors to hear sounds, touch sensors on its sides and body, and a tail that you can program to display lighted icons and messages when it wags.
Jessica Kalichman from WowWee says it's a good option for those who can't commit to owning a real pup, or perhaps for those with allergies.
"I do think for anyone that's either not ready to have a dog yet, this is a great test to take care of it, learn to feed it, nurture it, and really have that trial run for a family," she said.
WowWee expects to have Dog-E in stores in September. It will sell for $79. The app to control the toy's movements does not require a subscription.