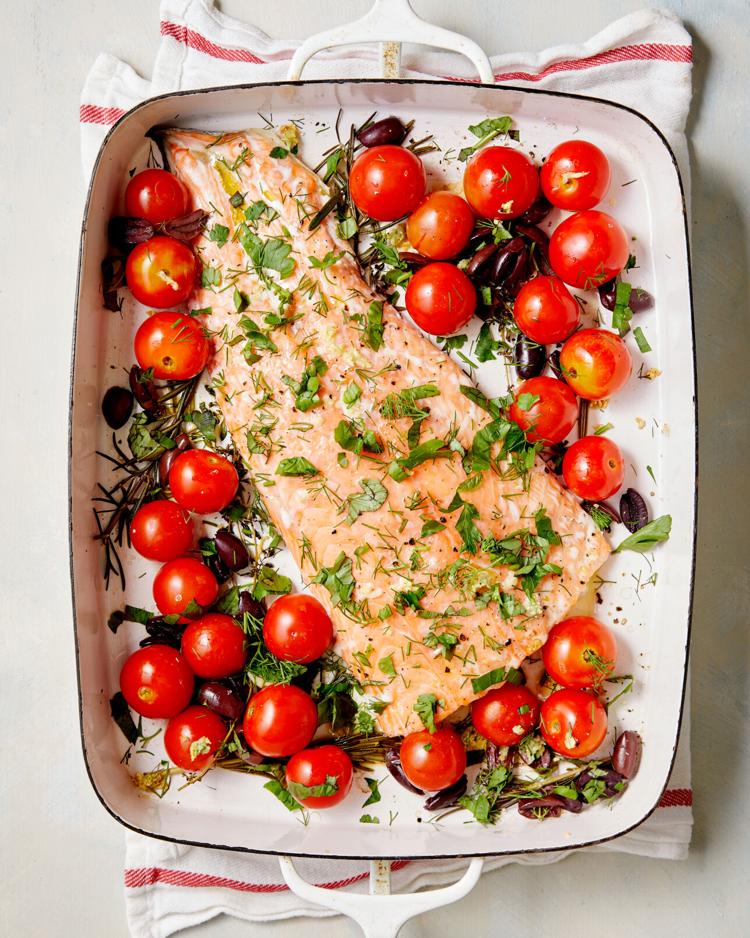 When tender, flaky salmon mingles with warm, juicy tomatoes, briny Kalamata olives, an abundance of fresh herbs and lots of garlic, the result is an effortlessly show stopping dinner that bursts with flavor in every bite. I suggest carrying the entire baking dish to the table and enjoying it family style, with some crusty bread, a simple green salad, and a nice, cold bottle of your favorite white wine. It's just the fancy-feeling, feel-good meal you need.
The second key building block in the Mediterranean diet
I recently shared the first key ingredient of the Mediterranean diet is vegetables. Today, I'm here to talk about fish. Specifically, the Mediterranean diet focuses on heart-healthy fish, which are fish that contain a high amount of fats that have been shown to benefit your heart and other bodily systems. These are unsaturated fats rather than saturated, which can have the opposite effect.
The unsaturated fats that you'll find in certain varieties of fish are called omega-3 fatty acids. They're good for your heart because they can help to lower cholesterol, reduce blood clotting, and decrease you risk of heart disease. Beyond this, they've been shown to aid in eye health, brain health, and even help fight anxiety and depression. You'll find the highest level of omega-3 fatty acids in salmon, Arctic char, mackerel, anchovies, sardines, rainbow trout, and — surprise! — oysters.
Salmon is easily the most well-loved of heart-healthy fishes, and it's for good reason: There are near endless ways to enjoy it. Here, I'm sharing my family's favorite.
Salmon that's impossible to mess up
In all my years of cooking salmon, I've found slow-roasting to be the most foolproof. By lowering the oven to 250 F, you completely avoid the risk of drying it out.
Since you're roasting at such a gentle temperature, you can also toss in ingredients that are typically prone to burning in the oven. Here, garlic and sprigs of rosemary and thyme perfume the salmon rather than char, while whole cherry tomatoes and Kalamata olives become perfectly warm and juicy. Finish everything off with a generous scattering of tender herbs like basil, parsley or dill.
Slow-Roasted Salmon with Garlicky Tomatoes, Olives and Herbs
6 sprigs fresh rosemary, thyme, or a combination
1 (1 1/2-pound) skin-on salmon fillet
2 pints cherry or grapes tomatoes (about 4 cups total)
1/2 cup pitted Kalamata olives
3 cloves garlic
1/2 teaspoon kosher salt
1/4 teaspoon freshly ground black pepper
2 tablespoons olive oil, plus more for the baking dish
1/4 cup loosely packed fresh tender herbs, such as parsley, basil or dill, or a combination
1. Arrange a rack in the middle of the oven and heat the oven to 250 F. Coat a baking dish, large enough to hold 1 (1 1/2-pound) salmon fillet with space around it, with olive oil.
2. Spread out 6 sprigs fresh rosemary or thyme in the baking dish. Lay the salmon skin-side down in the center of the dish. Arrange 2 pints cherry tomatoes around the salmon.
3. Halve 1/2 cup pitted Kalamata olives and mince 3 garlic cloves. Sprinkle the olives on top of the tomatoes and the garlic over both the salmon and tomatoes.
4. Sprinkle 1/2 teaspoon kosher salt and 1/4 teaspoon black pepper generously over the salmon and lightly over the tomato mixture. Drizzle 2 tablespoons olive oil evenly over everything.
5. Bake until the salmon is cooked through and flakes easily, 25 to 35 minutes. An instant-read thermometer inserted into the middle of the thickest part should register 120 F to 130 F for medium-rare, or 135 F to 145 F for well-done. Total cook time will depend on the thickness of salmon. Meanwhile, coarsely chop 1/4 cup loosely packed fresh tender herbs.
6. Sprinkle the chopped herbs over the salmon and tomatoes before serving.
Recipe notes: Leftovers can be stored in an airtight container in the refrigerator for up to two days.
(Sheela Prakash is senior contributing food editor to TheKitchn.com, a nationally known blog for people who love food and home cooking. Submit any comments or questions to editorial@thekitchn.com.)
Satisfy your cravings
With our weekly newsletter packed with the latest in everything food.