Oysters Rockefeller originates from the iconic New Orleans restaurant, Antoine's. It was created in 1899 when the chef ran out of escargot and substituted oysters on the half shell. The recipe stuck, and now it is considered a classic of American continental cuisine. 
At Rudee's on the Inlet Restaurant & Cabana Bar in Virginia Beach, Virginia, Oysters Rockefeller has become a staple on the menu the nearly four decades the restaurant has been open. At the restaurant, they sell six or 12 at a time for sharing as an appetizer. Chef Tim Booker says, because they are very rich, one person typically eats two or three, though he admits, "I've seen some at the bar eat a dozen a time for dinner." Booker spent summers as a child in Urbanna, Virginia, home of the annual Virginia State Shucking Competition. He pays homage to his roots with this Oysters Rockefeller recipe.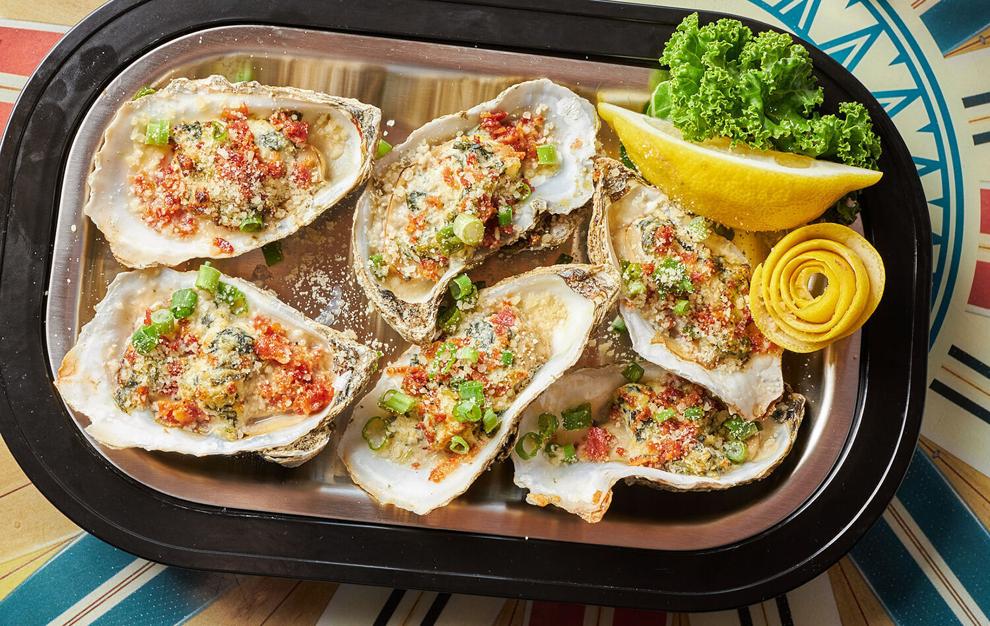 ---
Oysters Rockefeller
8 oz bacon, cut into ¼-inch pieces
24 oysters
1 bag (5 oz) fresh spinach, chopped
8 oz whipped cream cheese, softened
1 tsp Dijon mustard
1 tsp Tabasco sauce
1 tsp Worcestershire sauce
½ tsp refrigerated prepared white horseradish
½ cup grated Parmesan cheese, divided
green- or red-leaf lettuce leaves
½ cup chopped green onions
1 lemon, cut into wedges
Preheat oven to 400°F. Meanwhile, in 12-inch skillet, cook bacon over medium heat until browned and crisp, stirring frequently; drain bacon. Shuck each oyster to remove and discard top half of shell, making sure to scrape the oyster muscle off top of shell. Loosen and release the oyster muscle from bottom half of each shell. Arrange bottom halves of shells on large rimmed baking pan.
In large bowl, stir together spinach, cream cheese, mustard, Tabasco sauce, Worcestershire sauce, horseradish and ¼ cup Parmesan cheese until well blended.
Top each oyster evenly with cream cheese mixture, then sprinkle with bacon. Bake oysters 10 to 15 minutes, depending on oyster size, or until golden brown and oysters become plump and start to curl at edges.
On desired number of plates, arrange a few lettuce leaves; top with oysters. Sprinkle with green onions and remaining ¼ cup Parmesan cheese; place lemon wedge on plates to squeeze over oysters.