At Frannie & The Fox, the Charleston, South Carolina, chef, Tim Morton, prepares homemade goat cheese-filled pasta with summer tomatoes two ways, including a sumptuous, fresh heirloom tomato broth.
This recipe is adapted by Feast and Field, streamlined with store-bought cheese tortellini, making it a quick, yet sophisticated, weeknight-friendly or company-ready entrée.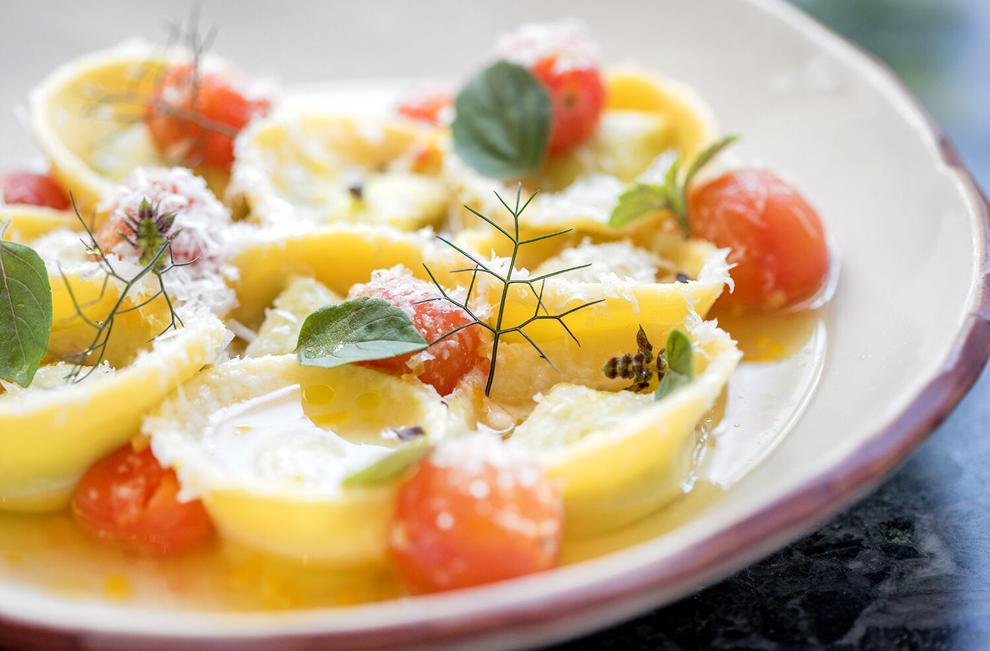 ---
Cheese Tortellini in Fresh Tomato Broth
1 package (20 oz) fresh or frozen cheese tortellini
3 lemons
2¼ pounds heirloom tomatoes, stem end removed and tomatoes cut into chunks
4 Tbsp extra virgin olive oil, divided                              
½ tsp salt, plus more to taste
1 pint cherry tomatoes
freshly ground black pepper
4 large basil leaves, plus more small leaves for garnish
freshly grated Parmigiano-Reggiano cheese
Heat large covered saucepot of salted water to boiling over high heat; add tortellini and cook as label directs. Drain pasta.
Meanwhile, from lemons, grate 1 teaspoon peel and squeeze scant ½ cup juice; transfer peel and juice to 3- to 4-quart saucepan. Add heirloom tomatoes, 1 tablespoon oil and ½ teaspoon salt and heat over medium heat just until tomatoes break down and become gently warmed, stirring occasionally.
In large skillet, heat 1 tablespoon oil over medium-high heat until hot but not smoking; add cherry tomatoes and cook until skins begin to burst, swirling pan occasionally. Sprinkle tomatoes with salt and pepper; set aside.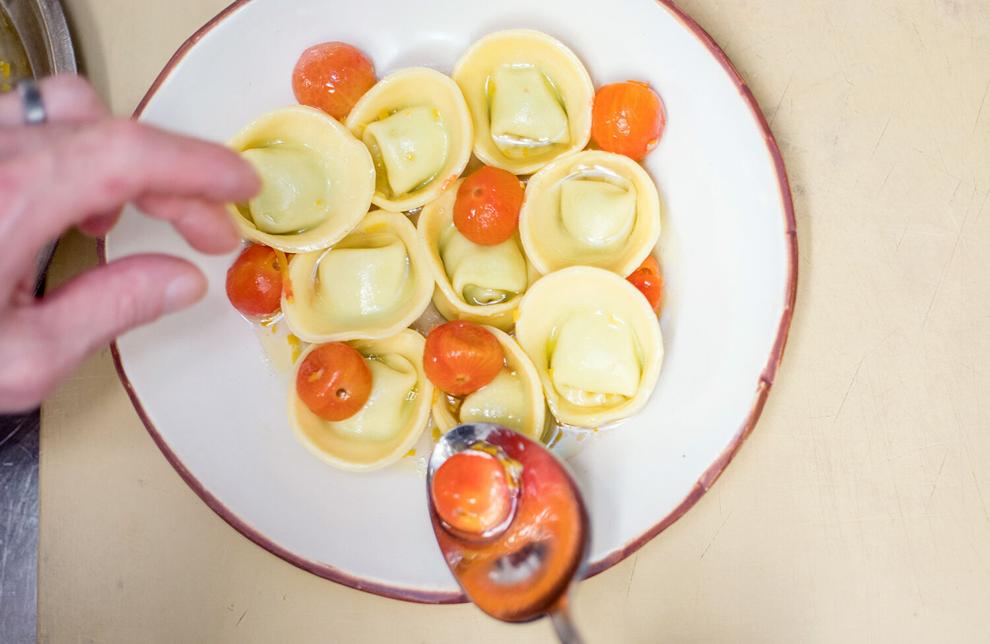 In blender, add basil and remaining 2 tablespoons oil; blend until basil is pureed. Add tomato mixture to oil in blender; cover blender with lid removed to allow steam to escape. Blend until mixture is pureed. Pour tomato mixture through cheesecloth-lined strainer into large bowl, pressing on any solids to release liquid. Add salt to tomato broth to taste.
Divide pasta between each of 4 pasta bowls; pour tomato broth evenly over pasta. Arrange cherry tomatoes around pasta and sprinkle with cheese and basil leaves to serve.