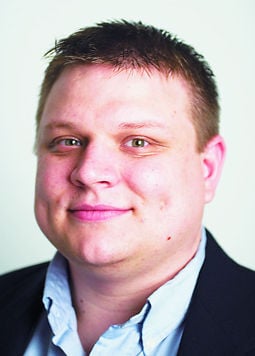 On opening weekend of this deer season, I was ready. Not first thing in the morning, of course. That would be silly.
I've never been one to beat the sun to the deer stand. It just never made much sense to me. First, who wants to get up that early? And second, what are you going to do the rest of the day if you shoot a deer at the light of dawn?
So about midafternoon, I headed out to my stand. It wasn't too long before there was a bevy of activity. I sat and watched a few does walk around, then heard a rustling right by the door to my stand. I figured it was an armadillo, the way it was crashing around, and I could actually feel it under my feet as it struggled to get under the stand.
The ruckus went on for a bit too long, so I figured I'd open the stand door real quick and scare it off. When I opened the door though, I didn't see an armadillo, but instead about a foot and a half of snake tail.
Despite my highly disciplined hunting protocol, I may have uttered a few choice words as I watched the rest of that snake disappear under the stand and under my feet. I knew it wasn't a copperhead or a rattlesnake, but that only put me slightly at ease.
All the noise and moving around got the attention of one of the does I had seen earlier, and she commenced to snorting at me. She was pretty mad at my presence. I tried to stay as still as I could so maybe she'd forget I was there, but she continued to stomp and snort.
I saw something out of the corner of my eye. When I turned — comically slowly — to see it, I realized it was a buck, and a pretty good one at that. I guess he had come to see what all the commotion was about.
He was right in the glare of the sun, and all I could tell was he was big. I raised my rifle just in time to get a glimpse of him in the scope as he turned to leave, and confirmed that he was in fact a good buck. But he left before I could shoot, and then the cows came in.
The cows we have like to fancy themselves great sportsmen. You can almost always count on them to come "help" when you are sitting in a stand. I figured between the big buck leaving, the snake under my feet and the cows bellowing that my hunting spot was blown.
There was still a lot of daylight left as I trudged back home. Along the way I saw a spike that needed to be removed from the gene pool, and I figured a spike was better than nothing. After I shot him, he turned and ran about 10 yards straight into the tank, because of course he would. I fished him out, loaded him up, went home and cleaned my wet deer.
It wasn't the best day hunting, but it beats any day at the office. If your office is farmland, then you may be looking at some high fertilizer prices in your future. In our cover story we take a look at the reason behind the increase and what you should do going forward.
In this issue we also have news from around the ag industry as well as the latest on upcoming sales and events. Hope you enjoy it, and as always, thanks for reading.