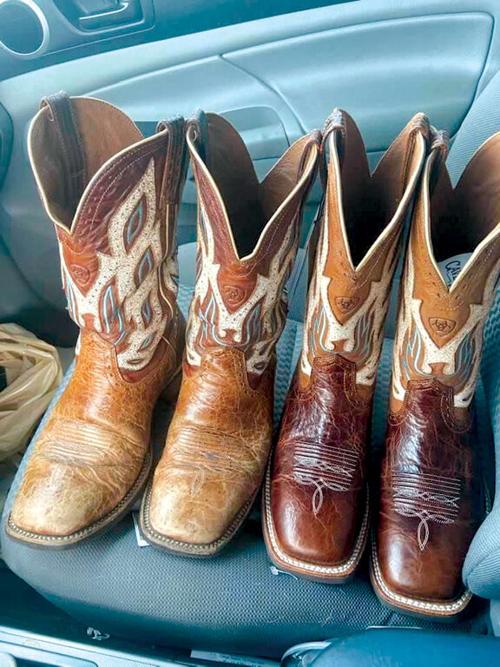 I have a jar in my closet where I keep my spare change. I'll also throw any big bills in there the few times throughout the year that I acquire them. I try not to rob from it. In fact, if cash is needed, I will usually opt to go to the ATM for new money and put whatever change is left into the jar. I took a peek in the jar recently and was pleased to see that it was pretty full. My birthday is a few weeks after Christmas, so I added the windfall cash I got as gifts to my little nest egg and realized I had enough for a new pair of boots.
I probably would have sprung for a new pair of boots sooner, but with no cattle conventions and limited client visits this year, I didn't have too many people to impress. So I kept clomping around in my old Ariats and they got worse and worse. We went to a wedding recently, and I tried to shine them up as best I could, but they just didn't clean up like they once did.
So I found myself at the boot store, wandering the aisles in my socks and telling a salesperson every two minutes that I didn't need any help. I must have spent an hour going up and down the aisles, trying on boots and hemming and hawing over which pair to get. My last pair had held up for more than six years. I know this because I bought them the day before the Texas & Southwestern Cattle Raisers convention, which was in San Antonio in 2014. The reason I am so sure of this date is because I almost injured myself by breaking in a pair of boots by walking all over the convention center and Riverwalk for three days. There were blisters.
As I was recounting the good old days when my old boots were new, I saw them: the exact same pair of boots I purchased in 2014. Same brand, same style, same size, but new and shiny. I thought it was ridiculous at first to repurchase the same boots, but when I put them on and took a lap around the store, I knew they were going home with me.
I'm still in the honeymoon phase with my new boots. I take them off gently each night and put them away nicely. I avoid puddles and mud. I quickly wipe clean any detritus that may find its way upon my new shiny boots. I still have the old pair, but they have been demoted to hunting boots and live in the garage next to my mowing shoes.
As we march right into 2021, whether you are marching with new boots or not, there is a lot of work to be done. We have stories in this issue to help you along the way, including the latest news and information from around the ag industry. Hope you enjoy it, and as always, thanks for reading.
---