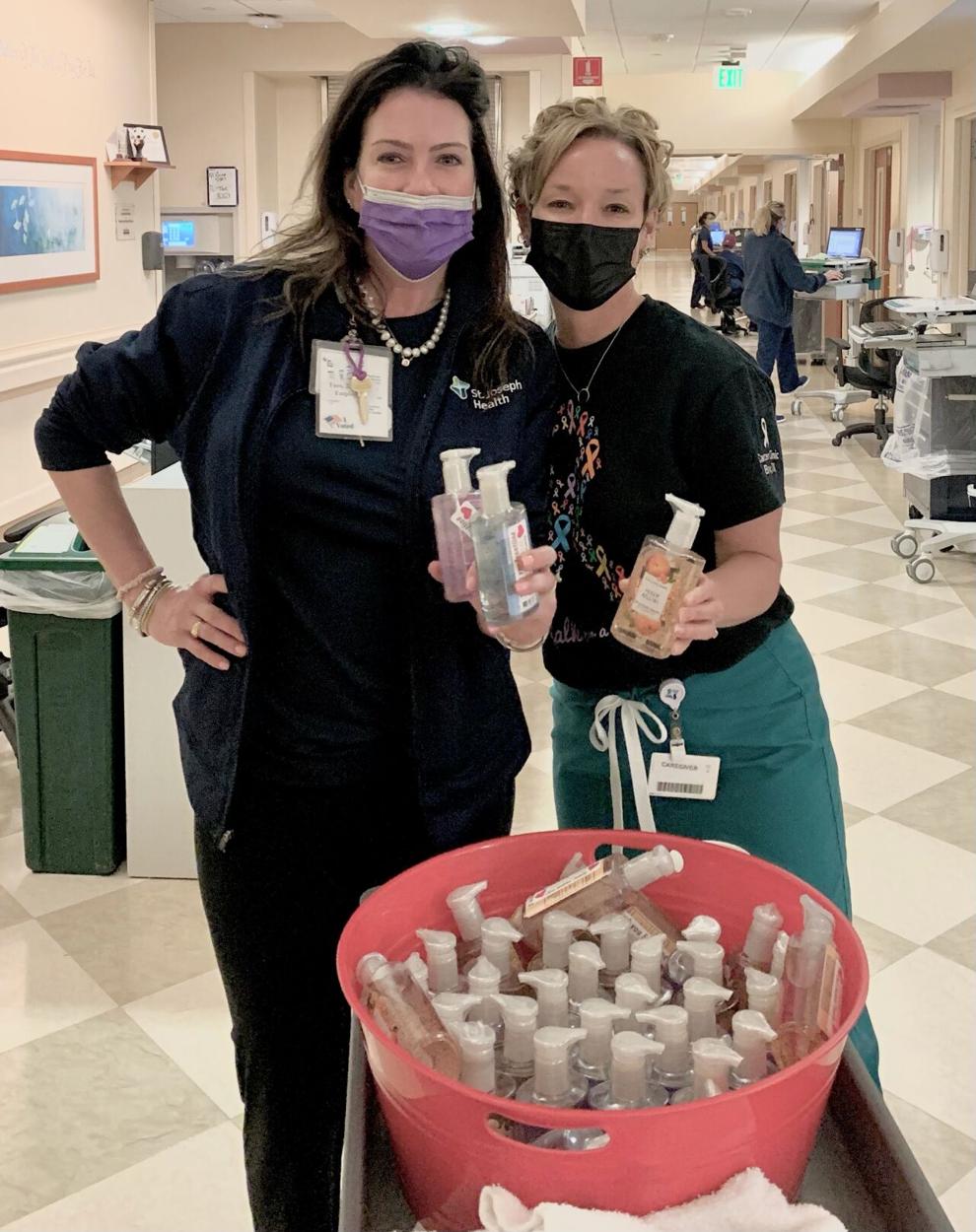 St. Joseph Health nurse Heather Weedon Bankston, RN, has a nurse superpower – motivating people and organizations to give back in little ways that make a big impact.
"She has such a talent for inspiring people to tap into their giving nature," said Lisa Paramo, nurse manager in the emergency department at St. Joseph Regional Hospital in Bryan.
This superpower came in handy during the height of the pandemic when Bankston put her office position on hold to work in the intensive care unit as a COVID liaison to support hospital staff and patients. It was there that she saw overwhelmed nurses and health care workers who needed support.
"Heather was seeing that the nurses were not eating food, so she just made a couple phone calls and suddenly food was turning up, which made a difference because it is very common for us to be too busy on our shift to eat," Paramo said. "But during that highly critical time, staff members were literally not having time to go down to the cafeteria to buy food and stand in line – there was just no spare time, so that was a huge help."
Bankston organized an account on Facebook through which the community could donate money for food for health care workers at the hospital. And the community responded.
"This community is awesome," Bankston said. "On Friday, I put that post up and by Monday morning, I had about $2,500 already donated to feed our staff."
Also, because Bankston grew up in the community, she knew owners of several restaurants, including Longhorn Tavern Steak House, Yesterday's and Joe's Place, that stepped up to donate food. The food was a way for Bankston to give back to fellow employees and friends who were going through trauma seeing people die or having relatives die.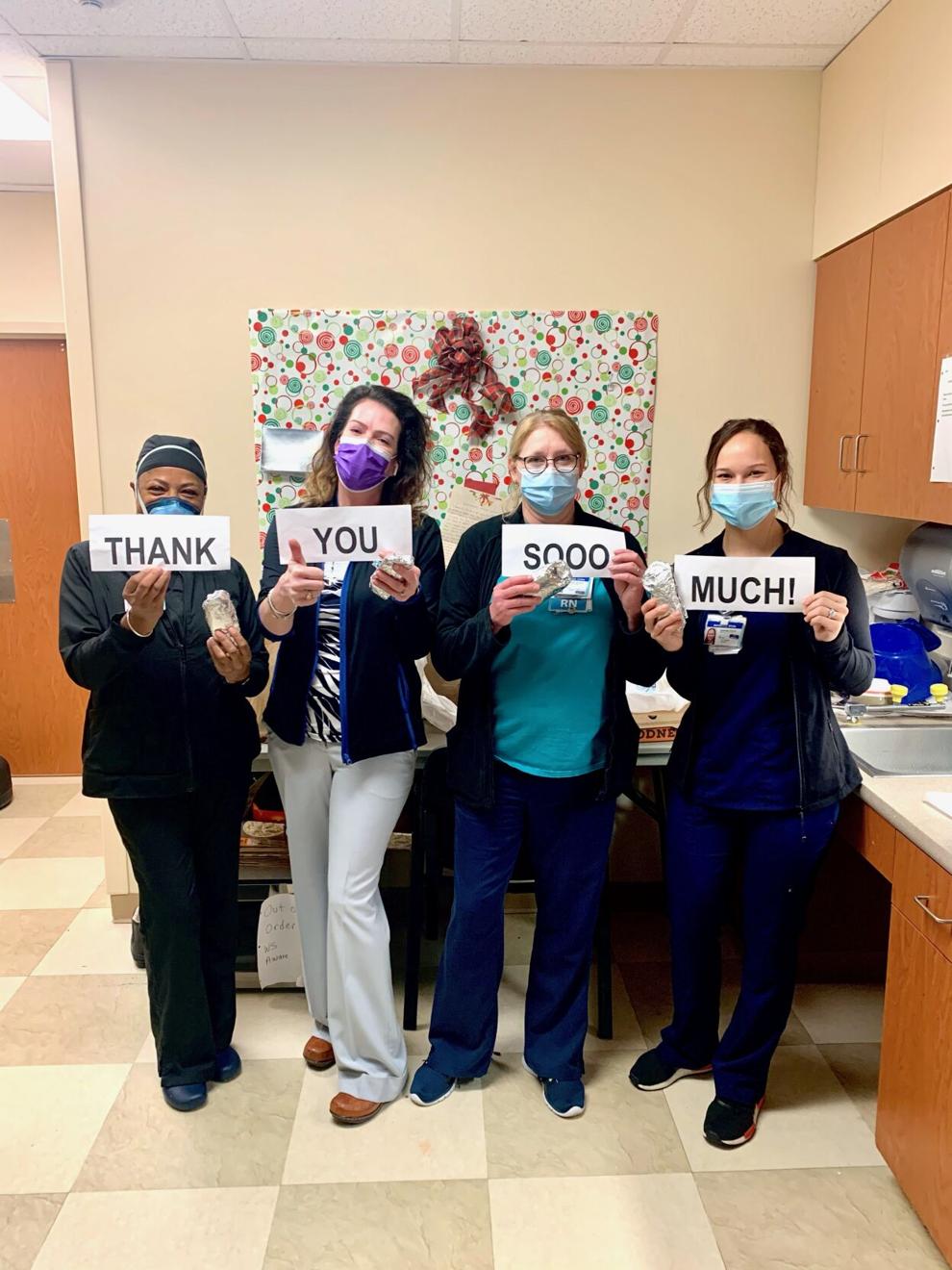 "I have worked at St. Joseph going on 21 years now, so I have worked a long time with a lot of people, and I saw my co-workers struggling and needing help," Bankston said. "They were working long hours and days on end – 13 hours a day and coming back to work five to six days in a row. In that case, you don't have time to come home and cook and take care of your family, and at that time, there were so many patients with COVID, and it was daily that someone was dying, and it was heartbreaking. You'd come home and cry every day. I had to figure out how to help the staff."
Other examples of Bankston's ability to notice needs and motivate others to fill those needs include getting a punching bag for overly stressed nurses. When she saw that COVID patients' phones were dying and many of them didn't have phone chargers, she reached out to local cell phone companies and got thousands of cell phone chargers donated. This allowed patients to be able to talk to their families directly to relay desperately wanted information.
"It was a little fix for a big problem that made a big impact on how the patients felt – they didn't feel quite as isolated," Paramo said.
Communicating to family members is very important to Bankston, and during COVID, she helped keep them informed when visits weren't allowed.
"She's very talented at being able to communicate complex things at a level anyone could understand," Paramo said.
Her ability to communicate with others comes naturally, said David Bankston, Heather's husband.
"She is really just a cheerful person – she comes in and just lights up the room," David said. "So, when they needed someone to lighten the load and lighten the mood, Heather did that. With no extra pay or incentive, she didn't have to do nearly as much as she did – it was overwhelming, and of course it was dangerous, but she volunteered to go into ICU. She just said, 'They need me.' She is that kind of person – a go-getter."