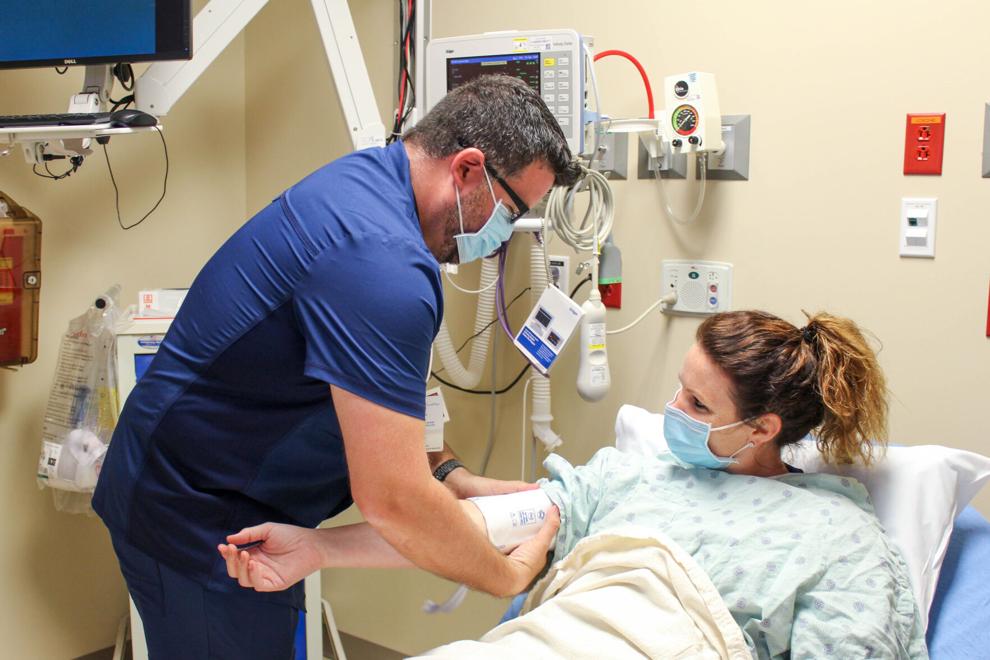 When Doug Fuentes, RN, was growing up, his mother's medical issues had a big impact on him. Needing to be in and out of the hospital often, he learned at a young age how crucial caring nurses can be.
"Growing up, it was just her and I – it was just the two of us," Fuentes said. "I was with her, and I got to see how nurses can impact people. There were nurses that would come in, and if we had a bad day, if we saw this nurse, we knew things were going to get better."
As a nurse at Baylor Scott & White in College Station where he gets patients ready for surgery and helps take care of them after surgery, he implements the same kind of care he wanted for his mother.
"I told myself I would do my best to take care of them (patients) the way I would want my mother to be taken care of and how everyone should be taken care of," Fuentes said. "We see people at their low places, so when you see these patients and their family, you try to do your best to help them out and to make things the best they can be for them in the situation."
Over the seven years Fuentes has been a nurse and after becoming a board-certified medical surgical nurse and receiving his Master of Science in Nursing Leadership & Management, one of his most important roles remains making sure patients feel heard.
"It's just listening to them, talking to them. It's doing a little thing like getting someone a warm blanket," Fuentes said. "Over the years, you learn to read the room and maybe the patient is OK, but maybe their family members are sitting there, and they're scared, so you just ask, 'Hey, you ok? We are going to take great care of your family member. They are in great hands.' So, it's just being there and sometimes it's just listening. Sometimes people just need to talk, and they just need that ear… and you just let them talk. Sit with them for five to 10 minutes, and they are feeling better about things – they feel like they are being understood."
It is his genuine, calming demeanor that helps patients feel at ease, said Kenna Jackson RN, BSN, CAPA; supervisor for preadmission testing/preop/phase II recovery at Baylor Scott & White Hospital.
"This quality is definitely invaluable and helps alleviate fears and/or concerns for those he cares for on a daily basis," Jackson said.
During the pandemic, on some of his off days, Fuentes picked up extra ICU task nurse shifts.  When there were mandatory staff rotations to the ICU as task nurses, Fuentes volunteered to be a substitute for a teammate because he felt some of the work would be too strenuous for his teammate's back, Jackson said.
There were a lot of health care workers doing things they didn't normally do – that's just part of the job. One of the core values at Baylor Scott & White is that everyone is in it together, Fuentes said.
"We had to go where we were needed," Fuentes said. "I went to the ICU department for shifts and helped them out. I was learning new areas and new things. That's what being a nurse is. So, the more knowledge you gain, the better you are – you learn new techniques. … If you're a nurse, you're there to help people wherever that is."
Becoming a nurse required a career shift for Fuentes as he transitioned from journalism and advertising, but it's one that he does not regret.
"I do love helping people, and I think that's one of the biggest reasons I became a nurse," he said. "I talked about my mom, but also my wife and kids are essential to what I do. … My wife was there and helped me through school."
The final reason, however, for becoming a nurse comes down to his love for his family.
"My wife and kids are my why," Fuentes said.