There are legendary figures in music. And then there is Willie Nelson.
To illustrate the widespread influence of the longtime country star, consider this sample from Texas singer-songwriters.
· The first song Robert Earl Keen learned on guitar was Hello Walls. And Keen skipped his senior prom to see Nelson play The Half Dollar Club in Houston.
· Randy Rogers counts a Willie Nelson-branded guitar, drum kit and bandana among his prized childhood possessions.
· Wade Bowen can't recall too much about his first Nelson concert — because he was "around 6 or 7."
· Pat Green's first memory of music on the radio is hearing Luckenbach, Texas, while his father and uncle sang along.
Nelson's remarkable longevity in music — 50-plus years and counting — means he's seen and done just about it all, and few artists can approach his impact. From his Fourth of July Picnics to his Farm Aid charity shows. From We Are the World to Woodstock '99. From duets with Ray Charles and Waylon Jennings to duets with Kid Rock and Snoop Dogg.
At 81, the native of Abbott, Texas, is still smoking. His latest album Band of Brothers, released in June, was praised by critics and topped Billboard's country album charts. He made the cover of Rolling Stone in August — for the first time since 1978. On Nov. 6, he sang with President Barack Obama at the White House.
And the seven-time Grammy winner still is a workhorse on the road. Nelson returns to Aggieland for a concert Monday at Rudder Auditorium, presented by MSC OPAS. So it seemed an appropriate moment to ponder all the reasons why we love Willie.
Or, as Green asks in response: "What's not to love?"
Even the most casual music fan likely knows a chunk of Nelson's catalog. But before On the Road Again and Always on My Mind, before the braids and bandanas, before "Waylon and Willie and the boys," Nelson was a struggling Nashville artist in the 1960s with a clean-cut look and a prolific pen. He wrote big hits for other artists — Crazy (Patsy Cline), Night Life (Ray Price), Funny How Time Slips Away (Billy Walker) — but was far from a household name. As he sings in Me and Paul, "I guess Nashville was the roughest."
But that doesn't mean his work went unnoticed in Texas. Lyle Lovett was introduced to Nelson's music through his parents' Price albums. He just didn't know it at the time.
"I was in high school when I sort of discovered who Willie Nelson himself was," the Grammy-winning Texas A&M graduate says. "And then I realized, 'Oh, gosh, he wrote those songs.'"
Nelson returned to Texas in 1971, and made his way to Austin. The hair grew long and the sound more gritty. Audiences — including the hippies and cosmic-cowboy crowd at the legendary Armadillo World Headquarters — embraced the man Nashville would not. They were rewarded with a string of hit albums: Shotgun Willie, Phases and Stages and Red Headed Stranger.
"I guess a lot of times, people that become what he became have some great transformation," says Keen, an A&M graduate. "So when he transformed into what we know as Willie Nelson — Willie, everybody's friend — and came out with Shotgun Willie, it was the same time that I was on fire with the idea that music was the best thing in the world. And he was my champion."
Nelson has the uncanny knack of swerving into other genres without wobbling. He has albums dedicated to gospel (The Troublemaker, 1976), blues (Milk Cow Blues, 2000), reggae (Countryman, 2005) and jazz (Two Men With the Blues with Wynton Marsalis, 2008).
But strictly in terms of albums, it's hard to top Stardust, his landmark 1978 collection of standards produced by Booker T. Jones. Nelson's distinct vocal style and phrasing turned out to be a natural fit for Blue Skies, Georgia on My Mind, Moonlight in Vermont and All of Me.
"He's doing Irving Berlin songs and show tunes, almost," Keen says. "And he did them with a certain amount of elegance that most country singers couldn't even comprehend, much less execute."
Nelson notes in his 2006 book, The Tao of Willie, that he was known as a "long-haired outlaw" by that point, and his label wasn't terribly impressed with the project.
"Of course, when the album stayed on the charts for 10 years — and eventually sold 10 million copies — they wanted to know how I found all those great old songs," he wrote. "But I didn't find them — those songs found me, and they did it over the airwaves when I was a boy, listening to the music of Hoagy Carmichael and Bing Crosby late into the night."
The album still holds up as one of Nelson's best. In August 2013, he performed Stardust with an orchestra at the Hollywood Bowl. Lovett and his Large Band served as the opening act for that one-time event, which he calls "an incredible experience."
"Stardust is a great album, and it just speaks to Willie's versatility musically," Lovett says. "... To have done Stardust with Booker T. as the producer speaks to his collaborative spirit. Willie teaches us that any style of music can be good. He underscores the lesson that we all sort of hold onto: There are only two kinds of music — good music and bad music. It doesn't matter what style of music it is, as long as it's good music, and you play it with that kind of enthusiasm that he brings to everything he does."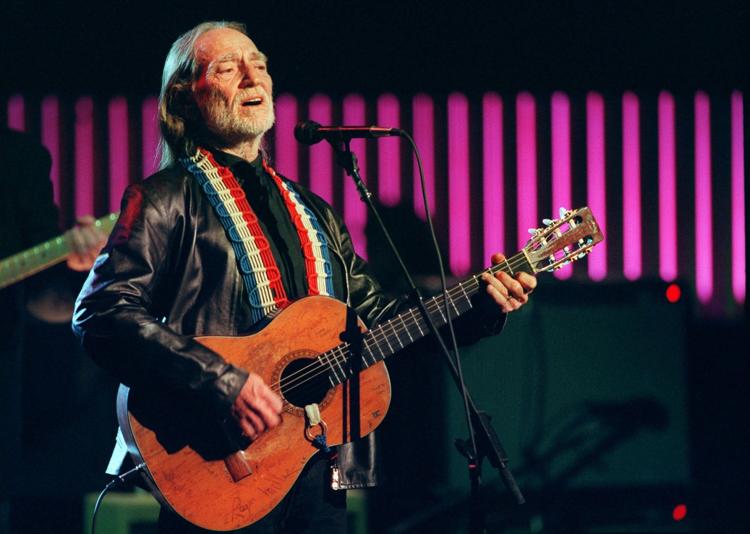 Pat Green answers the question — "What Willie song means the most to you?" — before it's even complete.
"Angel Flying Too Close to the Ground," he blurts out. "I think the intro line ... the first time you hear a song, it takes on meaning in your life. I had to rewind the cassette to listen to it again: 'If you had not have fallen, then I would not have found you.' And it's about an angel. It's just such a great come-out line. It's really well-crafted."
Keen calls on an early Nelson track, Mr. Record Man, as his personal favorite. Lovett says he can't pick just one, but is especially appreciative of Funny How Time Slips Away (his rendition of it with Al Green won a Grammy in 1994).
Though a portion of Nelson's signature songs come from other writers — Blue Eyes Crying in the Rain (Fred Rose), Pancho and Lefty (Townes Van Zandt), Whiskey River (Johnny Bush) and City of New Orleans (Steve Goodman) — his own writing from all stages of his career is admired. As Lovett says, "He's written some of the world's greatest songs."
For younger artists, there's a treasure chest of material beyond what makes Nelson's outlaw-era hit compilations. Singer-songwriter and Texas A&M graduate Granger Smith described discovering Nelson's deep roster of songs by going backward as he got older, from "ponytail Willie" to "short-haired Nashville Willie."
"And then you realize Willie's history in country music, and the songwriting he did," Smith says. "I mean, Crazy is crazy, no pun intended. So appreciation of where he came from and how he got there came later with me."
… and Willie the collaborator
It's common for veteran artists to bring in younger voices for a career-energizing duets album. We've seen it with Frank Sinatra, Carlos Santana, Tony Bennett, Elton John and others.
Nelson has indulged, trading vocals with Sheryl Crow, Carrie Underwood, Lee Ann Womack, Norah Jones, Miranda Lambert and Toby Keith, to name a few. But it doesn't seem to be the same attention-grab attempt for Nelson. He's always excelled as a collaborative artist, with Price, Jennings, Merle Haggard, The Highwaymen and many others.
Some of the duets are comical (hello, Snoop Dogg) but many are adventurous. Take the 2008 jazz album with Marsalis. Hearing two masters of their genres team up for Bright Lights Big City and My Bucket's Got a Hole in It is wildly entertaining.
And then there is To All the Girls I've Loved Before, Nelson's 1984 curveball with Spanish star Julio Iglesias. It may have seemed like an unlikely pairing — and was memorably mocked by Johnny Carson — but it was a massive country and pop hit.
Randy Rogers teamed up with Nelson for Trouble Knows My Name in 2013, and mentions To All the Girls in describing Nelson's artistic passions.
"It's an example of how living your life and being honest and true to who you are just stands the test of time," Rogers says. "Not having any boundaries. He would go record with Julio Iglesias, which is completely unheard of. He did what he thought was cool, and it didn't really matter what everyone else thought at the time."
No local concert will likely ever top Nelson's rowdy Fourth of July Picnic in 1974 at the Texas World Speedway. Keen's memorable tale of woe — hearing that a parking lot grassfire had burned up his car — only enhanced the legend of the three-day festival.
Nelson's near-constant touring means he has graced plenty of other stages in Bryan-College Station, including Wolf Pen Creek Amphitheater, Hurricane Harry's and the old Texas Hall of Fame.
And those songs, those classic songs he wrote, and the ones he brought out of the Great American Songbook to share with new audiences. Hearing them live — for the first or the 50th time — is enough to make an evening to remember.
"Willie Nelson will provide you with an experience that you cannot find anywhere else," Lovett says. "Willie Nelson is unique. And to hear those great songs live, in Willie's voice and performed by him, is a powerful and moving experience. As much as you can appreciate Willie's art by listening to him on his recordings, to see Willie live gives you an extra dimension of appreciation for him."
The nature of great artists means their work carries on long after they're gone, and that certainly will be true of Willie Nelson. His music is as much a part of the American fabric as that of Robert Johnson, Bob Wills, Hank Williams, Duke Ellington, Elvis Presley and Ray Charles.
All the more reason to savor the moment, and to show appreciation for why we love Willie.
"I think the best thing about Willie is he's just everywhere," Green says. "He's just everywhere."
"Willie Nelson will provide you with an experience that you cannot find anywhere else. Willie Nelson is unique. And to hear those great songs live, in Willie's voice and performed by him, is a powerful and moving experience. As much as you can appreciate Willie's art by listening to him on his recordings, to see Willie live gives you an extra dimension of appreciation for him."
Stay up-to-date on what's happening
Receive the latest in local entertainment news in your inbox weekly!