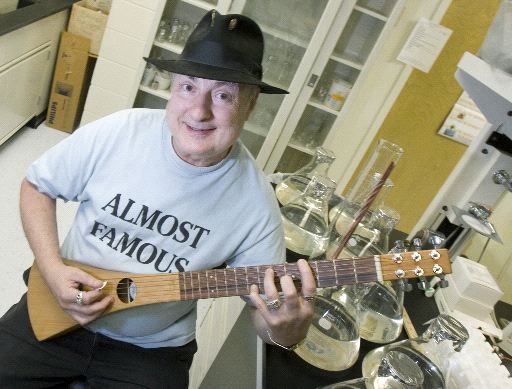 "Sneaky" Pete Rizzo said he has been blessed with a good memory but added that it's declining with age.
Maybe the statement is a little self-deprecating humor. After all, the Texas A&M University biology professor is releasing his 10th album Friday during an in-store performance at the Hastings in College Station. And, while Rizzo said his memory is fading, he also said his drive for writing music - with nearly 150 satirical songs to his credit so far - remains strong.
"It's a hobby and escape for me. It keeps me going - you know, like if a grant doesn't come through or I'm having trouble with students. You see people at a football game blowing off steam by yelling and cheering. I get that kind of release [through my music.]"
He hopes Friday's show, which starts at 7:30 p.m., is a throwback to the 1980s and 1990s when he hosted the weekly "Sing Along with Sneaky Pete" shows at the defunct Crooked Path Ale House in Northgate.
Although most current students won't remember Rizzo's popular performances (the regular sing-alongs ended in 1997), they might have an older brother or sister who joined Rizzo a decade ago when he crooned Booger in My Beer Mug or My Karma Ran Over My Dogma.
"I recently had a girl in my class who told me her mother was in one of my biology classes," said Rizzo, 55, as he broke out into laughter.
The affable professor's latest album, Country Fried Sneaks, is a compilation of 14 old songs and two new ones - a culmination of 30 years of songwriting. Since he began writing songs, 17 have been featured on the California-based Dr. Demento radio show.
Although satire and parodies are Rizzo's specialties, he started out playing in a Chicago-based blues band. And when strumming his first guitar, purchased in 1958, the youngster dreamed of touring the nation like the Rolling Stones.
"I bought [that guitar] for $13 and thought I'd just play it. But nothing happened [when I tried to play], so I left it in my closet for a year before I bought some books and taught myself."
His musical aspirations took a back seat to school, and Rizzo went on to get his Ph.D. from the University of Michigan.
In between grading papers, teaching classes or doing research, random melodies would sneak into his head. Or he'd hear a song on the radio and come up with his own lyrics.
One of his favorites is Waking Up is Hard to Do, a drowsy derivation of Neal Sedaka's Breaking Up is Hard to Do.
"I've always had a good sense of humor. It's not any kind of cure-all, but it helps keep you young and healthy."
And what about those sing-alongs? Does a new album mean Sneaky Pete will resurrect his weekly gigs for a new generation of local college students?
Rizzo would resume the Wednesday sing-a-longs if he found the right place, he said. "I don't see a proper venue right now. [The sing-alongs were] a blast. I'd stay out late and then get up early on Thursday morning and be less tired than I was on other days. I guess it's that adrenaline rush. It was like therapy for me."