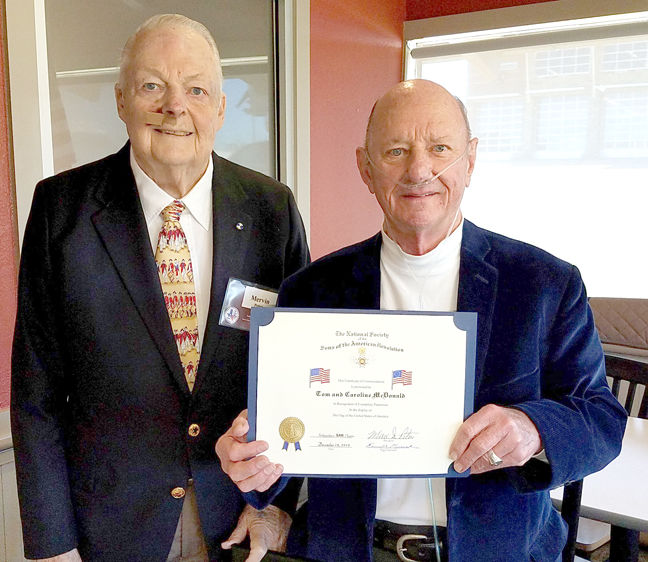 Those who knew Judge William "Tom" McDonald Jr. say the former judge will be remembered for his love of the community and of others.
McDonald, who turned 81 on Monday, died Wednesday.
State Rep. John Raney knew McDonald for 50 years and said the Bryan natives' different political affiliations — Raney a Republican and McDonald a Democrat — could not get in the way of their friendship.
"Life would not be much fun if we didn't have those kind of friendships," he said.
Raney noted that McDonald and his wife, Caroline, traveled to Austin in 2011 to support him as he was sworn in as a state representative.
"For a real strong Democrat to come to Austin to be there when I was sworn in, that's a mark of a person who is concerned about the community and not particularly about politics," Raney said. "That touched my heart, and my wife, too, that they would make that effort to come because of a long-term friendship."
In his legal career, McDonald served as an assistant district attorney in Travis County, as an assistant county and district attorney in Brazos County, as county attorney for Brazos County and as district attorney for Brazos County, according to McDonald's obituary. In 1978, he was elected as district judge of the 85th Judicial District, a position he held through 1990 and his father held before him. Beginning in 1991, McDonald served as a senior district judge throughout the state.
Patricia Gerling, president of the Community Foundation of the Brazos Valley, said he was always "Judge McDonald" to her because her first time interacting with him was as a juror during a murder trial he presided over in the late 1980s.
"It was a tough three weeks for us as a jury," she said. "I just really admired his steadfast nature — very gracious and very sensitive — as he worked with jurors on a three-week-plus trial."
Since 2014, she got to know McDonald as a philanthropist, remembering last year on McDonald's 80th birthday when he and his wife established eight charitable endowments at the Community Foundation to leave a legacy to honor the people who had impacted or changed their lives.
Throughout his life, McDonald received many awards and recognitions for his career and community involvement.
"A legacy for Tom McDonald was not about him," Gerling said. "He really believed in that he benefited from life experiences, from people who came into his life and how he wanted to be able to share that love of life and to be able to pay it forward so that others that would come after him would continue to benefit from a donation that he made in honor of someone else."
One of those endowments was for St. Andrew's Episcopal Church in Bryan, of which he was a lifelong member and a great "churchman," said the Rev. Daryl T. Hay, rector at the church.
"He was one of the pillars of St. Andrew's for many years," Hay said.
In addition to a leadership role, McDonald served a pivotal role in maintaining and improving the church's buildings and grounds over the past 20 years. The endowment helps ensure the church is not only maintained, but thrives, he said.
Raney said McDonald is someone the community will miss for a long time, adding that he will be remembered at the annual Atticus Finch Day and the various charitable events he attended and supported.
"We don't have many people that are as involved in the community. There are people that are involved, but it's awful difficult for many people to be as involved as Tommy was," Raney said. "He enjoyed it. That was his entertainment; that was his passion. I think that most of us sit back and say, 'Somebody else will do that,' and Tommy was not that way."
McDonald is survived by his wife, Caroline; son Scott, of Bryan; son Don, daughter-in-law Amanda and grandchildren Hunter and Grace, of Camp Verde; sister Lucy Ellen Harris; and nephew Garrett Sanders, of San Antonio; sister-in-law, Mary Peyton Cochran of Charlotte, North Carolina; and brother-in-law, Peyton Sweeney Jr. and wife Maggie, of Lago Vista.
There will be a private family service, but a public memorial service had not been announced as of Friday evening. People are asked to honor McDonald's memory by contributing to the St. Andrew's Building Fund, the local fund of St. Joseph Hospital, the Community Foundation or to the charity of their choice.