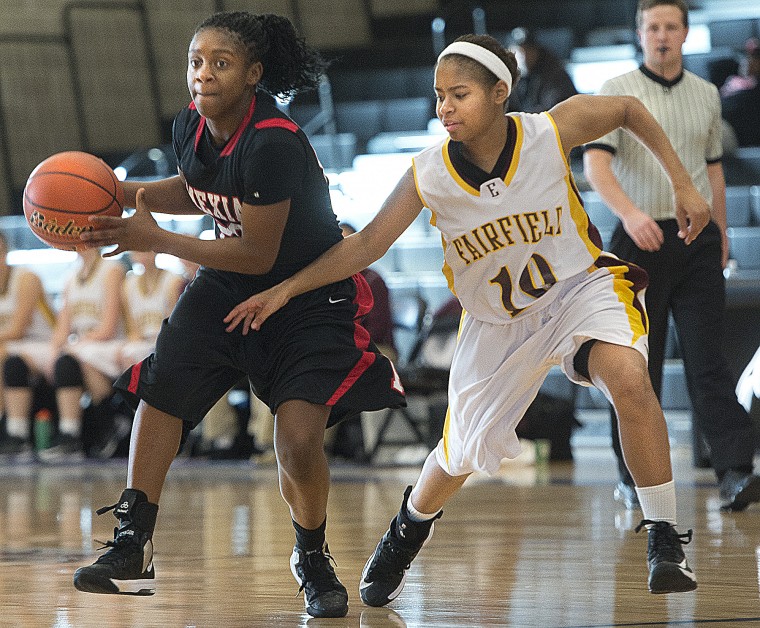 The Mexia Lady Cats and Fairfield Lady Eagles will both play in District 19-3A.
Mexia will get there quicker.
The Lady Cats used their distinct quickness advantage to hold Fairfield to six second-half points for a 43-19 victory in the Class 3A-2A-A division's gold championship game at the McDonald's Invitational on Saturday at College Station's Cougar Gym.
Mexia, ranked No. 4 in the latest Texas Association of Basketball Coaches poll, played relentless defense throughout the championship game to improve to 22-1 this season. It was only the second loss for fifth-ranked Fairfield (21-2), and both have been to Mexia, which also defeated the Lady Eagles 51-39 in the finals of the Fairfield tournament.
"We knew our legs weren't going to be fresh, but we talked to our kids about being mentally tough," Mexia coach Randy Barger said. "That's one thing we've been a little weak on. We said don't worry about being tired or a little sluggish. Just get out there and play the way we play."
Fairfield had a challenging run to the tournament final, beating Harrison Central of Gulfport, Miss., in a semifinal Friday after handing Franklin its first loss of the season earlier in the day. Harrison Central won the third-place game in the 3A-2A-A bracket.
No one handled the three-day grind better than Mexia did Saturday morning. Mexia challanged every Fairfield shot, and nearly every dribble, while limiting the Lady Eagles to 23 percent shooting from the field (7 of 23).
"For us, this is probably good, because we are going to have to figure out how to beat them," Fairfield coach Stephen Heers said. "Their on-ball pressure was something we didn't do a good job handling. If you can't handle the ball, you get beat. That bunch is relentless defensively, and until we can handle the pressure, we won't beat them."
Fairfield's last lead came at 3-2 when Jasmine Griffin threw a high post pass to Tiara Tatum, who scored seven of her team-high nine points in the opening period. Mexia's 5-foot-9 senior guard Brechelle Beachum knocked down a 3-pointer to give the Lady Cats a lead they never lost.
Beachum, who scored 11, was one of several slick-passing Lady Cats. Junior Bre Stoner found open players on long fast-break passes, and freshman Na Teshia Owens' dribbling was a highlight. On one play, she went behind her back, carved a path to the goal and banked in a layup on the run.
Fairfield got as close as 22-17 with 5:24 left in the third quarter thanks to the Lady Eagles' last field goal of the game. Tatum's two free throws were Fairfield's only fourth-quarter points, and the Lady Eagles played reserve players late.
"[Heers] is a good coach and has got good players, and I'm sure they haven't shown us everything they are going to do to us," Barger said. "Our kids need these kinds of game. Maybe the pressure is on them a little bit, but it will still be good games when we play in district."
At Bryan Viking Gym, Katy Seven Lakes (20-6) won the 5A-4A gold championship with a 54-36 win against Clear Falls.
Seven Lakes built a 26-14 halftime lead, but a pair of 3-pointers by freshman Lauren O'Connell in the third quarter helped Clear Falls take a 33-32 lead.
Brittany Biggott hit a pair of 3-pointers of her own as Seven Lakes dominated the fourth quarter. Biggott hit a trio of threes in the game and scored 11. Senior 5-10 forward Christen Inman scored four of her team-best 15 points in the final eight minutes and Seven Lakes held Clear Falls to three points in that stretch to tuck away the win.
Senior Erin Farmer, who scored nine of her 15 points at the free-throw line, led Clear Falls.
Kingwood beat Cleburne 52-41 for third place in the big school's gold bracket, with Lauren Olivarez scoring 12 points and Brooke Jolivette getting 11.
In the 5A-4A silver championship, Corpus Christi Ray got six points from Kat Bell in overtime and defeated Pearland Dawson 47-38. The teams concluded regulation tied at 38.
Ray's Jasmine Gomez was perfect on all eight free throws and scored 12 points. Senior center Cortnei Purnell led Dawson with nine.
Kennedy Harris and Mary Grace Bilby each scored 14 and Austin Anderson won the title in the big school's bronze bracket 45-42 over Aldine Nimitz.
Anderson led 20-11 at halftime, but Nimitz rallied in the second half. Senior Brianna Toney topped Nimitz with 10 points.
In the 3A-2A-A silver championship game, Caitlyn Lambert completed a three-point play with 3:20 left, then later sank three free throws in the final 24 seconds to lead Zavalla past Sam Rayburn 41-30.
Lambert scored half of her 24 points in the fourth quarter, allowing Zavalla to pull away after Sam Rayburn's Jaiden Pelton narrowed the lead to 25-24 late in the third quarter. Cassidy Hall topped Sam Rayburn's scoring with 13.
Post player Mollie Kinlaw scored 13 points and guard Marissa Martin had 11 as China Spring defeated Wortham 41-34 to win the small school's bronze bracket.
Kierra Busby and Kamarie Freeman each scored 11 for Wortham.