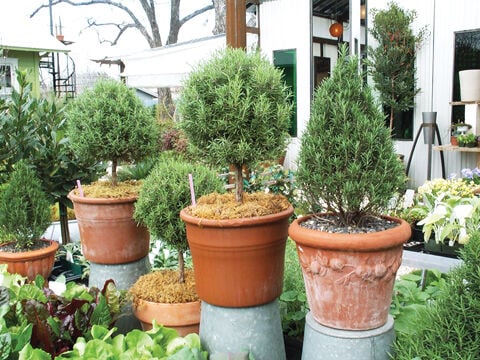 The season for gift giving is upon us, and gardeners have a unique advantage. We know the joy of growing things and the way that plants and gardening can provide ongoing interest and satisfaction over time.
Gardening itself is a gift to give, and there are many ways to provide someone else this wonderful experience. Here are a few ideas to consider as you plan your holiday gifts this year, for both the gardeners and the wish-to-be gardeners on your list.
Indoor gardening
Houseplants are hot items ever since COVID left us spending more time at home. Local garden centers offer a nice variety of choices, while hard-to-find species can be purchased online. Check a plant's light requirements, and when in doubt, go with lower light-tolerant species.
A windowsill herb garden may be a great fit for a bright kitchen window. Place a few herbs in small terra cotta pots and set them in a long narrow tray to catch any excess water.
If you want to take it up a notch, an indoor plant-growing system may be the perfect gift. These come as a tabletop system with grow lights. Often, these units are hydroponic or at least self-watering.
Seed starting indoors
There are a variety of kits for seed starting, from a simple tray with a clear lid to sturdy plant-growing trays with humidity domes that resemble a mini greenhouse for starting seeds and rooting transplants.
Include a bag of seed-starting medium, some seed packets, plant labels and a when-to-plant chart that usually can be obtained free in print or online from the recipient's local AgriLife Extension office.
Good lighting is the key to growing great transplants, so consider including a light with a stand to help ensure success.
Gardening starter basket
Put together some seed packets, plant labels, gloves, hand tools, hose end watering wand and a simple how-to gardening book written for the recipient's area of the country. Include some free planting guides from the recipient's land grant university's extension system or local extension office. For an attractive package, place it all in a harvesting basket or gardening tool bag.
Share your garden
I am struck by the number of times a gardener has said, "That plant was given to me by an old friend," or "This rose came from a cutting we took from my grandmother's home."
Plants provide a link between people and across time. It may be a seedling from a special tree, some bulbs from the old family home place, a rose propagated from a bush at a grave site or an herb division from your own garden with a note about your friendship.
You get the idea. The possibilities are limitless for giving someone a living reminder of your friendship or a connection to family history that will last long after all the other gifts of the holidays are gone.
A theme garden
Bundle some herbs with an herb book or a group of terra cotta pots. A topiary rosemary can be planted outside after it's done being a holiday decoration. Gather plants and/or seeds for a butterfly garden and include a book on butterfly gardening. How about a group of seeds/plants along with a book on cut flower gardening? Perhaps a bird house or feeder?
Give gardening wisdom
Every gardener has something to learn and those new to gardening may enjoy a book or magazine on the basics. Printed materials are great for sharpening their skills over the upcoming weeks of winter in preparation for a great spring garden.
Look for materials that are written for their area, as garden writing is often very regional in application. We have many great books and magazines written by Texans for Texas to choose from, such as Doug Welsh's Texas Garden Almanac or Neil Sperry's Lone Star Gardening. A magazine such as Texas Gardener is another good example.
An exception to "read local" rule would be topics that are not region-specific such as how to propagate plants or prune a tree.
Quality equipment and accessories
A good quality tool will last for years and make gardening work easier and more enjoyable. I appreciate well-made pruning shears, a quality spade or garden fork, a cobrahead weeder, a soil knife (hori hori) or a specialty hoe. Accessories such as a kneeling pad — or my favorite, a folding kneeling/sitting bench — are nice, too.
Gifts of your time
In addition to giving a plant, you can give the planting. Some folks may be physically unable to do some gardening tasks. With your gift plant, include a coupon good for "planting this rose bush and visiting over a cup of coffee." That time spent will be more important for many folks than any store-bought gift they received during the holidays.
This holiday season give gardening, a gift that will grow in the hearts of your friends and family.
---
Robert "Skip" Richter is the Texas A&M AgriLife Extension Horticulture Agent for Brazos County, 2619 Texas 21 W., Bryan, Texas 77803. For local gardening information and events, visit brazosmg.com. Gardening questions? Call Skip at 823-0129 or email rrichter@ag.tamu.edu.