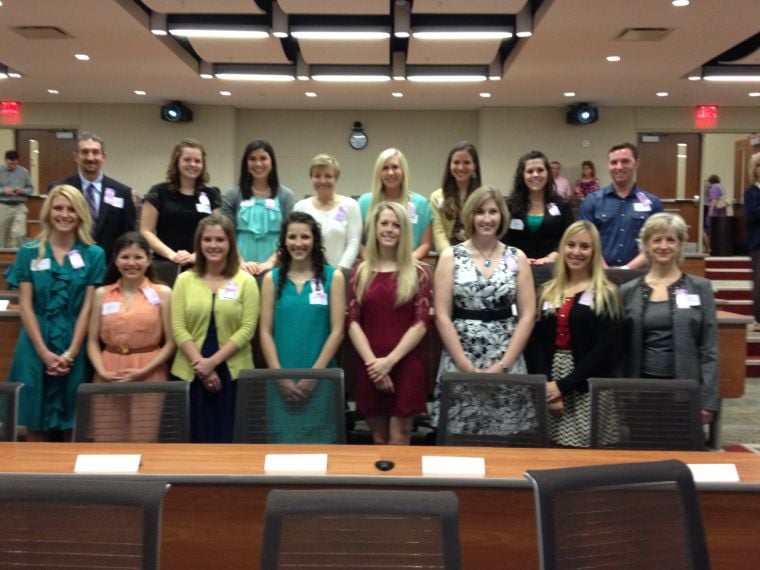 Twenty-seven students from the Texas A&M Health Science Center College of Nursing and three nurse leaders were inducted into the Phi Iota Chapter of the Sigma Theta Tau International Honor Society of Nursing recently.
Students inducted into the Phi Iota Chapter were Kelsey Alford, Jasmine Bohlender, Kirsten Bond, Victoria Branyon, Catherine D'Abate, Kari Day, Katie Eckermann, Laura Elizondo, David Flores, Kaci Hackfeld, Ashley Hagan, Deborah Heim, Jonathan Katz, Joanna Lemm, Laura McIlveene, Meredith Morrow, Mikki Murr, Heather Murray, Lauren Nikolich, Nancy Penn, Julie Roman, Keiko Schroader, Austin Shultea, Erin Sissell, Matney Smitherman, Kathryn Wilson and Alexandria Wood. Nurse leaders inducted include Brian Holland, Shelley White-Corey and Cody Bruce.
TAMHSC Phi Iota officers for 2013-14 are Angela Mountain, president; Anne Rathke, secretary; Wanda Seaback, treasurer; and Kathryn Cochran and Karen Landry, counselors.
Sigma Theta Tau was established in 1922 and is one of the largest international nursing organizations with more than 130,000 active members. The organization supports the learning, knowledge and professional development of nurses committed to making a difference in health care worldwide.
In 2011, the Texas A&M Health Science Center Phi Iota Chapter was named as a new charter chapter in Sigma Theta Tau International. The local chapter is open to professional nurses practicing in Bryan-College Station and Round Rock. Those interested in membership can contact Kathryn Cochran at 436-0121 or cochran@tamhsc.edu.