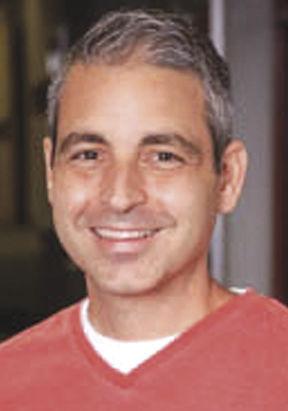 If you've ever visited an amusement park, you know that nearly every ride has a height requirement. There's usually a little measuring bar that says something like, "You must be 48 inches tall to ride this ride." Few things are sadder than seeing a hopeful child stand next to that bar, only to realize that he doesn't measure up. He is unacceptable to the ride's gatekeepers, and they are forced to turn him away.
We all want to measure up, to be seen as good enough, whether we're trying to make friends, find a romantic partner, land a job or get into the right college. Acceptance is a basic human desire, and we long for those around us to tell us that we measure up to their standards. At an even deeper level, though, we want to know that God accepts us. Think how confident we could be if we could know that we were acceptable to the Creator of the Universe.
But how do we know if we're good enough for God? If there was a measuring stick that you could stand next to that would determine whether God would accept you, what would be the scale of measurement? The good news is that God hasn't left us in the dark on that question. He's made it abundantly clear.
Imagine you're standing at the entrance to heaven, and there's a very tall measuring stick. You see a line drawn on top of the stick. Next to the line are the words, "Good enough to get inside." But as you look at that line, you know that you're not even close to measuring up. If you piled up every good thing you've ever done – the times you let somebody merge in front of you in traffic, the money you gave to help disaster victims, the hours you spent reading your Bible – you know that your heap of good deeds wouldn't even come close to the top of that measuring stick. You're in big trouble. You'll never make it in if that's the standard of measurement. You're simply not good enough.
As you approach the stick, prepared to hear bad news, you see somebody else step up next to you. He's dressed in a white robe. His face is shining like the sun. You recognize Him immediately: it's Jesus, the Son of God. Before you can say or do anything, Jesus builds a huge pile of stones next to that measuring stick. Each stone is engraved with phrases like, "My holiness," "My truthfulness," and "My love for the world." He keeps piling up the stones, one by one, until their height far exceeds the top of the stick. In fact, you can't even see the top of His pile. It extends into the sky, well beyond your vision.
When He finishes piling up the stones, Jesus looks at you and says, "You can go inside now."
You're astonished. "But Lord," you say. "That's your pile of righteousness and holiness and kindness and truthfulness. None of that is mine. You put it there yourself."
"Oh," Jesus says, "So you'd rather build your own pile of righteousness? Did you bring enough rocks for that?"
You look at your empty hands and you feel your empty pockets. Nothing. Not even a pebble. All your good deeds don't seem to count for anything here.
Jesus looks at you intently, and says, "No, you're not good enough, but I am. You have no righteousness to add to the pile, so I'm giving you Mine instead. I died to take away your sin, and I rose from the dead to give you eternal life. When you believed in Me, I set aside this pile of righteousness for you. I knew you'd need it. You're acceptable to God because of what I've done, not because of anything you did. And don't worry – I have enough rocks for everybody. All they have to do is ask Me for them. Now, please, let's go inside. The party has already started."
With tears of joy on your face, you walk through the gate and join the most wonderful celebration you could ever imagine. It's a celebration that never ends, paid for by Jesus Himself. You look over at your Savior, and on His face, you see nothing but love and acceptance. You're not accepted because you're good enough for God, though. You're accepted because Jesus is good enough for you. This is what perfect acceptance feels like, and it's an absolutely free gift.
Do you long to know that God accepts you? If you do, then simply believe in Jesus. He has more than enough righteousness for anyone who wants God's acceptance. And He offers that it freely to anybody who asks for it. He gives eternal life to everyone who trusts Him. Have you asked Him for His righteousness? Have you accepted His free offer of eternal life? Jesus is perfectly good, infinitely generous, and ready to offer you all the acceptance you're longing for. All you need to do is ask.
Matt Morton is the teaching pastor at the Creekside Campus of Grace Bible Church in College Station.