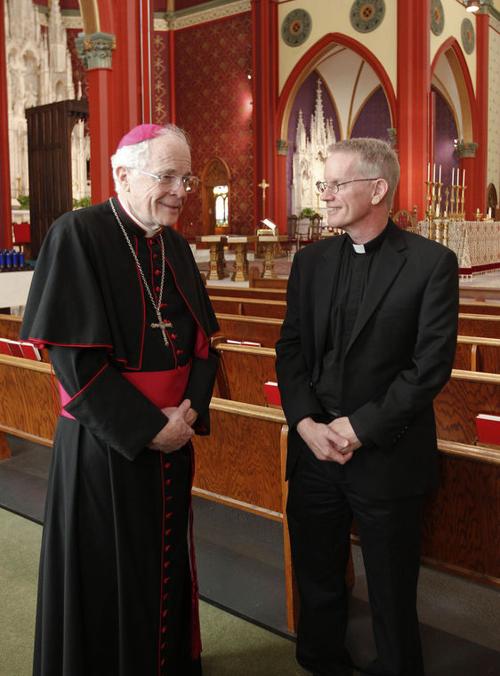 But there was something special about that Communion class. 
Among the students were two boys whose lives would diverge, before years later intertwining onto similar and somewhat parallel paths.
Nearly 50 years later, the Rev. David Konderla has followed in the footsteps of his former classmate, Bishop Michael Sis — who was named bishop of the Diocese of San Angelo in 2013 — through his selection as the new bishop of the Diocese of Tulsa in Oklahoma earlier this month.
"It is amazing that two of the boys out of that little First Communion class ended up being bishops," Konderla said. 
According to Bishop Daniel Garcia of the Diocese of Austin, Sis, Konderla and himself are among only five priests from the Diocese of Austin to go on to become bishops — all in the past 15 years. 
The Cameron native noted the three men have all been selected to become bishops within a three-year period. 
Garcia said while there is no real date to compare it with, two men with Sis' and Konderla's shared history both becoming bishops is uncommon.
"It's a unique but also exciting occurrence," Garcia said.
After the second grade, Sis said his education led him away from St. Joseph Catholic School and into the Bryan Independent School District. 
Konderla, who remained at the Catholic school through his eighth-grade year, found himself once again on the same campus as Sis when it came time for high school. 
Both students at Bryan High School, Konderla said he and Sis "ran in different circles" because of their differing interests. 
"He was a much better student than I and much more involved in school and class activities," said Konderla, specifically citing Sis' election as Mr. Bryan High School. "He was always very much a leader." 
Sis said the memories he has of Konderla are of a "fun-loving" and "down-to-earth guy."
In addition to separate social lives, Sis added that the two teenagers were also separated spiritually, as they attended and were involved in different parishes in the city — Sis at St. Anthony's and Konderla at St. Joseph's.
Though their lives after graduating from high school in 1978 differed — Sis attended college at the University of Notre Dame and Konderla working at the U.S. Department of Agriculture Veterinary and Toxicology lab at Texas A&M, then as a machinist before going on to attend the University of Dallas — both men eventually found their way into the priesthood.
It wasn't until 1997, however, that the two men found themselves together again. 
Sis had been serving as pastor of St. Mary's Catholic Center in College Station since 1992 when Konderla arrived to serve as an associate pastor.
It was over the next four years, Konderla said, the two really got the opportunity to get to know one another. 
"Really it was when I came to work with him as the associate [pastor] at St. Mary's in 1997 that we really developed more of a friendship," he said.
Konderla said during that time he learned much about being an effective priest and leader from Sis, including how to develop a greater "appreciation for work" and how to act as a "steady presence" to the members of the parish.
"He's someone who is unflappable," Konderla said. "It's hard to really surprise him or rile him." 
He particularly praised Sis as being pleasant and easy to be around, while at the same time working harder than anyone else he said he has ever known. 
Sis said among the many traits he most admires about Konderla are his ability to preach and his artistic talents, particularly with carpentry.
When he was named the bishop of the Diocese of San Angelo in 2013, Sis said he asked Konderla if he would be willing to use his gifts with woodworking to craft his crosier, the staff traditionally carried by bishops and other high-ranking members of the church.
The crosier, Sis explained, was made from the wood of a dead oak tree that had been in the front yard of the St. Mary's priest's house.
"It's beautiful, I use it all the time," Sis said. "There aren't very many people in this world that could make a crosie ... It just shows the beautiful expression of his talents."
For his own crosier, Konderla said he is excited to get working on it and hopes to have it completed by the time of his ordination in Tulsa on June 29. 
"Every young Jedi must first make his lightsaber before he can complete his training," Konderla said with a laugh. 
After four years of working together, Konderla left St. Mary's in 2001 to become the vocation director for the Diocese of Austin. 
The two men's professional paths crossed once again in 2005 when Sis left St. Mary's after 13 and a half years as its pastor, swapping positions with Konderla and becoming the diocese's vocation director himself. 
Sis noted that aside from the anomaly of their shared history, it is uncommon for two successive pastors of a parish to go on to become bishops.
"It says a lot for the importance of that parish," Sis said. "St. Mary's is a very special place."
Asked if they thought there was a common link in their overlapping time at St. Joseph Catholic School that set them on their respective paths to becoming bishops, both men specifically lauded the value of having faith so closely knit into their education.
"One factor was certainly that we were students enrolled in a Catholic school," Sis said. "When a student attends a Catholic school, they experience a fuller involvement in the Catholic faith. That was a major factor."
Konderla added he believes his time at the Catholic school also laid the foundation and "gave him the tools" for his own spiritual growth in later years as both a teenager and young adult.
Pete Bienski Jr., father of Bryan Mayor Jason Bienski and principal of St. Joesph Catholic School during Sis' and Konderla's time there together, said he remembers the two boys as nice young men with families who were involved not only in their education, but their faith lives as well. 
While his memories of Sis are much less extensive because of his relatively short time at the school, Bienski said he is deeply honored to have had the opportunity to contribute to the lives of the two men.
"It is a great honor just to have known two students who have become priests," Bienski said. "Then, for them to have become bishops, it's just fantastic. I'm just extremely thrilled to have been associated with them. I feel very humbled and very grateful to know them."
Going forward, Konderla said he is looking toward the guidance of his friend as he makes his transition onto a larger stage from priest to bishop.
"I certainly learned many things about being a good pastor from him, and now I definitely look forward to our first conversation because I intend to learn many things about being a bishop from him, too," Konderla said. "He's sort of my trailblazer, and I'm very happy to follow behind him because he is a good teacher."