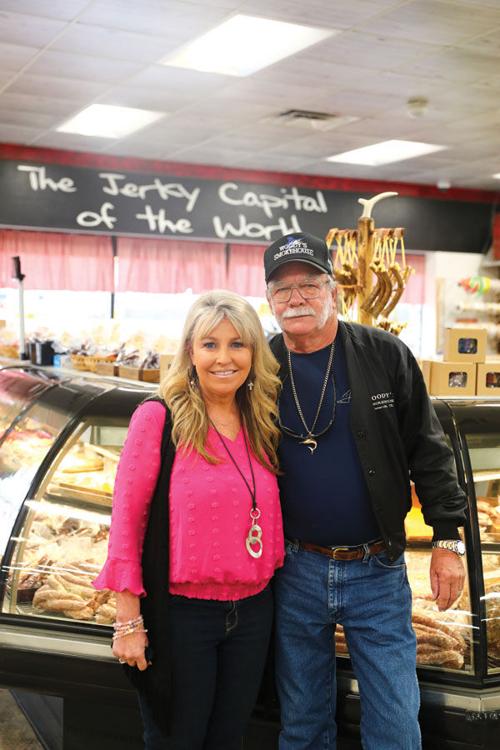 Commuters on Interstate 45 can't miss Woody's Smokehouse in Centerville, which sits almost exactly at the halfway point between Dallas and Houston.
Billed as the "Jerky Capital of the World" with an assortment from hickory smoked to spicy buffalo jerky, Woody's also has a full barbecue restaurant and shelves full of snacks for travelers to take on their journeys.
"We thought we would try to make a combination of convenience, but a traveling spot where they could eat, take out their dogs, do a quick shop, buy some popular meats that we make in-house and then take it back with them to share in their homes," said co-owner Diana Wood.
Co-owner and founder Dudley "Woody" Wood was originally a meat cutter at a Kroger in Houston. In 1975 he moved to Centerville, where his parents lived, to start his own grocery store.
After several years, Wood said he knew he had to move toward I-45 to benefit from travelers, as the highway connecting Dallas and Houston was completed in the late 1970s. He moved into a gas station along the interstate in the early 1980s and continued to move locations at the northbound and southbound intersections of I-45 and Texas 7.
In 2001, Woody's Smokehouse opened its biggest location on the northbound side of I-45 and Texas 7. Another location still sits on the southbound side, so travelers have options on either side of the highway.
"Everybody thought that was crazy and his business was going to plummet, but it actually did the opposite," Diana said.
The art of smoking meat was a trade Dudley learned on a fishing trip to Arkansas in the 1970s. He said he came across a place called Coy's Smokehouse, which had meats hanging that were visible from the highway. He went inside asking for directions, but also caught what time the store opened the next day. At 6 the next morning, Wood was in the parking lot asking the owner to teach him how to smoke meats. He was rejected, even after offering to work for free. He gave it another try the following morning.
"He looked at me and said, 'You're back again?' " Dudley said. "I said, 'Yeah, and I'm going to be back for seven days because I'm on vacation from my company, and I'm going to be here every day until you teach me how to do this.' He said, 'Come on in here,' and he threw an apron at me."
Four days of hard work later, Wood had learned how to smoke ham and bacon. Before going back to Texas, Wood had one last request — the owner's recipe. There was one problem: The owner had secretly doubled the ingredients.
"You bit into it and all you bit into was salt," Dudley recalled. "I got to thinking, 'What did this man do to me?' About a month later, I called him up and said, 'Mr. Coy, it's Woody down in Centerville, how are you doing?' He said, 'You caught me, didn't you?' "
Today, about 80 percent of Woody's meats are smoked in the back of the restaurant. German ring sausage is the signature item, and the restaurant offers Texas essentials such as brisket and pork ribs, as well as specialty items including bacon-wrapped quail and bacon-wrapped jalapeno shrimp poppers.
Woody's offers a one-stop shop for commuters, and Dudley added that the bathrooms are spotless.
"You can take a rest break, you can eat something that's really good, and you can get a service that we feel is very impeccable to the business," Diana said, "and that is treating people the way that we treat people when they walk into our door."
Details: 947 W. St. Mary's Street, Centerville. Open daily from 6 a.m. to 8:30 p.m.