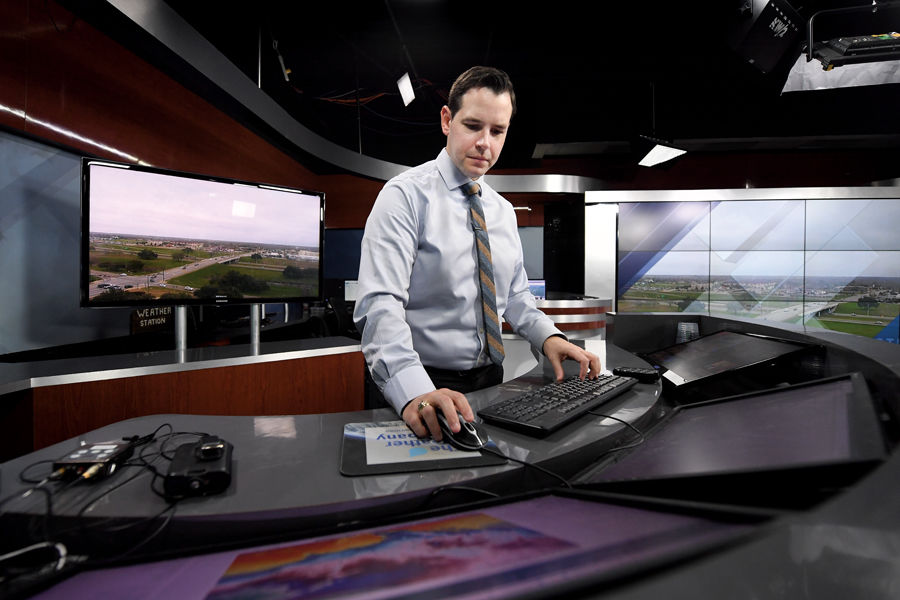 As a child growing up in Lubbock, Shel Winkley was frightened by severe weather. Through elementary school, he was sure that tornadoes were determined to come for him and his family.
To work through that fear, he decided to learn as much as he could about weather patterns and systems. A strong wind storm when he was 9 scared him, yet fascinated him.
"I just wanted to know about the storms so I could understand them since I was so terrified of them," Winkley said. "When I was a kid, my parents took me to the library and checked out books about weather. And as I got older, I wanted to learn more and more to the point that I wanted to chase storms."
More than two decades later, it's the 34-year-old's voice and presence that Brazos Valley residents turn to for weather news — severe and otherwise — on KBTX-TV.
Winkley's weather interests led to him becoming a storm chaser while attending Texas A&M, and getting an internship with the television station. After graduating in 2007, Winkley moved to Amarillo, where he spent two years at KFDA-TV as the weekend meteorologist and storm chaser.
Winkley jumped at the chance to come back to Aggieland, starting as KBTX's morning meteorologist in fall 2009. He became chief meteorologist in December 2013, and now does the weather Sunday through Thursday nights, in addition to sharing frequent social media posts.
"I play a role, but I don't play the most important role," he said, noting that first responders are the most essential element in severe weather scenarios. "This is a small part, but it's a cool part of the equation."
The role of chief meteorologist makes him recognizable around town. Winkley said he enjoys it when people want to talk weather.
"It's great when people walk up and start conversations," he said. "One, it tells me I'm doing a good job, and two, it tells me that people care about what I care about."
Winkley's role in the community doesn't stop with the broadcast. He serves as a visiting college lecturer, teaching a one-hour broadcast meteorology course at A&M each spring. He also monitors weather and provides forecasts before and during A&M football games at Kyle Field. And he and his colleagues — fellow KBTX meteorologists Erika Paige and Max Crawford — regularly visit area schools to engage students about weather.
With a chuckle, Winkley said he's now been at the station long enough — 11 years — that a 22-year-old recently told him that he visited his class a decade ago.
"I love walking into schools and talking with students," he said. "Some of the older kids really understand the processes of weather and how it happens. And there's always that one kid who you look at and say, 'You could be a meteorologist.'"
The day-to-day, hour-to-hour changes of weather are among Winkley's favorite things about his job, he said. "No two days are the same, and I love that."
In early December 2017, a snow event caught Winkley and the rest of the Brazos Valley by surprise. Five inches of evening snow — the third-largest local event ever, he said — came down in a matter of hours, despite Winkley's repeated insistence that there would be "no accumulation."
It led to viral snow photos of Kyle Field, and some good-natured ribbing of Winkley. Viewers sent in photos of snow creations made in their yards, and one snowman was named "Shel 'No Accumulation' Winkley."
"You could just walk outside that night and feel the excitement and happiness in the air," Winkley said. "Had we forecasted 5 inches of snow and it didn't happen, everyone would've been mad. But because this thing was just out of the blue, it was magical.
"To this day, given the exact same setup and the exact same conditions, I would have made the same forecast. It was that big of a fluke. But it was fantastic and one of my favorite days here."
Winkley sees social media as an essential part of his role. He tweets short radar updates and forecasts, and shares photos and videos from colleagues and area residents on multiple platforms. In early February, when a light winter weather event came through part of the Brazos Valley, Winkley shared videos of light snow and ice falling in Robertson and Brazos counties.
Social media allows him to reach viewers and others outside of the regular broadcast times, particularly when precipitation and/or thunder pops up.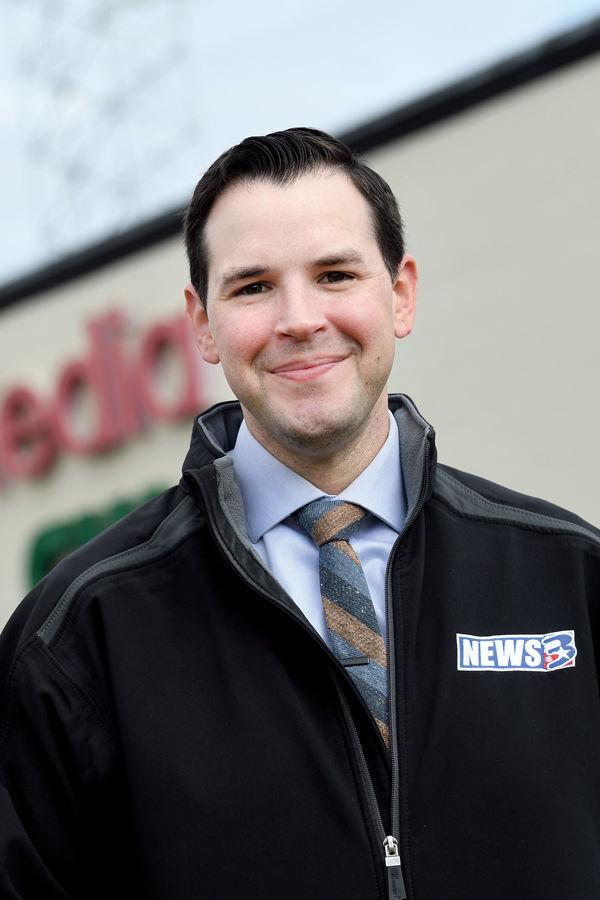 "Nobody's waiting for 6 p.m. to come around," he said. "If you want to know the weather, you're gonna open your phone and look. I tweet a lot, and while most of those tweets you might look at for a second and scroll on by, I want people to know that I'm here, and we're here, so that when things get bad, you know the information will really start flowing."
Karla Castillo, an anchor who works with Winkley on KBTX's 10 p.m. broadcasts, credits his passion for weather and willingness to explain weather scenarios in detail. She called him "a wonderful asset to our community," and, with a laugh, "a weather geek, for sure."
"In a time with so much misinformation out there, Shel is the voice of reason who can help calm you down in times of severe weather or some other emergency," Castillo said. "I appreciate him being honest about when the models are a little bit different and sharing when they're not quite sure. That human element to him helps provide comfort to us."
Winkley and his wife Elizabeth have two children, ages 4 and 2. They value family time, and he said that they love to travel, fondly recalling a recent trip to Estes Park in Colorado. The work-life balance can be challenging, he said, and he praised Elizabeth for often carrying the load of family responsibilities.
In spring 2019, a heavy storm season meant long and unusual hours for Winkley and his meteorology colleagues, he said. It also meant, as his 4-year-old daughter came to understand, that he would be at home less. Indeed, one of his coffee mugs reads: "Storms never sleep."
"It is hard, and people say, 'When do you sleep?' And the answer is that I don't sleep a lot," he said. "Morning is family time, and I'll also post on social media. I go to talk with schools, and the afternoons and evenings are for work. It's a hard balance, and it'll only get harder as the kids get older. But we'll figure it out and make it work."
Michael Oder, KBTX's assistant news director, said he appreciates Winkley's commitment to visiting local schools, retirement centers and other groups around the area to talk about the weather, something all three of the station's meteorologists do.
"Shel wants to be in those communities, because when there is something urgent happening, he knows where the gas station is, where the school is at, where city hall is, and can help give really specific location information — and also to be the calm voice of reason and information," Oder said. "He's never going to sensationalize something for the sake of getting clicks or retweets."
"Weather really does make his world go 'round," Oder said. "He genuinely loves weather — the science behind it, the predicting of what it'll do, and that's really hard to find. He doesn't take for granted the responsibility that he has, that if he gets on television and says it's gonna rain, sleet, snow or hail, he's got to be right about it. He eats it, drinks it and sleeps it."