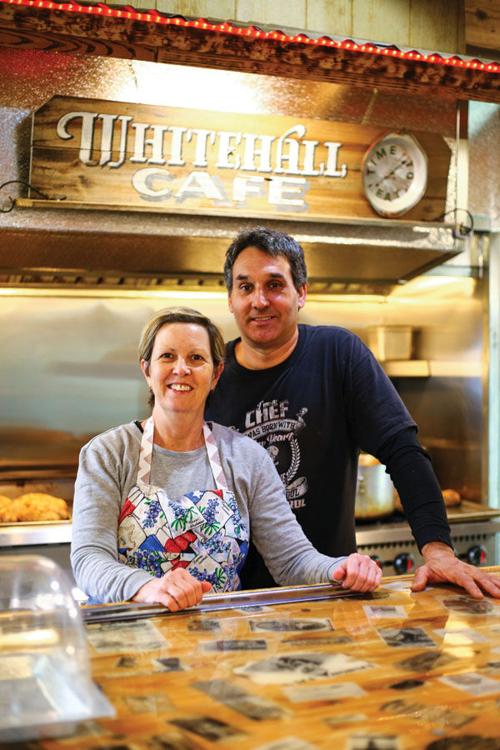 Don Schoenburg and Christi Carter have owned Whitehall Café for almost 10 months, but the success of the burgers and barbecue joint off FM 2988 in Grimes County has exceeded the married couple's expectations.
After the COVID-19 pandemic hit last year, both Schoenburg and Carter lost their jobs in the restaurant industry in Houston. In April, Schoenburg was riding his motorcycle with friends when one of them wanted to stop and take bluebonnet photos. While waiting in the Whitehall Grocery Store parking lot, Schoenburg said he noticed a "for rent" sign at a closed restaurant named Whitehall Café across the street. He soon contacted the landlord and visited the property with Carter. On May 3, the revamped Whitehall Café opened for business.
"I told her, 'If we don't take this, I'm going to be out on the street corner selling cheeseburgers out of the back of my truck,'" Schoenburg said. "And so we did this, and to be honest with you, we never thought it was going to be as good as it was. It's been amazing."
Schoenburg noted how the restaurant feeds many members of the Whitehall community during the week. The restaurant is open Thursday through Sunday.
"One of my favorite things about it is, people who live in the vicinity, a few miles of each other who have never met before, they meet here and they're like, 'Oh!' and they're neighbors and they become friends," Carter said.
Bikers frequent the restaurant on Saturdays, and Whitehall Café hosts classic car shows on the first Sunday of each month. In February, Schoenburg said the event featured about 70 cars.
Burgers and barbecue are the signature items, and the restaurant offers specials on the weekends. Schoenburg and Carter serve steak dinners on Thursdays, catfish on Fridays and chicken-fried steak on Saturdays.
Most of Whitehall Café's meat is purchased locally from R-C Ranch in Hempstead, Schoenburg said. The burgers are served on a brioche bun with fresh-cut vegetables and Schoenburg's homemade sauce.
"Our beef, our brisket, our pork, our sirloin that we use for the chicken-fried steak, it all comes from them and they're local out of Hempstead," Schoenburg said. "I pay more for it, but it's worth it because people literally drive 40 miles for a cheeseburger because it's so good. It's worth paying the extra money for the meat."
Eventually, Schoenburg said he is aiming for the restaurant to be open five days a week, and he hopes it becomes known for barbecue. Carter said she hopes her homemade buttermilk pies can soon be shipped and sold everywhere.
"This is a beautiful part of the country, and it's my understanding that this is a road that people get out and take Sunday drives on, or Saturdays," Carter said. "It's great for motorcycles and classic cars. People get out and about and it's beautiful. You sit outside on a nice day and look at the view. It's gorgeous."
Details: 2241 FM 2988, Whitehall. Thursday from 4 to 8 p.m., Friday from 11 a.m. to 8 p.m., Saturday from 8 a.m. to 8 p.m., Sunday from 8 a.m. to 6 p.m. Closed Monday through Wednesday.