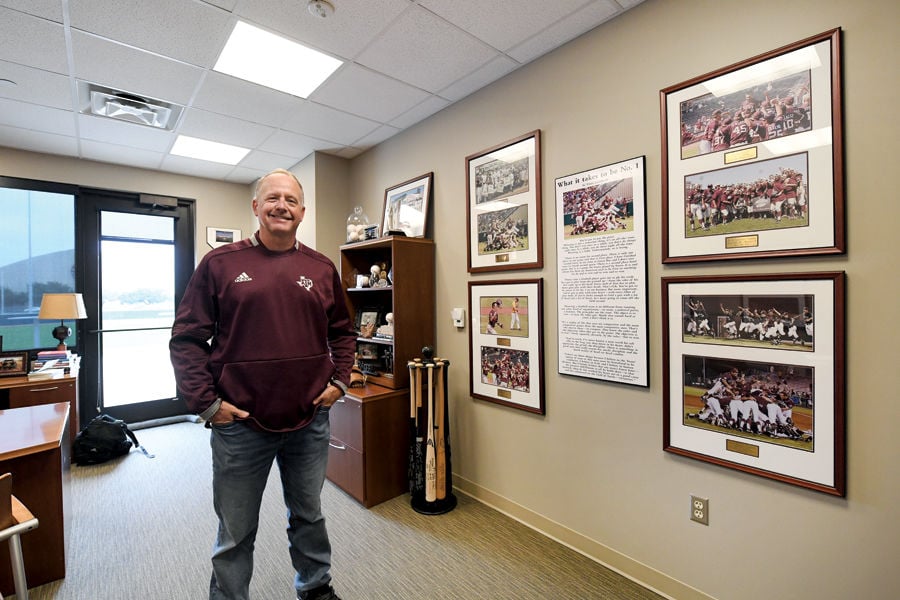 Rob Childress' office at Blue Bell Park overlooks the third-base line, a great view for the Texas A&M baseball coach. When he comes in early, he can see the sun rise over right field. And a frequent refrain is a familiar sound to anyone who has attended an Aggie game — the train wails from the track just behind the ballpark on Wellborn Road.
"The times I hear it most is when I'm getting ready to address the team," Childress says with a smile.
The 51-year-old coach describes his office as "fairly organized," with lots of photos of Aggie teams and some of his personal hobbies.
"I think I collect moments," he says. "When you look at the things that I have had framed, they're snapshots of special moments throughout my career here at Texas A&M. I like to look at them, reflect on the kids that were involved in those championship moments, and what their lives are like at this point. But also, when recruits and their families come in, what we're chasing daily, trying to be at the top of the league and get to Omaha and play for a championship. That's what I hope recruits and their families take when they do come in and sit down and visit."
Among the notable items on the walls are three framed game lineup cards, all in Childress' precise handwriting. As explored in a 2015 Eagle story, Childress, the son of a schoolteacher, takes pride in penmanship.
The majority of the photos displayed are joyful moments from victorious Aggie teams. Childress said he hangs back before joining in on those celebrations.
"I literally, consciously stop and take all of that in," he says. "I'm not involved in that. I'm not hugging other coaches. ... I sit back and enjoy those moments and truly take in that dogpile and the joy on their faces. After that, obviously there's a lot of hugs and smiles with other coaches and players. I want that moment, to capture that in my mind and keep that with me, rather than trying to be in the middle of any of that."
---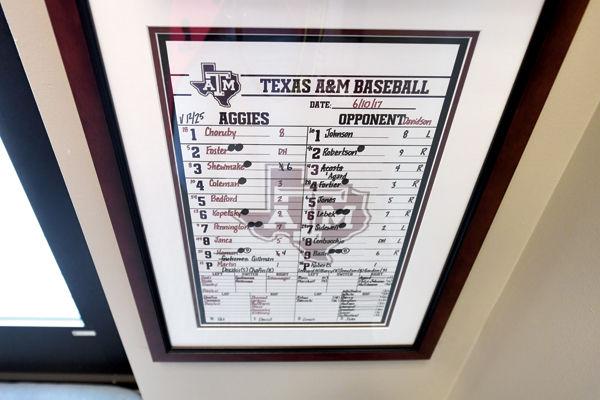 As I got into a coaching career, the lineup becomes a bit of a piece of art as the game is going on. It's ever changing: the moves that you make, who made the last out of each inning. Over the years, after each win, usually the guy that has a great game, whether it's a guy that hit for the cycle or hit a big home run or had a great outing on the mound, I will always give [the lineup card] to them after the game. That may be something that doesn't mean a whole lot to them until they're 30 years old.
---
---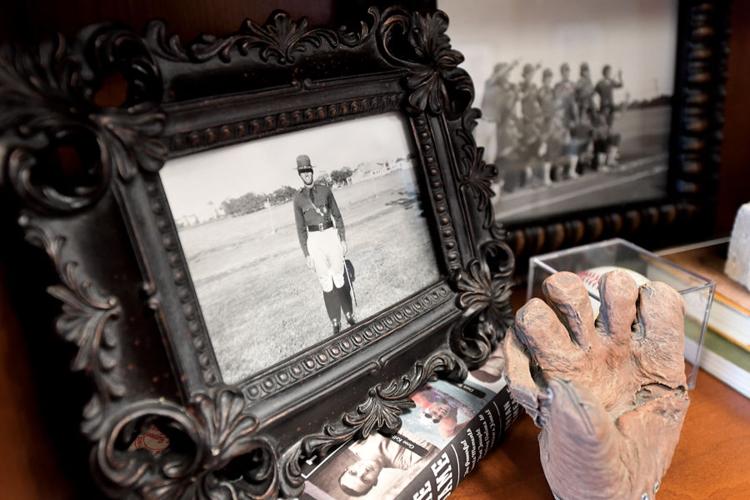 This was my grandfather. He graduated in 1941 from Texas A&M. Obviously, back in 1941, everybody who came to Texas A&M was in the Corps. He grew up in the Panhandle, a farming family. Ended up moving to northern Louisiana, and was farming and also a mail carrier in Delhi, Louisiana. … I don't recall growing up with [tales of A&M] and having a lot of talks with him as a grandparent about Texas A&M. It would've been nice to know my journey was going to bring me to Texas A&M.
---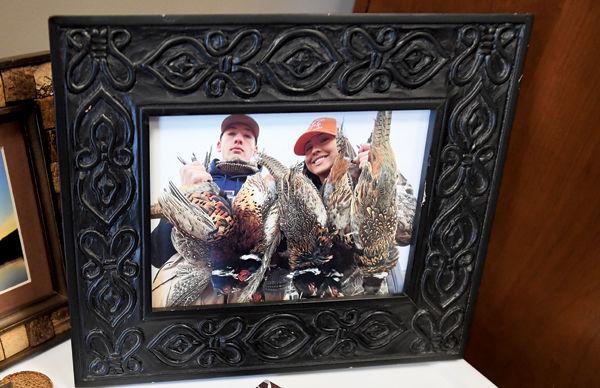 Every coach probably has a different season in which they can have a hobby, based on their work schedule. For me, it's November, December and January. I like the outdoors. For me, my passion is birds. If it flies, I love to hunt it. The kids love to do that, too. That's my son and daughter.
---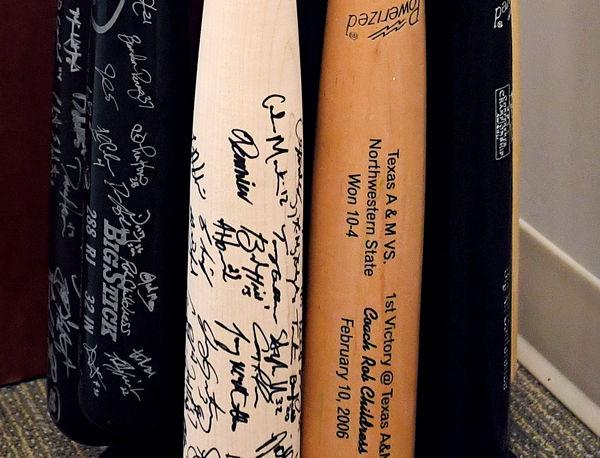 These are bats I've acquired along the way. ... The USA team that I got to coach one summer is on here, the USA collegiate national team in 2014. Alex Bregman, Dansby Swanson, a couple of pretty good ones. A.J. Minter, who pitched for us, was on that team, which is fun being with one of our guys.
---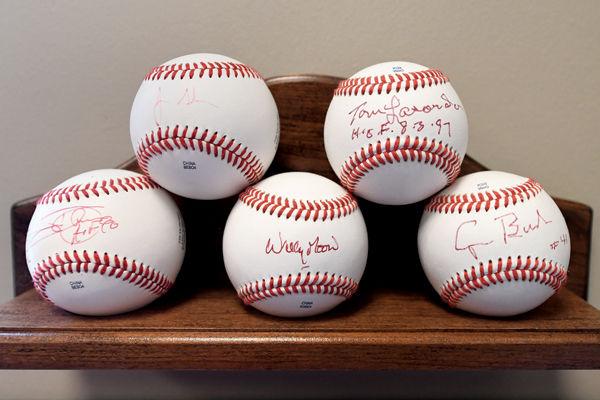 These are the [signed baseballs] that are probably my most favorite. Tommy Lasorda. President [George H.W.] Bush. Wally Moon, all-time Aggie great. Jon Gordon, one of my favorite authors. Jim Palmer. Jim Palmer's in-laws live in College Station. He reached out, and I said, "Well, you've got to come out to practice."
---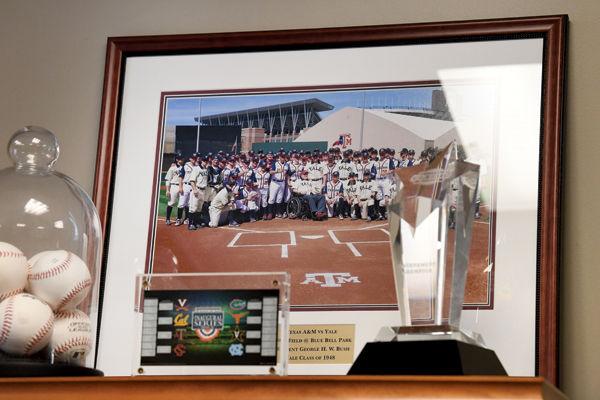 People have asked me what are some of the most special moments during your time here at Texas A&M. This game against Yale [in 2016] has got to rank up there as maybe the No. 1. Yale wore throwback uniforms for President Bush, 41, [who graduated from Yale] and our uniforms were in dedication to him. We had 41 on the sleeve and had 41 on our cleats. To have him out ... to throw the first pitch, that to me has probably got to be one of the top awesome moments I've had here at Texas A&M.
---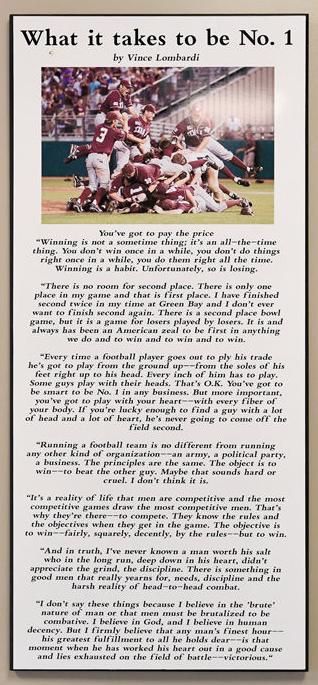 I just think this whole passage of what it takes to be No. 1 from Vince Lombardi is something that's near and dear to me, and when it comes to what we're trying to do here at Texas A&M. Kevin Scroggins, who works in graphics here on campus, made that a few years ago, and I've always kept that on my wall. [The photo is the] 2007 regional championship against Louisiana-Lafayette [to go to the] Super Regional against Rice. For us, we were coming off a 2006 season where we won 25 games, and that year we won 48, and had the biggest turnaround in Division 1 baseball from '06 to '07.
Be the first to know
Get local news delivered to your inbox!