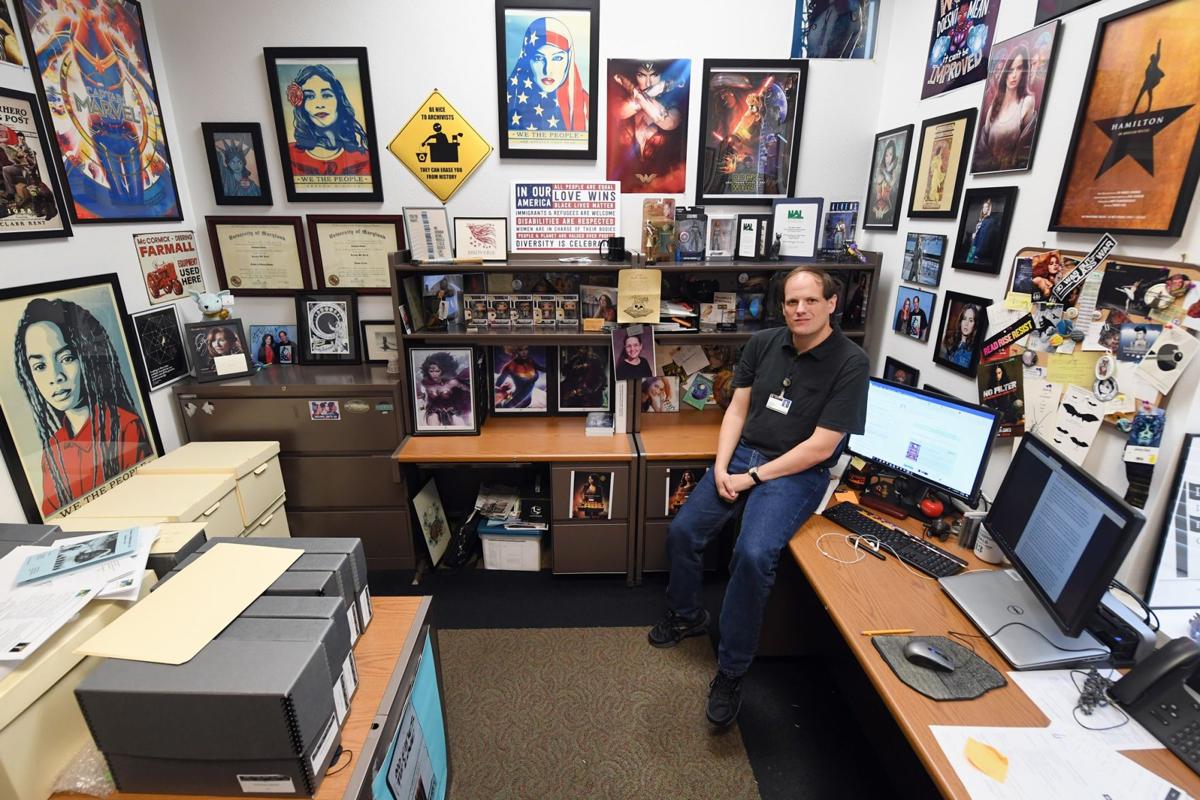 Jeremy Brett experienced a bit of a media blitz in April, thanks to the long-awaited return and final season of HBO's Game of Thrones. Brett, curator of Cushing Memorial Library's science fiction and fantasy research collection, is well-versed in all things George R.R. Martin, whose literary archives are housed at Cushing on the Texas A&M campus.
The buzz about the show sparked media interviews and fan visits to Cushing, and a pop-up exhibit at Evans Library of weapon replicas and toys.
"It's been great," Brett says. "The more people that know about us, the better. Cushing is kind of a hidden gem for A&M. It's a special collections library. It's not like Evans, where all students in theory have to go to get something. Not as many people have to come here, so not as many people know about us. So it's always good for people to find out we exist, even if it's just in relation to George R.R. Martin."
Brett earned a history degree at George Washington University in Washington, D.C., and his master's in history and library science at the University of Maryland. He and his wife, Mary Campbell, an associate professor in the sociology department, moved to the area in 2012.
Not surprisingly, Brett's office is a sci-fi showcase. Wall space is filled with posters and art prints, and shelves are lined with toys and action figures. A Tom Servo robot trinket from Mystery Science Theater 3000 sits next to a photo of Campbell ("I'm a big MSTie," he says). A Sigourney Weaver Alien action figure is near an autographed photo of Jenette Goldstein, who played a tough-talking character alongside Weaver in 1986's Aliens.
The room is dominated by women in sci-fi. Brett says he's particularly interested in strong female characters.
"I've always found the heroines to be really interesting," he says. "There aren't as many of them, but it's popping up now. Certainly, as a kid it was all about Superman, Batman and there was Wonder Woman, to a degree. ... Only more recently are you starting to see more interest in people like Wonder Woman, Captain Marvel and Black Widow, and all the other female comic book characters, who are kinda coming into their own, which is nice. And Game of Thrones, it has of course its share of important women characters. There's Dany, and there's Arya and there's Sansa."
Brett calls his office "kind of a window into my mind," and says that as the science-fiction curator, he thought he should "nerd it up."
"I figure you have to spend so many hours in a day in your office that you might as well make it look like you."
---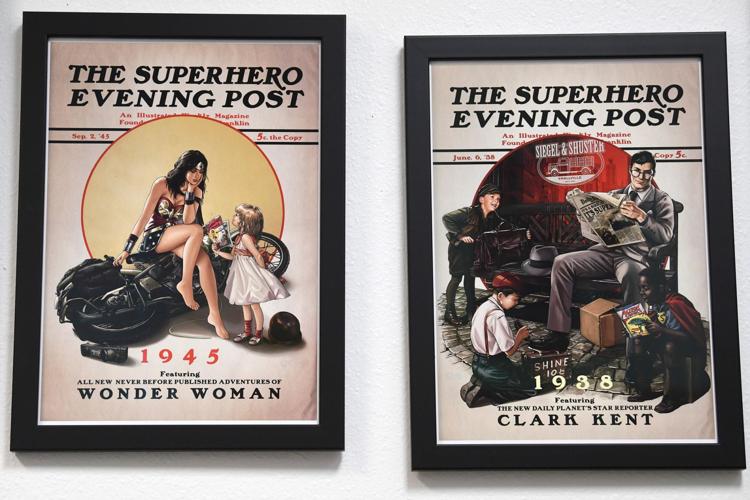 Saturday Evening Post, which is still a thing, is an old-timey magazine. ... I think [these prints get] the heart of how children love superheroes, how they actually have meaning for them. They have meaning for adults too, but they've always had meaning for children especially. It's this nice relationship. They're very quiet. Wonder Woman is talking to a little girl who is holding a Wonder Woman comic book. Here's Clark Kent — it's also meta — reading a story about Superman in the Daily Planet, which he would've written because he's Clark Kent. And there's this kid next to him reading the Action Comic where Superman first appeared. It's also nice, it shows how you've got white kids but you also have black kids who like superheroes and comic books, and over here you have a girl. So it shows love of superheroes isn't confined to just white guy, white boys. Everyone likes superheroes.
---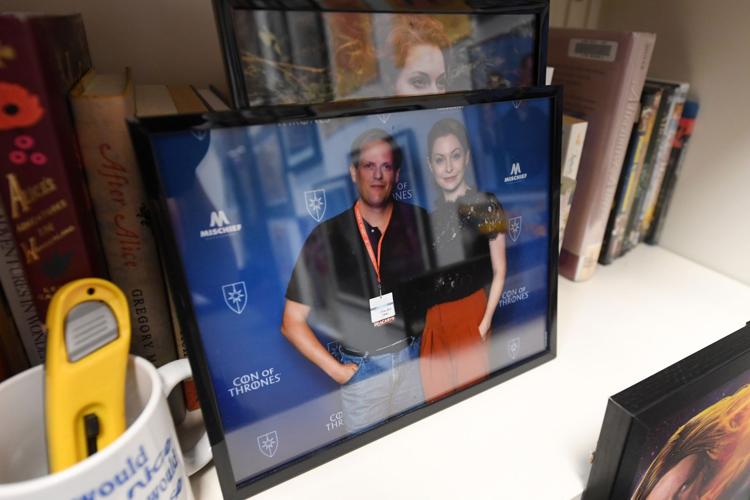 I went last year to Con of Thrones, which is kind of like Comicpalooza for Game of Thrones. My colleague and I went, we had a booth talking about the archives. We met some of the actors there. … That is Esme Bianco, who played Ros, the prostitute. … Ros was sort of like the outside character, kind of representing the viewer, like "Let's look at this new world we're in." And once the story starts to accelerate, and you start to have all these characters that were in the books, you start to need to give them more time.  
---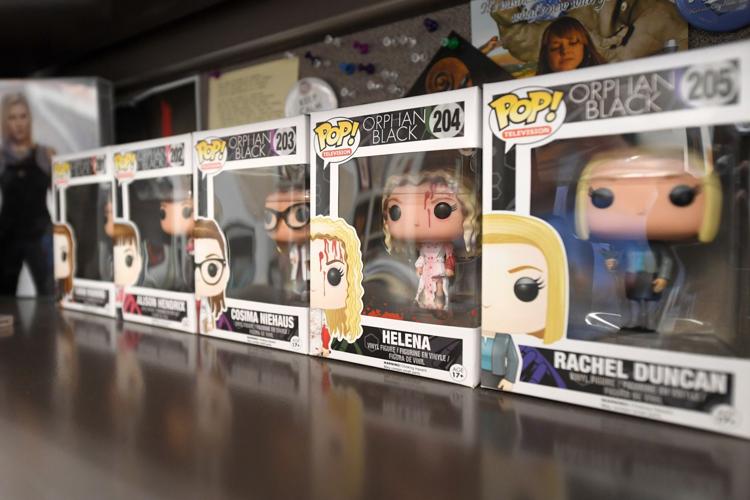 These are all Orphan Black. I love that show. It's over now, it was on BBC America. It's a really great show. All five of these characters are clones, they're all played by the same actress, Tatiana Maslany. … Each one is different and has a different personality, acts differently. And Tatiana Maslany is such an amazing actress, she actually managed to play each one differently. They do scenes where they've spliced them together, to the point where you forget that it's the same actress. It's pretty well known for that.
---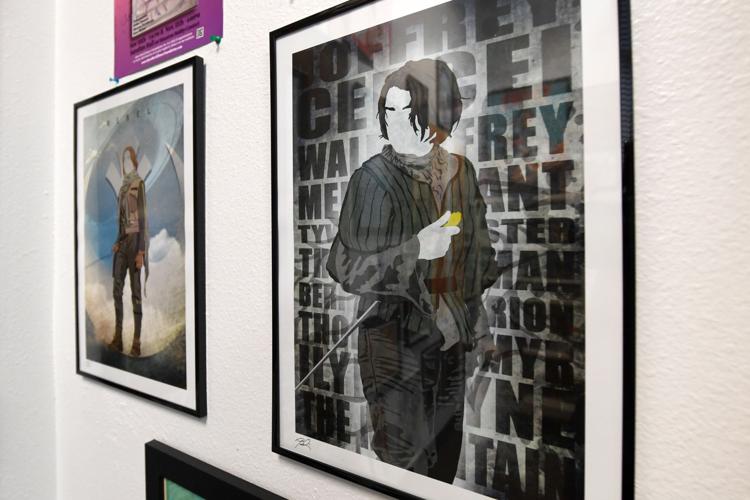 That's Arya and her list. I picked that up from [artist Brian Linss], he has a booth at Comicpalooza. He does these really interesting pop culture posters where he never shows their faces. That's the list Arya makes in her head of all the people she's going to murder, because all the people who have wronged her family, who have murdered members of her family. There's Joffrey Baratheon and Cersei and Walder Frey; Ilyn Payne, the executioner who killed Ned; the Hound is on there. … It's a representation of how Arya has basically turned into Batman. She watches her father get murdered, grows up and trains herself to fight and to seek revenge on crime in general. Essentially, she's Batman.
---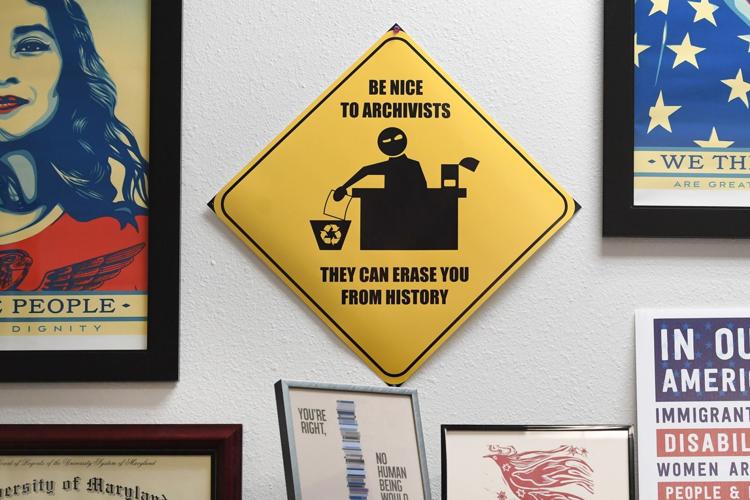 I can't remember where I got that. That's always fun. It's a point … I mean we do hold all your records. Don't piss us off, because we can shred every piece of your life. ... That's just fun. There's not much in here to indicate what I do — it looks like I collect toys all the time. So it's nice to see there are some things referencing my work.
---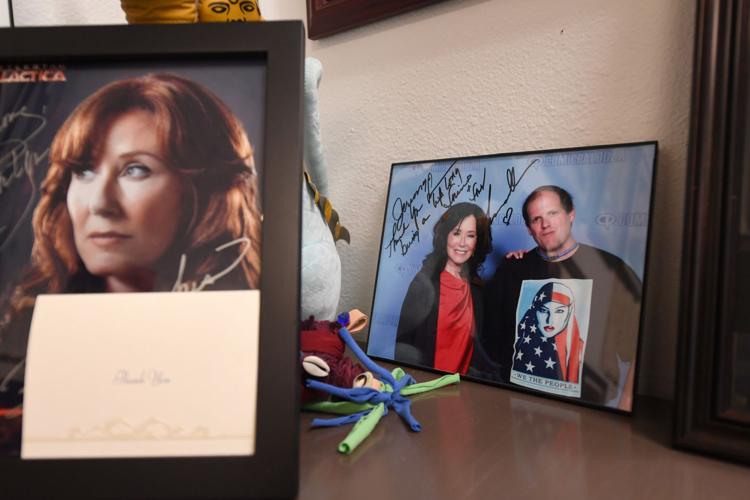 That's Mary McDonnell. She's one of my favorite actresses. I fell in love with her in 1990, when she was in Dances With Wolves. She played Stands With a Fist. She's famous in genre circles because she played Laura Roslin in Battlestar Galactica, which is where that photo comes from. Years ago I sent her a fan letter, and she sent me that back and she wrote a card for it. She was at Comicpalooza two years ago and I went, and got my picture taken with her and met her. So that was kinda fun. 
Be the first to know
Get local news delivered to your inbox!