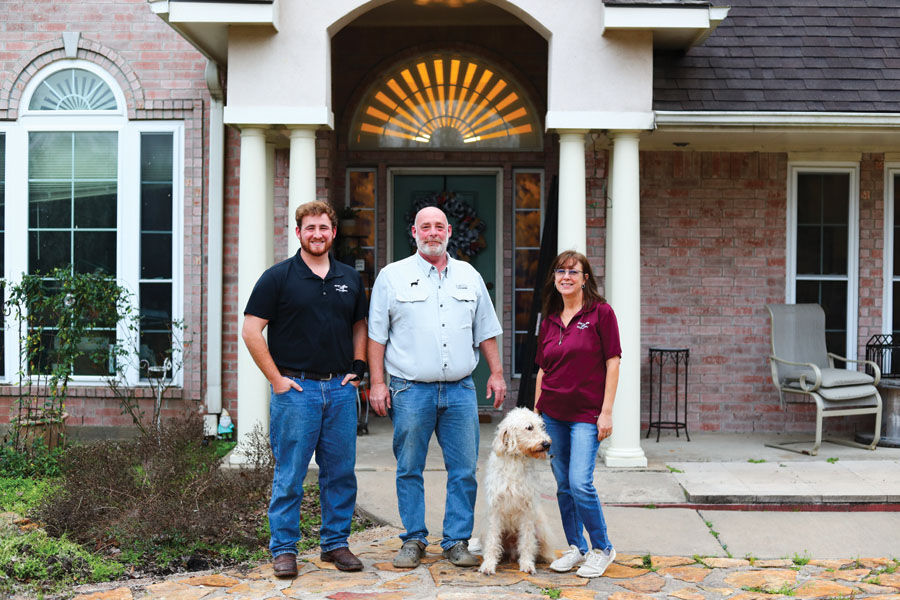 Terry and Nancy Cadle have been in the dog training business for 35 years, and have spent a decade training service dogs. Through River's Edge Dog Academy, which is run out of their College Station home, the Cadles train diabetic-alert dogs, seizure-alert dogs, mobility-assistance dogs and PTSD-service dogs.
"This is by far for us the most rewarding training we've ever done," Terry Cadle said. "You can teach a dog to come, heel, sit, stay, down. But when it kind of impacts people's lives, there's a real reward."
The dogs at River's Edge come to the Cadles as puppies, including some from shelters, and go through 10 months to a year of extensive obedience and public-access training, along with training for their given service task.
For diabetic-alert and seizure-alert dogs, this means scent training. There is a chemical change in a person's body before a diabetic episode or a seizure occurs, and the dogs are able to identify the scent. The Cadles said it is especially gratifying to hear clients say their dog alerted them hours before their device monitors.
Jane Zink, a freshman at San Antonio College, has Type 1 diabetes and had been searching for a diabetic-alert dog for several years. She found River's Edge in 2019, and said the Cadles set the foundation from the initial phone call that they were there to help.
"Ever since the first time meeting them, it has been the greatest experience I've ever had with any kind of dog trainer or any kind of members of the service dog community," she said.
Zink lives at home with her parents due to the coronavirus pandemic, but said that her yellow Labrador, Buddy, allows her to have the independence she was seeking. She calls having Buddy a "miraculous, life-changing event."
"I can exist totally independently," she said. "I don't have to have anybody home with me all the time. If something happens, I know that my dog Buddy is going to be here."
Buddy is able to alert a change in Zink's blood sugar up to two hours before it happens, which allows her to lessen the effects or avoid the event altogether based on her levels. Buddy alerts her early, she said, but her continuous glucose monitor readings can be up to 15 minutes behind her body.
"You can't always avoid it, but with him alerting early, it's definitely possible," she said.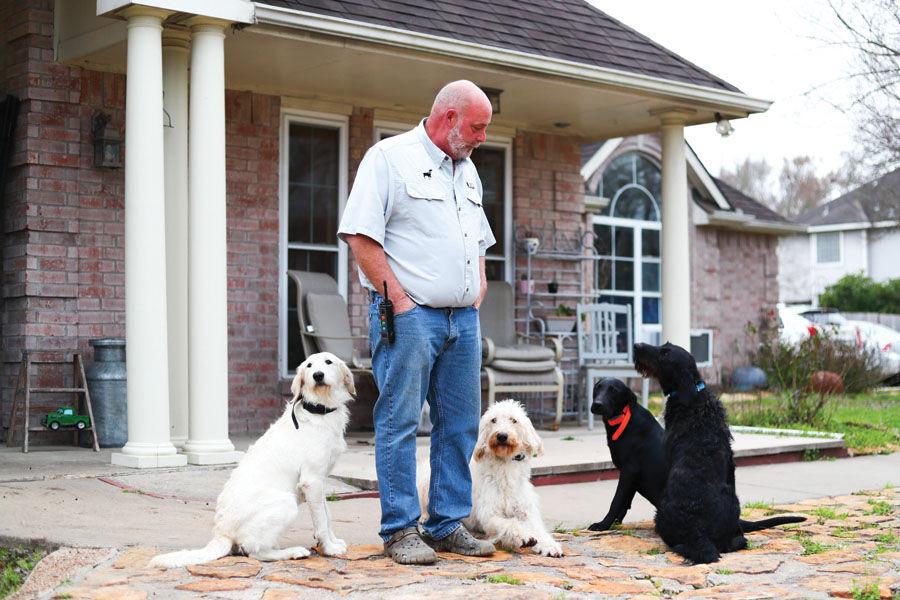 California resident Katy Davis said her 10-year-old daughter Leah's service dog, Brooke, is an added tool in managing Leah's Type 1 diabetes.
"One of the big things with diabetes is that it really pushes you to mature before you're necessarily ready because it's such a big responsibility," she said. "For us, we look at Brooke as this extra safety net, and this way for [Leah] to just be a kid."
Brooke, who came to the family from River's Edge in 2019 when Leah was 8, also serves as a comfort, Davis said, describing her daughter's life as full of needles, pokes and pain as a result of the disease.
"These diseases just stink," Terry Cadle said. "For us, a lot of the times, you know that you're handing off potentially the best friend they'll ever have, and that's a lot of fun. … Sometimes it pulls on your heartstrings a little bit, but the reality of it is when you know they're going to good folks, and you know that everything's right, then, hey, that's what they're supposed to be doing."
Barbara Bice and her 12-year-old daughter, Delylah, who live in Round Rock, found the Cadles through a nurse at Dell Children's Medical Center in Austin, where Delylah had become a regular patient. Though not officially diagnosed with Type 1 diabetes, Delylah has faced blood sugar challenges since she was born.
At age 8, Delylah wrote a letter to the Cadles about wanting a service dog, and how she would like the dog to be named Lulu and have a purple leash. Delylah, now 12, got her Labrador-golden retriever mix Lulu — purple leash included — after Lulu completed her training a little less than a year later.
Beyond Lulu, Bice said, the emotional support they received from the Cadles exceeded what she expected. On an early trip to school with Delylah, Lulu had a sudden threshold fear that prevented her from crossing a bridge in the school. Bice called the Cadles, and they drove from College Station to Round Rock to work with Lulu.
"If we've ever needed anything or needed to ask a question or tighten any training, they have been available 24-7, 365," Bice said. "There's never been a time that they haven't been."
In order to provide that level of support for their clients, Terry Cadle said, he and his wife are answering phone calls and questions at all hours and working with customers as their lives change. This could mean anything from seeking advice on how to handle adding a new baby to the home to getting another pet that is not a service animal.
"And that's that part of the aftercare," he said. "Even though it's two, three years later, it doesn't matter; these people are people that you start to get to know."
Some of the aftercare is continuous scent training, in which the handlers hide an item with their specific scent on it in their home for the dog to find. This allows the animal to stay engaged and sharp in between the owner's diabetic or epileptic episodes. Bice and Terry Cadle called the detection work a game for the dogs. If they find the scent, they get a treat.
"If you've ever seen a dog with a stick or a ball, they're obnoxious," Terry Cadle said. "They just want it; they want it more than anything. Well, it's the same thing with these guys. We want them to want [that item] more than anything."
Terry, Nancy and their son Lucas raise their dogs from puppies, so they can train from the start in obedience, the desired service and in public access — going to grocery stores, restaurants and sporting events. They train 10 to 12 dogs every year, delivering each one to their new family after training the client in person or virtually.
Bice said Lulu was a game-changer for the "nightmare" they were living: regular hospital stays, late-night checks to make sure Delylah was still breathing, checking that her blood sugar was not at a dangerous level.
"As a mom, being able to take a deep breath every so often just really helps to know that I'm not the only one — my husband and I are not the only ones kind of on duty," she said. "There's somebody else that's got our back, even if that somebody's a four-legged doggo."