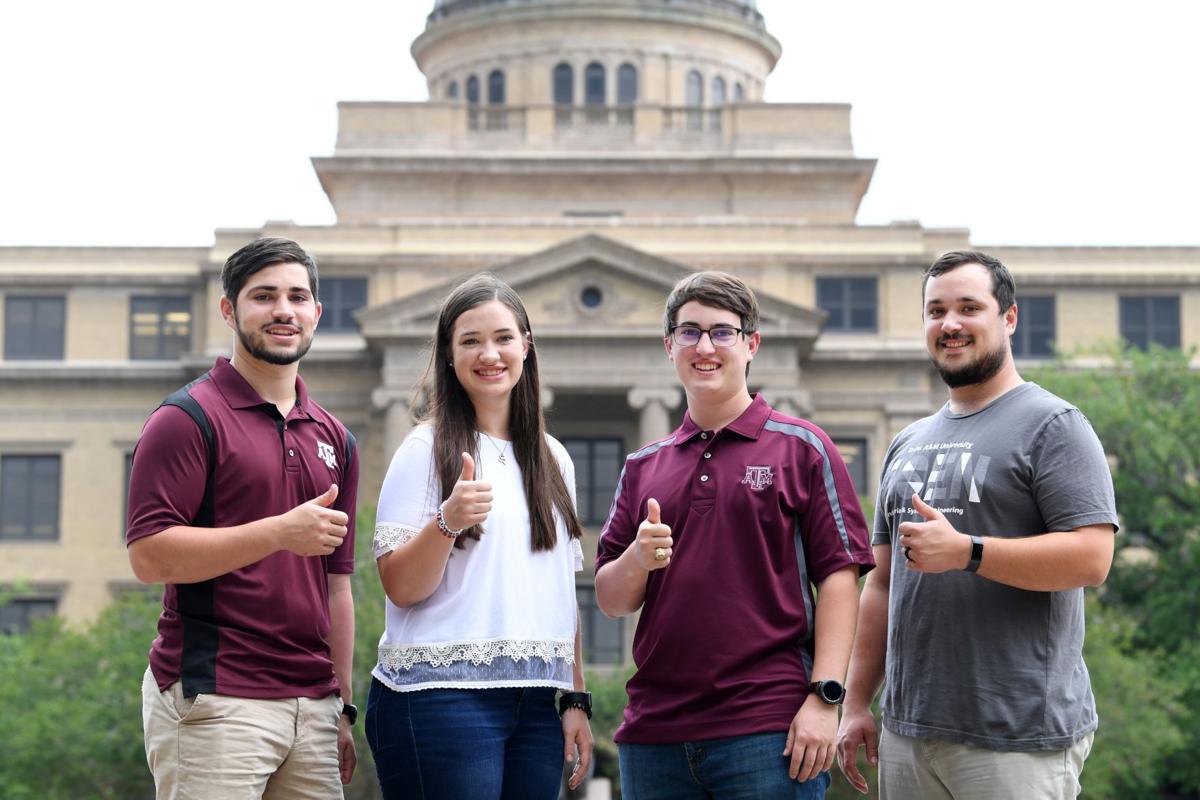 Texas A&M has seen a steady stream of Cottinghams over the years.
First, there was Sarah in 1995. Then came Catie, Amie, Tom, Chris, Michael and Taylor. That's seven of 11 for the Cottingham siblings — an objectively high rate of enrollment for the children of two parents from Kansas.
Randy Cottingham, the siblings' father, said he and his wife both went to Kansas State University. What they knew of A&M before moving to Texas mostly had to do with football, agriculture and its past as an all-male military school. But he makes one thing clear:
"We can't stand t.u.," he said with a laugh. "It's kind of like [the University of Kansas]. It's the kind of cross-state rival. It's the same difference, so we've liked that a lot."
So how do seven siblings from non-Aggie parents end up in College Station? For Tom, Chris, Michael and Taylor — who were all on campus at the same time until Chris graduated in May — it wasn't by design. Family is important to them, and they say they've all grown to love A&M's traditions. Having four siblings with an age range of 18 to 26 on campus at the same time, they concede, is somewhat unusual.
But the Cottinghams each say they made their way to College Station for their own reasons.
"When I started thinking about college, I didn't know if it would be A&M, because I felt like it was just doing what my siblings had done," said Taylor, the youngest of the siblings.
Taylor, 18, had considered Abilene Christian University as an option. But her acceptance into A&M's biomedical science program gave her the push toward Aggieland, as well as the assurance that she would have three older brothers on campus.
The Cottinghams, who grew up in the San Antonio area, attended a small private high school. Taylor graduated in a class of 13 students, and said the size of A&M was at first intimidating. Tom, 26, had an even smaller graduating class of nine.
He first attended A&M starting in 2011, knowing that he wanted to pursue engineering. But he said he had a hard time adjusting. After moving home for a couple of years and getting married in 2016, he moved back to Bryan-College Station and took classes at Blinn College before re-enrolling this spring.
The oldest of the four Cottinghams on campus this spring, Tom said he has fond memories of visiting his older sisters in College Station when he was younger, which played into his decision to become an Aggie.
"For the most part, it was just seeing how much people I knew loved coming here, just sharing their experiences and seeing how well everybody did afterward. It was kind of a no-brainer," he said. "At least for us, we're so spread out in age it wasn't like, 'We have to go together.' It did sort of just happen."
Now an industrial engineering senior, Tom was in the College of Engineering this spring with Chris and Michael. Michael, 20, is a mechanical engineering sophomore, and Chris, 22, just graduated with a degree in biomedical engineering.
For Chris, the atmosphere of the campus and his career goals in engineering pushed him toward A&M. For the first year and a half he was in school, Chris was the only Cottingham on campus. Michael said he had similar reasons for choosing A&M, adding that having Chris nearby was a positive factor.
"We are the closest in age, so for most of my life we spent a lot of time together on sports teams and such, so it's definitely good to keep hanging out with him," Michael said.
While it wasn't a deciding factor, the Cottinghams say having family on campus has been reassuring. Taylor said knowing family was close by helped ease her into her freshman year at one of the biggest universities in the country, whether she needed someone to go to a football game with or for the moments she didn't want to be alone.
Chris, looking back, said going to school at the same time with three siblings was nice "most of the time." And the other times?
"Sometimes you feel like you're at home," he joked. "But it's a lot of fun."
Be the first to know
Get local news delivered to your inbox!