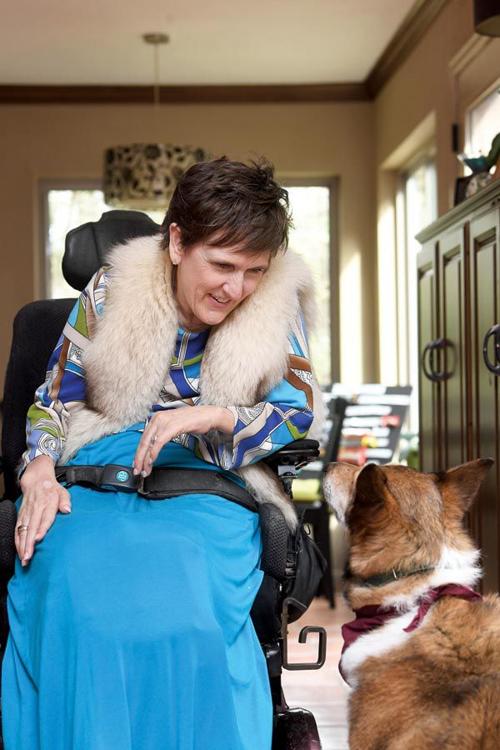 There are many duties that service dogs provide to humans, some of which are never seen by most people not directly associated with the dogs.
An example: Properly trained service dogs often detect issues with their human handler before human-made technology does, according to Nancy Cadle, who co-owns River's Edge Dog Academy in College Station with her husband Terry. River's Edge focuses on training diabetic-alert service dogs.
"We get calls from former clients that say their service dog is falsely alerting them about blood sugar, only to call us back 20 minutes later and say, 'She was right,'" Nancy said. "It's amazing the relationships that can be built, because the dog and person spend so much time together."
"Service dogs are another tool in the toolbox to help people with many of the problems they have," Terry said. "They're a great help for folks who need it."
Service animals are defined by the Americans With Disabilities Act as dogs (and, in a handful of instances, miniature horses) that are specifically trained to do work or perform tasks for people with disabilities. Examples include guiding people who are blind, alerting people who are deaf, pulling a wheelchair, alerting and protecting a person who is having a seizure, and calming a person with PTSD during an anxiety attack.
According to the Office of Risk, Ethics and Compliance at Texas A&M, petting service animals while they are working is not strictly forbidden, though many "handlers" — people who have a service dog helping them — have vests for their service animals that say "Do not pet."
"It is best to ask the handler or trainer before you approach or pet any dog (or other service animal)," the office's website states.
Here's a look at three Brazos Valley-area handlers of service dogs, and the canines who work with them.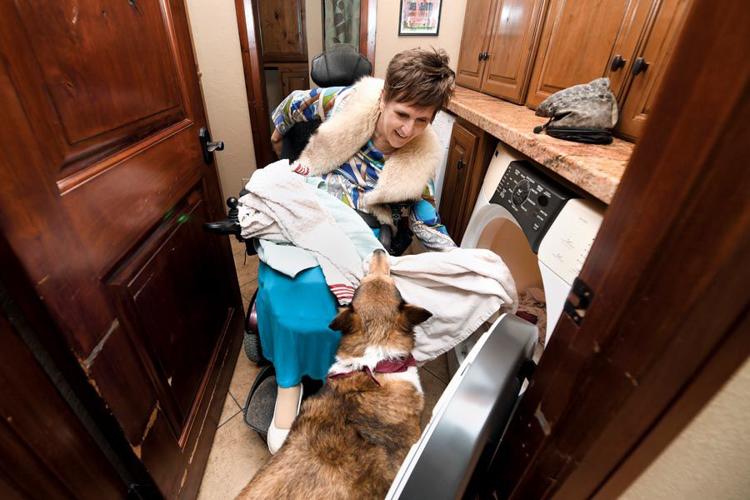 'I thank God every morning for her'
Cherie Cotner's service dog Angel isn't the most famous collie living in College Station, but she's up there. Angel helps Cotner, who has been a paraplegic and a wheelchair user since a 1983 car accident, with a variety of tasks.
"I drop dozens of things a day," Cotner said. "Oftentimes, before I had Angel, I would have to wait if I dropped something out in public for somebody to stop by and pick it up. Angel is there immediately, and excited to help me."
Cotner, 60, and Angel began working together nearly a decade ago via the Texas nonprofit Service Dogs Inc. "It's a gift for both of us," Cotner said of the relationship with Angel. "She helps me, and you can tell that it isn't really a job for her. She has such joy, and I think that Angel also aids in my independence."
Angel, a smooth-coated collie whose exact age is unknown but is somewhere between 11 and 13, helps Cotner move laundry by reaching, mouth-and-nose first, into the washer and dryer so she can deliver the clothes to Cotner.
"If I could get her to fold 'em, I'd be in great shape," Cotner said, laughing as Angel brought her a sheet. Angel also brings Cotner her glasses, water bottles and books. By commanding with the word "gentle," Angel can delicately bring her pieces of paper.
"There might be a light mouth mark or two," Cotner said with a smile, "but often as not, there isn't."
Angel's personality is joyful, Cotner said. "She has those soulful eyes and she's very sweet — just the most loving dog. I thank God every morning for her."
Cotner gives Angel treats often throughout the day, and said many service dogs are trained on a reward system.
Awareness of service dog etiquette has improved in recent years, Cotner said, though the duo occasionally encounters employees at establishments who are unaware that service dogs are allowed access. Malls and stores can be challenging for Angel, Cotner said, though buildings that lack accessibility for people in wheelchairs are a more common impediment.
Cotner, a member of the Texas A&M class of 1981, said she has a strong support system of fellow humans in the area: Her sister lives down the street from her College Station home, and she attends First United Methodist Church in Bryan. Angel doesn't join Cotner for Sunday services, she said, because applause tends to make her bark, but she goes most other places with her, including social gatherings at 1541 Pastries and Coffee.
Cotner was a Sam's Club employee before retiring earlier this decade. Angel was quiet, she said, until she started joining in a customary morning cheer that followed employee meetings at the store.
"She started barking along with the cheer, and everybody loved it," Cotner said.
Angel is particularly helpful in moments of social interactions with strangers, she said.
"No matter how social a person I am, when other people see you out in public, they don't know how to respond to people with disabilities," she said. "With a working dog, a smile can start conversations more often than not. 'May I pet your dog?' often leads to other discussions."
Cotner acknowledges Angel's relatively advanced age, and says her companionship "has been vital to my well-being."
"As I age, I will depend even more on my working dog in many aspects," she said. "As Angel has aged, she may not hear as well, and is a little slower in our walks, but her devotion is strong as ever."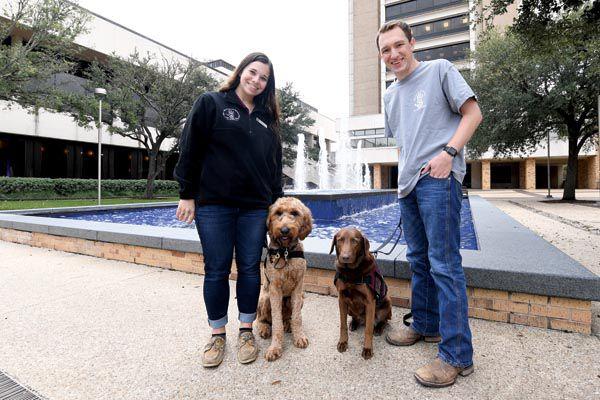 Braden Deupree, 23, said he and his service dog Jessie have similarly quiet and reserved personalities.
"It's like that scene in 101 Dalmatians where they show dogs who look like their owners," Deupree said, laughing as Jessie sat near his left leg during a recent interview. "She's quiet and calm and goes with the flow."
Deupree got Jessie, a chocolate lab, in 2014 from a downtown Houston shelter just days before her scheduled euthanization. "All the other dogs in there were just barking, barking, barking, and she was just chillin.' We could tell that was a good dog," he said.
"She's smart. You wouldn't believe how fast she catches on when you teach her something," Deupree said. Jessie can jump up when commanded to press buttons, pick up keys and phones and shut doors.
"One cool thing I like to show off is that I've taught her to get a Coke can out of the fridge," he said.
Deupree has epilepsy. He was diagnosed while in middle school, he said. "What happens to me is that I just black out or zone out, like sleepwalking. I have memory loss and it's a few minutes long."
Jessie has helped Deupree make progress, he said.
"She's a seizure alert for myself, and what she alerts for is that before you have a seizure, you give off a smell that people can't detect but dogs can know," he said. "So they can alert you."
Deupree said his medication sometimes makes him dizzy, and that Jessie can tell right away. If he faints or otherwise falls over, her training leads her to stand on top of him so that nothing else falls on him.
When asked what he'd most want people to know about service dogs, Deupree said that the dogs have vital roles — jobs that may not be immediately apparent. He said people often ask to pet Jessie, and sometimes don't ask before going for it:
"Some vests for service dogs say 'Do not pet,' while others say 'Please ask to pet.' And really, you're not supposed to [pet], because the owner really needs the service dog to be on the job."
Deupree, a 2018 Texas A&M graduate, said he became involved with Aggie Guide-Dogs and Service-Dogs during his sophomore year. The organization's president, Aubrey Bilicek, joined Deupree in his interview along with Pepper, a service dog in training.
"Oftentimes on campus, people see the dog first, and don't see the person," said Bilicek, 20. "Our organization is here in part to educate people that yes, the dogs are adorable, but they're here for an important reason."
The student-run group provides basic training and screening for potential service dogs, Bilicek said, and also partners with area organizations to assist with the high level of training needed. "There's a huge need for thoroughly trained service dogs, and not enough trainers," she said.
Bilicek said it's especially important for people to be aware of service dogs that are assisting handlers with disabilities that are not immediately apparent. She said that part of the screening process includes making sure that the dogs seem to enjoy working.
"Sometimes people assume service dogs never get to have fun, but I promise you, as soon as the jacket comes off, their energy shifts and they become like different dogs," she said.
Deupree said Jessie's actions, even when off duty, often mirror his own.
"There's totally a bond," he said. "She kind of does things when I do them. If I want to play, she'll play. But if I'm lying down relaxing, she'll go get into her bed. She's kind of like a cat."
'I trust her with my life'
Texas A&M student Ashley McMeans said that people often see and interact with her service dog, 3-year-old Nymeria, before they see her. Nymeria loves people, but is trained to ignore the excited reactions of humans while she's working, which McMeans described as being "in vest."
"Without her, most of the things I do I wouldn't be able to do. She's a very special dog," McMeans said.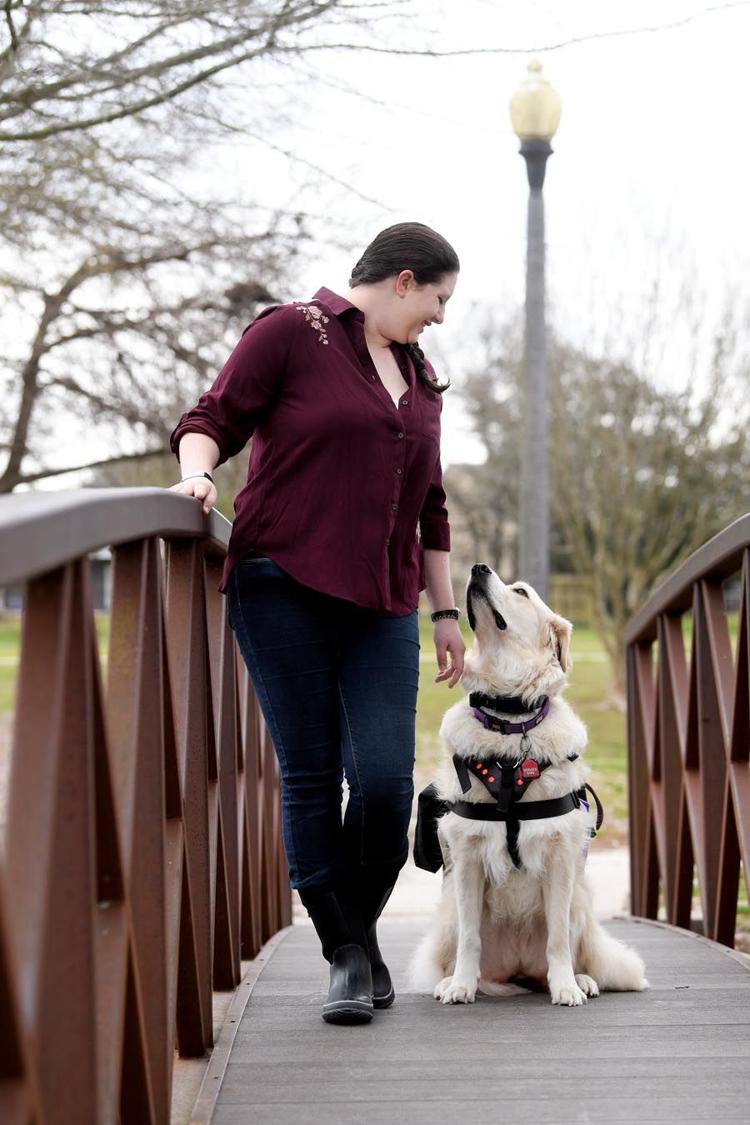 McMeans has had Nymeria since she was 2 months old. She trained her in basic obedience for five months before taking her out in public. "By the time she was 9 months old, she was going everywhere with me," she said.
"There has to be a lot of trust in our relationship, and there is," said McMeans, a zoology student and aspiring veterinarian. "I trust her with my life, and she does the same."
McMeans has vertigo, mobility issues and frequent battles with migraines.
"Not a day goes by where my balance isn't affected," McMeans said.
When working, Nymeria wears a counterbalance handle, which McMeans said is distinct from a more traditional guide handle.
"She knows how to brace if I've fallen, and can help me back up, and can pull me back up," she said. "Most of the time my hand rests very lightly on the handle, and gives me another way to ground myself and orient myself to the world."
Though medication has helped, she said her physical health struggles have, at times, led to depression. It helps both physically and emotionally, she said, to know that when something goes wrong, Nymeria is there.
"Ultimately. it's difficult for dogs to succeed in service work, and most don't make it," she said. "In working with her through my medical issues as they've gotten worse over time, it's been a huge help. I don't know how I would have made it this far without her. Definitely, I would not be in school if I didn't have her."
McMeans said she began a semester of school in 2015, but was forced to withdraw because of health issues. She restarted at A&M in fall 2017, and said she has about two years left before graduating.
"[Having Nymeria has] helped with my confidence as a person," she said. "It's helped me recognize my strengths and my weaknesses, and it's also helped me connect to the community."
McMeans described Nymeria's personality while the dog eyed ducks and squirrels near a Gabbard Park pond. "She is a goofball when she's out of vest, and very professional when she's in vest," she said.
Service dogs are trained to know when they're "on the clock," she said, and to know when they're not. Nymeria is a social dog and loves both people and other dogs, McMeans said.
"Most of that goes away when she's in vest," she said. "She's aware that she has a job to do. But even when she's not in vest, if I call her, she'll come and she'll help. She can tell when I'm not feeling well and need her."
McMeans said the attention that comes with having a service dog has its benefits and drawbacks. She encouraged people to pay close attention and to approach service dogs with caution.
"It's so important for people to realize that even though service dogs might not look like they're working, they very well could be," she said.
"Having her, I felt like I was on top of the world," she said. "I've never been super outgoing, and so it was nice to have a way to connect with people."
Nymeria's presence has led to great conversations with people while out and about, she said.
"There are shirts for handlers that read, 'My hero has paws,' and I don't think there are any truer words than that," McMeans said.
Be the first to know
Get local news delivered to your inbox!