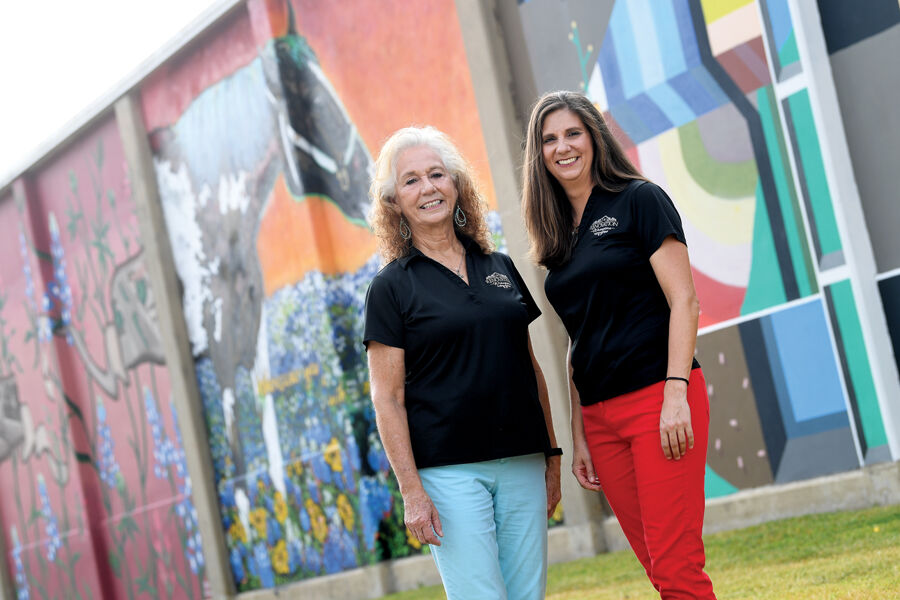 When Sarah Norman and Katie Neason saw a blank wall on West 31st Street in Bryan, they saw an opportunity.
The mother-daughter team discovered the canvas on the side of the Conlee-Garrett Moving & Storage building when they developed townhomes on West 31st.
In 2017, they partnered with a handful of artists and local businesses to turn it into a drive-by art museum. The West 31st Street Murals include five large paintings, each illustrating aspects of Bryan.
"We just wanted something that would represent commerce and community of Bryan, past or present, and then let the artists come up with whatever their interpretation of that was," Neason said.
Their efforts are part of the mission of their Renovation Wranglers business, Neason said: to create and promote a hometown revival.
"What we want to bring is a sense of community," she said, "where you're sitting on your front porch, you're interacting with your neighbors, and this is just an opportunity to do that."
When they first had the idea — and got permission from the Conlee-Garrett owner — to create the murals, Neason said, they partnered with the Downtown Bryan Association to find artists, and with local businesses to fund the project.
"With Downtown Bryan being a cultural district, we really didn't have any public art, and so this was an opportunity for us," she said.
The request for artists went out throughout the state, with an emphasis on those with a connection to Bryan. Mick Burson, Tyler Kay, Calina Mishay and local artists Sarah Blackmon and Cliff Collard were selected as the five artists.
"It's pretty neat," said Collard, who owns Arsenal Tattoo & Design in Bryan. "A lot more people get to enjoy it, compared to a tattoo that some people might see, nobody might see. ... That piece was for our community."
The murals were completed between June and August 2017. Collard used the entire time to complete his image of William Joel Bryan and images that symbolize Downtown Bryan, such as the Queen Theatre's crown, a Union Pacific train engine and glasses of red wine.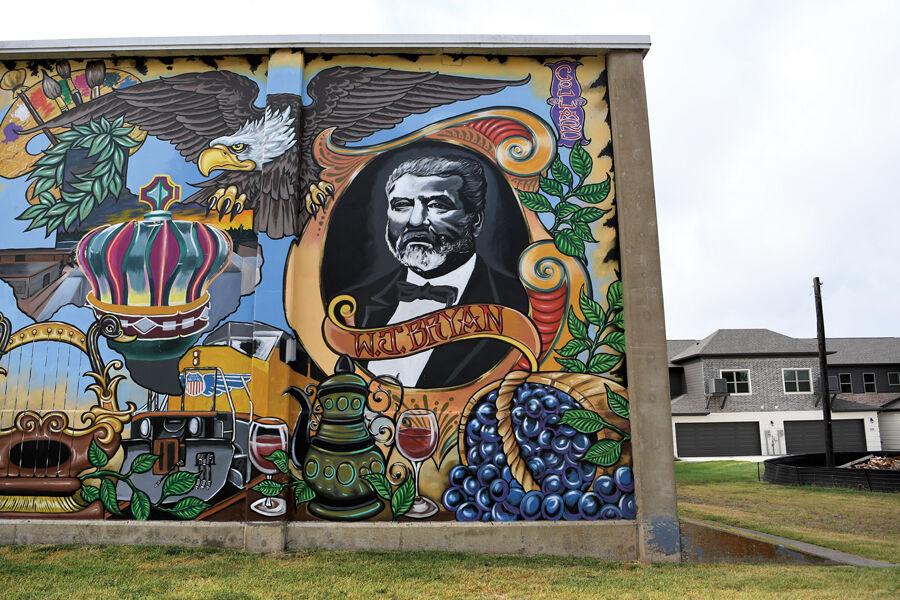 Norman and Neason said they love the diversity of the artwork. Some incorporate the city's heritage with images of horses and cattle, others have images of Texas wildflowers. Another takes a modern art approach to explaining Bryan.
"Not knowing art as much as we probably could have or should have, I think what the artists did was outstanding because it does touch everybody," Norman said. "It's not just all the same."
Collard said he likes that the murals are not for anyone in particular, but for the entire community and anyone who discovers it while visiting. Whether people stumble upon the murals or seek them out, he said, he wants people to leave knowing that art lives in Bryan and working artists reside there.
Since their completion, the West 31st Street Murals have inspired other downtown business owners to add murals to their locations, Neason said.
"We're just hoping it provides a unique asset to the town that people are willing to stop and want to do," Neason said.
One of Bryan's strengths is downtown, Norman said, and the murals give people another reason to visit the area.
"We love downtown," she said. "We love the area. We want people to come downtown. We want people to understand it has come back."