A recent boom in sports-card collecting has led many adults to dig into their closets, garages and attics to retrieve their old childhood collections.
Daydreams of a big payday can end quickly, however. James Huggins of Southwest Card World in College Station says he admires some of these older cards, but often has to bring customers back to reality.
"They come in with this stuff: 'Hey man, I want to sell this,'" Huggins said. "They think in their minds — not thinking millions, but they think there's hundreds if not thousands of dollars here. And I'm like, 'I hate to be the bearer of bad news, but I can give you 25 bucks for the whole thing.' And they're like, 'What?'"
Huggins co-owns the card shop — which opened in April behind IHOP in the Tower Point shopping center — with his longtime friend Wes Kilcrease. They hail from Pineland, and both graduated from Texas A&M in the early '90s.
During his A&M days, Huggins "fell in love" with the powerhouse 1989 Aggie baseball team, which led to later collecting Aggie standout Chuck Knoblauch's cards. He estimates at one point he had 500 Knoblauch cards.
"I always liked sports," he said. "There really wasn't money to be made in it. Back then, it was the collection, let's see if we can complete this set."
The hobby has evolved rather drastically in the past 20 years. The basic concepts still apply: Rookie cards for star players in baseball, basketball and football are the most sought-after, and autographed cards are worth more. Cards from the 1950s and '60s have high value, Huggins said. Not so much from the '80s and early '90s, or the "junk era" as Huggins calls it, because cards were so overproduced that even the best cards aren't considered that rare. So if you're among those attic diggers looking to sell your Roger Clemens or Kirby Puckett rookie cards, don't expect to retire from the profits.
Cards have been upgraded from those days as well, going from basic cardboard to a flashy and glittery look. Some cards contain pieces of fabric from a player's jersey, or an autograph, which sends prices higher. And they are produced in more limited numbers, Huggins said, making them more elusive. For those buying and selling, cards are graded, with a perfect 10 as the most valuable.
"The grading changed everything," store employee Kaden Scheer said. "People were able to calculate value of the card based on the condition, instead of just looking at it. ... People collect 10s — they want perfect cards. You can have a 10 of a crap player, and it'll still sell for $30 or $40 just because it's a 10."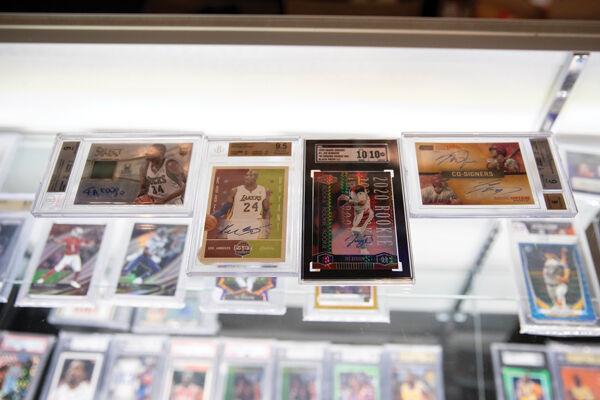 The onset of the COVID-19 pandemic was another game-changer, Huggins said. People were stuck at home and looking to rekindle their connections to cards. There were no live sports on television for fans to watch, but there was stimulus check money in their pockets. Meanwhile, several NBA players — Zion Williamson, Ja Morant and Luka Doncic — had recently emerged, and their rookie cards were highly coveted, Huggins said.
As the value of those cards rose, people known as "flippers" started buying up boxes of cards at retail outlets like Walmart and Target, then selling them online for a huge profit, Huggins said. An example: Boxes of 2018-2019 Prizm cards sold for $40, Huggins said, but could contain a prized Doncic card. A base level, 10-grade Doncic could sell for $1,400, Huggins said, and a 10-grade of the more rare silver version went for more than $4,000. So the resale price of a box skyrocketed.
"It reached the point where so many people, these flippers, they start stalking the distributor, following them on their route," Huggins said. "It got crazy. You'd have a line of 30 people. I can show you pictures of people camped out: 'Oh, the distributor's going to be here at 7 a.m.'"
The market started to calm down in the spring, Huggins said. Walmart raised its prices, which cut down on the flippers' profit margins. Target stopped selling sports and Pokemon cards altogether after a violent incident at a Wisconsin store.
"The prices are still much better than they were two or three years ago," Huggins said. "The hobby is still in great shape. But at some point, we knew the bubble would burst, and it did."
Southwest Card World does the bulk of its sales online through eBay and Facebook, Huggins said. He and Kilcrease are aiming for the shop to attract families, and they put in three TVs to show sports events and programming.
"We wanted people to come in here, enjoy the game," he said. "Kind of like 'Cheers,' but for cards. We wanted a place where people can bring their families, their kids. I remember going with my brother — we'd go to the card shop with my dad. We wanted a place where people come in with their kids and bring back that memory from when they were kids."
Huggins said his favorite part is meeting people who come in and want to talk about the hobby.
"Telling stories and hearing and seeing what they've got," he said. "Educating people about the market. I enjoy being business partners with Wes, that's a big plus. I've always been a big sports fan, so to have this is a good outlet for me to be able to do something that I love."