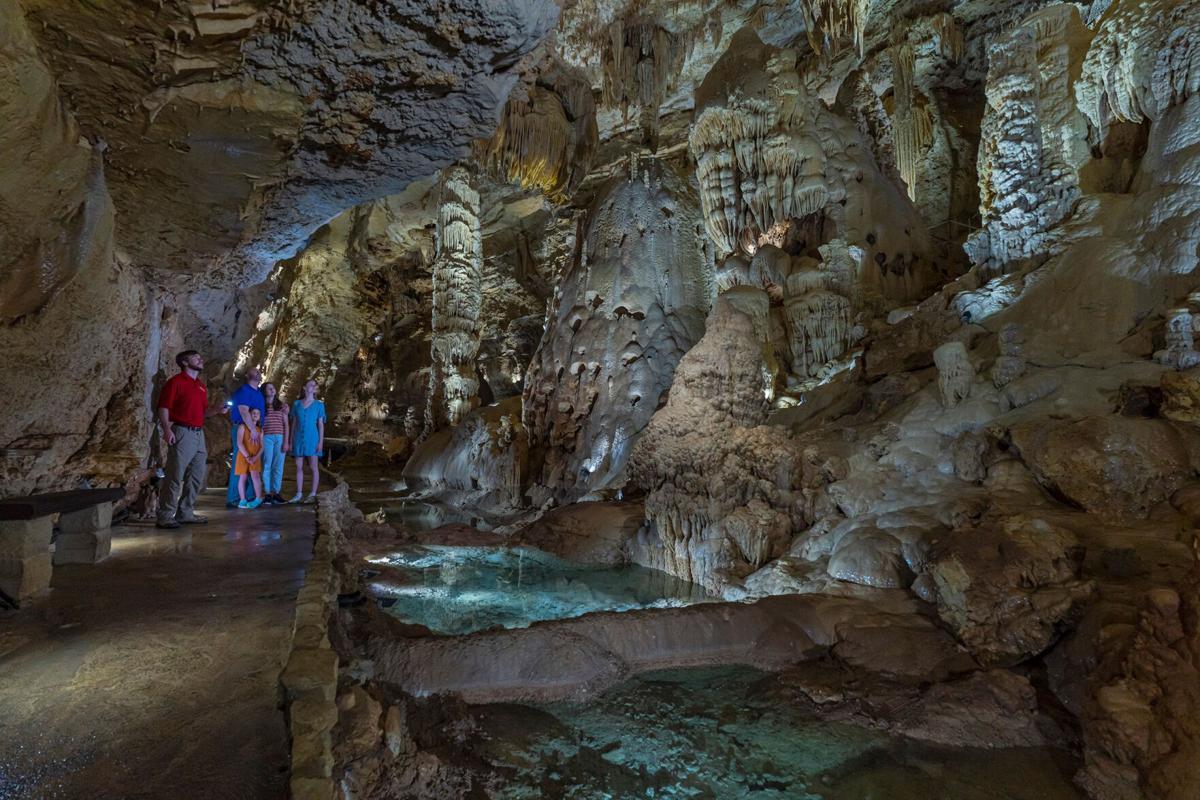 Traveling has returned for many of us, so it's a good time to take a look at fun places around Texas, with specific interests in mind. Some are close enough for a day trip, some are farther out. Check venue websites for current details.
Texas features a variety of outdoor attractions from mountains to beaches and even places to explore underground.
The state boasts two national parks in West Texas -- Big Bend and Guadalupe Mountains. There are more than 150 miles of trails to hike in Big Bend, and the park boasts landmarks such as the Santa Elena Canyon and the Window View Trail, which ends at the base of a waterfall. Guadalupe Mountains is home to Guadalupe Peak, which is the highest point in Texas at 8,751 feet.
Along Texas' Gulf Coast are beaches in Galveston, Port Aransas and South Padre Island.
Enchanted Rock near Fredericksburg is one of the most iconic outdoor destinations in the state, featuring 11 miles of hiking trails, rock climbing areas and campgrounds.
Cameron Park in Waco sits along the Brazos River and is one of the largest municipal parks in the state. There are more than 20 miles of trails, a 23-hole disc golf course, a lookout point over cliffs and a zoo.
Out west of Midland-Odessa is Monahans Sandhills State Park, which features free-range sand dunes with no defined trails.
Natural Bridge Caverns is the largest of five caves in Texas in between New Braunfels and San Antonio.
Other Texas caves include Inner Space Caverns in Georgetown, Longhorn Cavern State Park in Burnet, the Cave Without a Name in Boerne and the Caverns of Sonora.
Live music is slowly creeping toward normalcy, and that's reason to celebrate. The legendary Gruene Hall is up and running. You can see Steve Earle & the Dukes (July 1) there and American Aquarium (July 2).
Billy Bob's Texas in Fort Worth has Shenandoah and Collin Raye (June 25), Ramon Ayala (June 26), Kenny Wayne Shepherd (July 3) and a rock lineup of Everclear, Wheatus, Hoobastank and the great Living Colour (July 9).
The Woodlands Pavilion has a busy summer schedule, including Chicago (June 27), the Black Crowes (Aug. 14) and Brad Paisley (Aug. 15).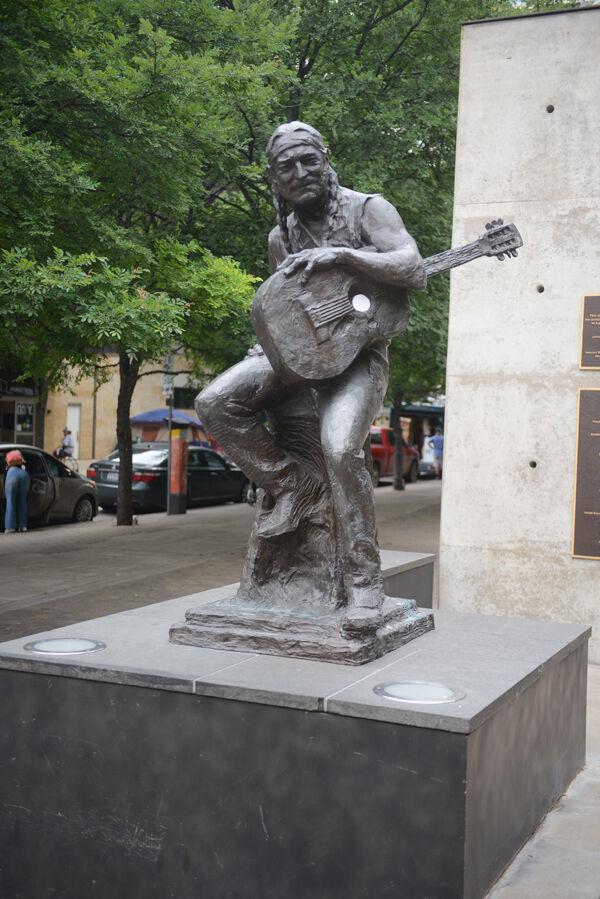 Beyond the stage, Texas has plenty of music history to experience. Austin is a great place to start, with two iconic statues. The late blues great Stevie Ray Vaughan stands by Lady Bird Lake, and country legend Willie Nelson is joined by trusty guitar Trigger on Willie Nelson Boulevard near Austin City Limits Live at the Moody Theatre.
Other music statues of note around the state include Buddy Holly in Lubbock and blues legend Lightnin' Hopkins in Crockett. Texas swing master Bob Wills is honored in Turkey with a tall monument topped by two fiddles. And it's always nice to see the Freddy Fender tribute on the water tower in San Benito on the way to South Padre Island.
In Port Arthur, a historical marker was established in 2008 for Janis Joplin's childhood home, and a replica of Joplin's psychedelic Porsche is housed at the Museum of the Gulf Coast. The museum's website lists performers from the area in its Hall of Fame, including Marcia Ball, Clarence "Gatemouth" Brown, George Jones, Percy Sledge, ZZ Top and Larry Graham of Sly and the Family Stone.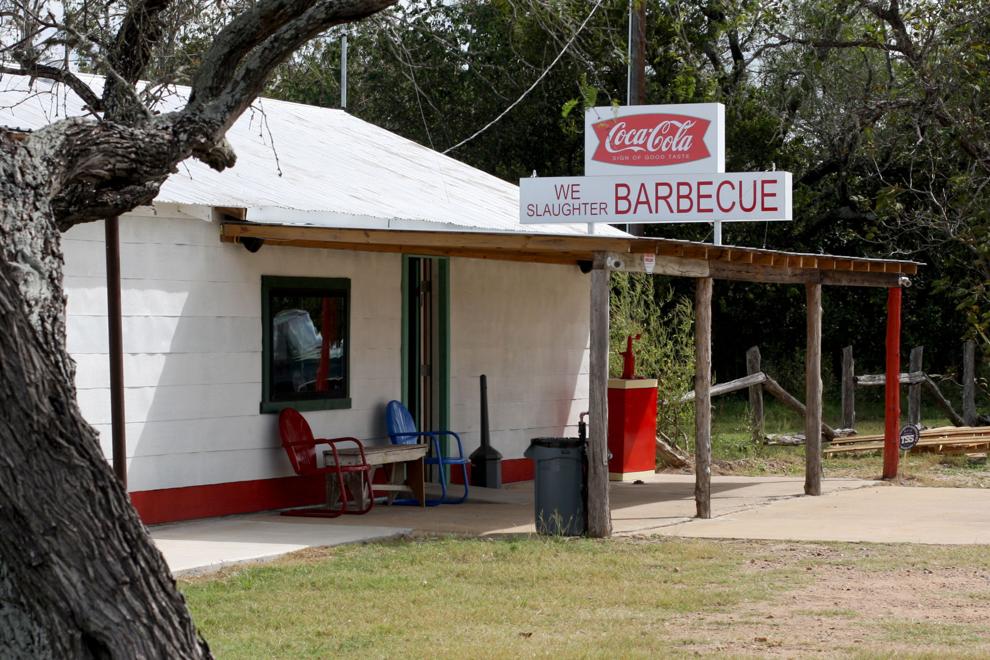 A macabre vibe can be found in Bastrop, at the restored gas station that was the site of a memorable scene in The Texas Chainsaw Massacre (1974). Known as The Gas Station, it offers barbecue lunches and loads of horror flick merchandise. And if the film means that much to you, you can rent a cabin out back and spend the night. The family house in the film was originally in Round Rock, but was moved to Kingsland. It's now a restaurant called Grand Central Cafe near the Antlers Inn. And it looks nothing like the house of horrors captured on film.
The Hotel Paisano in Marfa was headquarters during the making of Giant (1956), and stars James Dean, Elizabeth Taylor and Rock Hudson stayed at the hotel during part of the filming, along with other cast and crew members.
The hotel's website says they eventually found private residences, but still dined at the hotel and watched dailies of the film in the ballroom.
It might make for a weird road trip, but several films have featured the Texas State Penitentiary at Huntsville, including The Getaway (1972) with Steve McQueen and Kevin Costner's A Perfect World (1993).
You can find several sites featured in Dazed and Confused (1993) around Austin, including Top Notch Hamburgers, the Americana movie theater (now a library), along with schools and homes, according to austin.curbed.com.
The same goes for the great comedy Office Space (1999), including the interior of corny restaurant Chotchkie's, which is inside Baker Street Pub, according to austin360.com.
For sci-fi fans, there's always Logan's Run (1976) which was filmed in Fort Worth, including the Fort Worth Water Gardens.
Robocop (1987) filmed in such Dallas sites as City Hall, Dallas Municipal Building and Deep Ellum. (Too bad it's all disguised as Detroit in the movie.)
Remnants of prehistoric dinosaurs can be found all across the Lone Star State.
In Glen Rose, the "Dinosaur Capital of Texas," visitors at Dinosaur Valley State Park can walk in dinosaur tracks found in the bed of the Paluxy River when the water levels are low enough. The town is also home to Dinosaur World Texas, which features more than 100 life-sized dinosaur models.
The Dinosaur Science Museum on the campus of Southwestern Adventist University in Keene is home to more than 30,000 dinosaur bones. The Dinosaur Park outside of Bastrop is an outdoor museum with dinosaur skeletons and realistic life-size dinosaur exhibits.
Waco is home to the Waco Mammoth National Monument, which features fossils from Columbian mammoths.
Here in Bryan-College Station, the Brazos Valley Museum of Natural History has an exhibit called "The Age of Dinosaurs" with full-size casts of the skulls of a Triceratops and Tyrannosaurus rex.
Venture around the state to see classic vehicles, cool hot rods and vehicles that have been transformed into works of art.
Clifton Classic Chassis Auto Museum in Clifton has vintage scooters and 35 cars on display from the 1940s through the 1980s, including Corvettes, Thunderbirds, Buicks, Pontiacs and Chryslers.
Just west of Amarillo, Cadillac Ranch is a roadside graffiti art attraction that has been bringing visitors to use spray paint on 10 cars that were planted in the ground since the 1970s. This roadside attraction is also along the historic Route 66.
The Terrill Antique Car Museum in DeLeon has a collection of pre-World War II cars. The museum has a Coffin Steam Carriage, a Crow-Elkhart Cloverleaf, and an REO Speedwagon three-quarter-ton truck.
The Austin Rock & Roll Car Museum is open for free on the first and third Saturday of each month and displays vehicles from hot rods to classics. The museum is known for specializing in historical race cars, cars from movies and music-related vehicles.
The Art Car Museum in Houston, known as the "Garage Mahal," features cars that have been turned into works of art from local artists and artists around the world.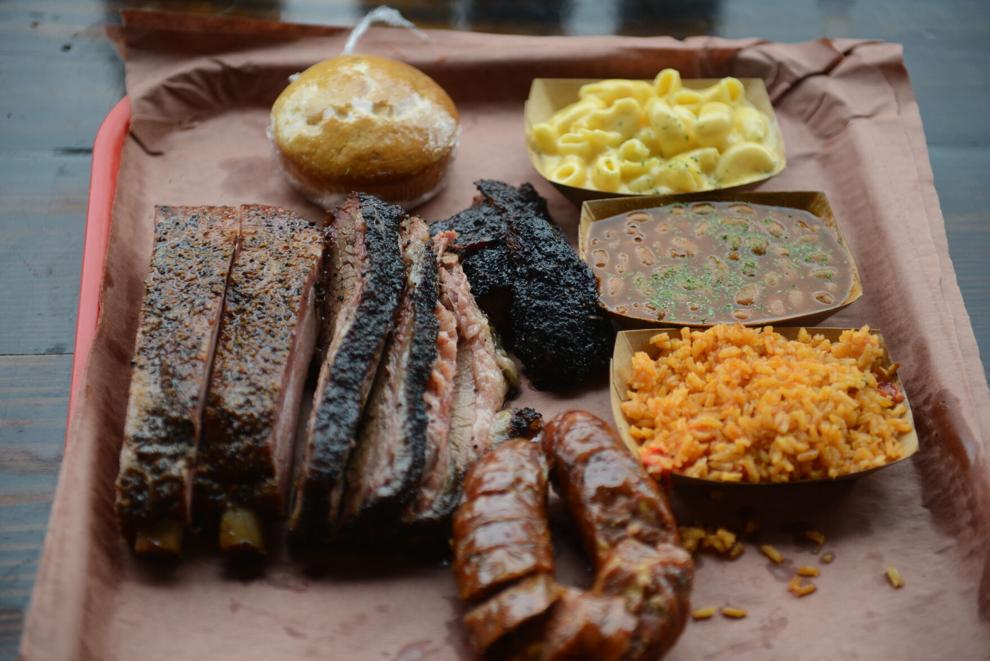 Central Texas is loaded with options to eat good barbecue. Bryan-College Station alone boasts restaurants such as Fargo's, Cooper's, 1775 Texas Pit BBQ, and All the King's Men. But the region at large features some of the state's top barbecue locations.
Texas Monthly's top-rated joint is Snow's in Lexington. This place is only open on Saturdays. Plan to come early because it opens at 8 a.m. and often has a long line. Running the pits is Ms. Tootsie Tomanetz, who is still working at age 86 and has become an icon among pit masters in the state, being referred to as the "Queen of Texas BBQ." She was featured on an episode of Chef's Table.
Lockhart sits as the barbecue capital of Texas with longtime establishments Kreuz Market, Black's, and Smitty's Market.
Over in Austin, pit master Aaron Franklin has perfected brisket at Franklin Barbecue, which is well-known for its long lines that can last for several hours. So bring a chair if venturing there, and also check if the dining room is open. Franklin is one of the nation's top pit masters and has written two barbecue-related books and has several MasterClass episodes. Austin is littered with other noted joints, such as la Barbecue, Terry Black's, and Valentina's.
The way back to Bryan-College Station features stops on Highway 79 at Louie Mueller's in Taylor and up-and-comer Brett's Backyard Bar-B-Que in Rockdale.
Art museums can be found in every major city in Texas.
The Museum of Fine Arts in Houston is one of the nation's largest museums and is free to visitors on Thursdays. From June 27 to Sept. 19, the museum will have an exhibit called Monet to Matisse: Impressionism to Modernism.
The Nasher Sculpture Center in Dallas features modern and contemporary sculptures. The museum has rotating and special exhibits.
Art is a main attraction for the west Texas town of Marfa. There are numerous art galleries and exhibits throughout, and a resource for galleries and exhibits can be found at marfagalleryguide.com. A notable landmark is Prada Marfa, which is a permanent land art project modeled as a boutique. It's a common photo stop for tourists, and Beyoncé took part in a 2012 photo from there. Prada Marfa was even featured on The Simpsons in 2019.
The San Antonio Museum of Art's current exhibit is America's Impressionism: Echoes of a Revolution, which features 19th century art from Americans who trained in France.
There are eccentric attractions off the beaten path across the Lone Star State.
John Milkovisch transformed his Houston home into a beer can house, which is estimated to include over 50,000 beer cans. The house can be toured on Saturdays and Sundays for $5.
Mike Newman lived out his dream of building a castle by creating Newman's Castle outside of Bellville. The fortress with a moat and drawbridge can be toured six days a week. The castle boasts a 62-foot bell tower and a dungeon.
Newman's Castle isn't the only European-inspired destination in Texas. The northeast city of Paris features a Texas-style Eiffel Tower, topped with a cowboy hat. This Eiffel Tower is 65 feet high, or about 1/10 the size of the original in Paris, France. In Ingram, Stonehenge II is a re-creation of the original Stonehenge monument in England. This Stonehenge is almost as wide, but only 60% tall as the original.
On the way to Austin, the city of Hutto features over 3,000 hippo statues around the town. The statues are a tribute to a local legend that a hippo escaped from a circus and wandered around town back in 1915. The Hutto High School's team name is the Hippos.
Aside from the standard stadiums and ballparks, there are several stops sports fans can make across Texas.
The Texas Sports Hall of Fame in Waco features an exhibit dedicated to the Southwest Conference and the Cotton Bowl, and is also home to the Texas High School Football Hall of Fame.
Nolan Ryan, professional baseball's all-time strikeout and no-hitter record holder, has been honored in his hometown of Alvin at the Alvin Museum Society with a statue and exhibit, which opened in April and features Ryan items and memorabilia.
Babe Didrikson Zaharias was a multisports star who excelled in golf (winning 10 LPGA major championships) and track (winning two gold medals at the 1932 Summer Olympics). The Babe Didrikson Zaharias Museum & Visitor Center in Beaumont pays homage to her accomplishments.
The International Bowling Museum & Hall of Fame in Arlington features five exhibits focusing on the inventors, advocates, champions and future of the sport.
A historical marker stands in Junction at the fields where the Texas A&M football team infamously practiced for 10 days under Paul "Bear" Bryant before the 1954 season.
Two baseball-related historical markers include the Astrodome in Houston, which was the first domed stadium in the world, and Downs Field in Austin. The field opened as a "separate but equal" baseball field for Black players in 1949 as an alternative to the University of Texas' Disch Field, and was used by Anderson High School, which was the only high school for Black students in Austin during segregation. The park is still used by the Huston-Tillotson University baseball team.
New to Texas in 2021 is the Austin FC soccer team, which competes in the MLS and is the city's first major professional sports team. Also in the Austin area, fans of the TV show Friday Night Lights can visit The Pfield in Pflugerville, which is depicted as the home stadium for the show's fictional team, the Dillon Panthers.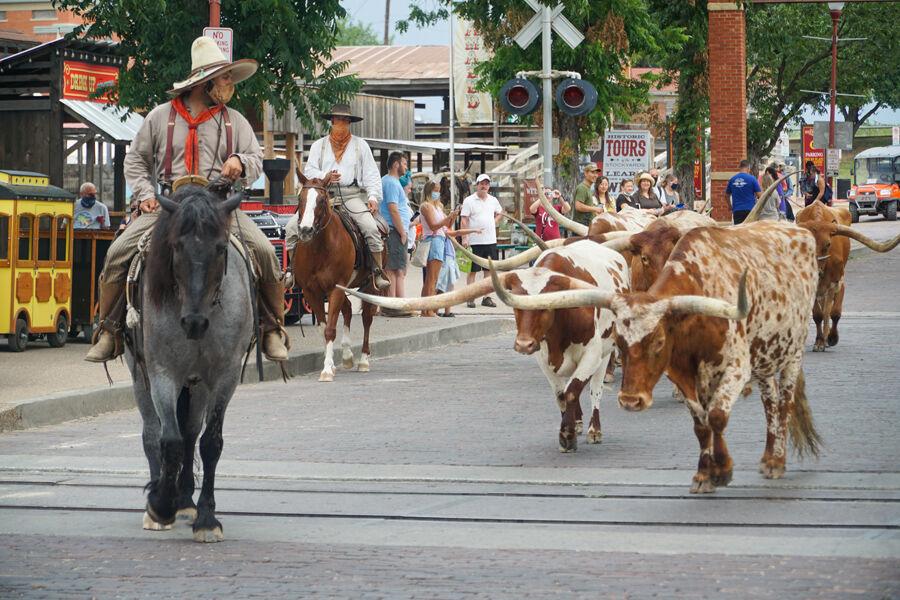 FOR THE COWBOYS AND COWGIRLS
Fort Worth is full of sites and museums about Texas' cowboy roots.
Within the Historic Fort Worth Stockyards are the Bull Riding Hall of Fame and the Texas Cowboy Hall of Fame, which is home to the Sterquell Wagon Collection and boasts more than 60 antique wagons, carriages and sleighs. The Stockyards also holds a cattle drive of longhorns each day at 11:30 a.m. and 4 p.m.
Also in Fort Worth are the National Cowgirl Museum & Hall of Fame and the Texas Rodeo Hall of Fame.
In Dublin, the Rodeo Heritage Museum tells how modern rodeo began and highlights key figures of the sport.
Pecos is home to the world's first rodeo and hosts the West of the Pecos Rodeo from June 20-26.
The Buckhorn Museum in San Antonio holds the history of the oldest saloon in Texas and is also home to The Texas Ranger Museum.