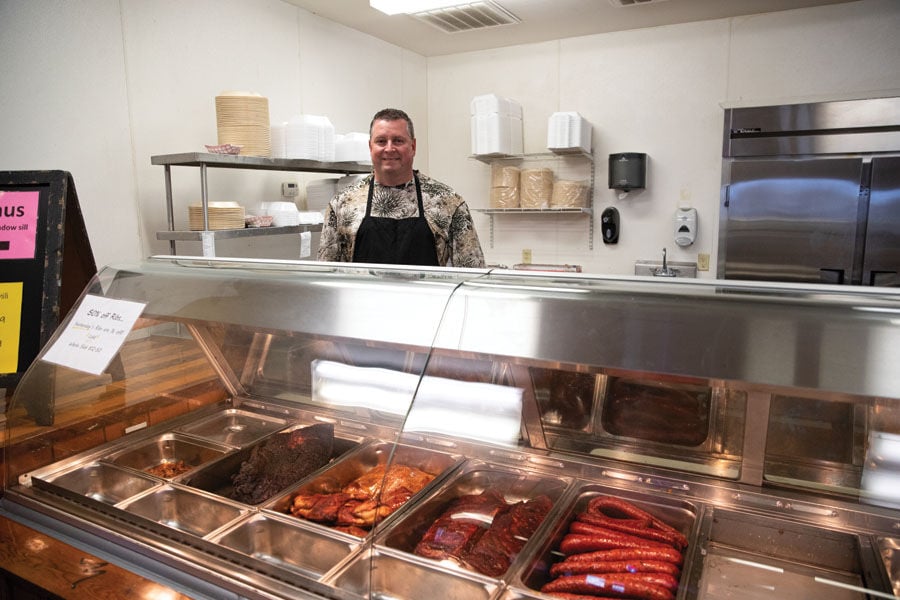 Greg Mallett started cooking blueberry muffins when he was just 4 years old. Now he's the owner of three barbecue restaurants in the Brazos Valley under the same name — Mallett Brothers Barbeque.
Greg and his brother Chad opened their first location in Navasota in June 2009. A second location was opened in Iola, their hometown, in 2011, and a third restaurant opened in Madisonville in 2017.
Consistency and customer service are of utmost priority at Mallett Brothers, Greg Mallett said.
"Every time a customer comes in, it should be the same every time," Mallett said. "That's kind of the hard thing in the barbecue industry. Brisket is the staple, so it's one of the things that we have to make sure is perfect each time."
Freshness is another key factor, Mallet noted. Pits are fired up each morning to make ribs and other meats. Chicken-fried steaks and onion rings are hand-battered.
"Everything that we do is hands-on, not out of the freezer," Mallett said. "Everything's fresh."
The Texas barbecue classics including brisket, pork ribs and sausage are offered, along with chicken-fried steak sandwiches and jalapeno ranch burgers.
"Nine times out of 10, you get a group of six to eight people that come in together, and half of them are going to get a hamburger or a chicken-fried steak and the rest of them are going to get barbecue," Mallett said. "It gives another option because not everybody eats barbecue."
Mallett said he and his brother enjoyed cooking for large parties and decided to take their passion for cooking to the next level by catering. Later, the two would work out of a mobile trailer before opening the Navasota restaurant.
The name of the restaurant is a sort of family tradition. Mallett said his grandfather owned a grocery store and meat market in Iola under the same name — Mallett Brothers — until 1980.
"It's something that's always been in our family," Mallett said of the brothers' passion for cooking.
Since Mallett Brothers opened, the Navasota restaurant has supported Navasota High School athletics. A&M Consolidated football coach Lee Fedora, who coached at Navasota from 2005 to 2015, would have the Rattlers eat their pregame meals there. The restaurant essentially closed down on Friday afternoons to ensure players and coaches could get through the line and eat in a timely manner. During the playoffs, Mallett Brothers hosted a weekly radio show with Fedora previewing the upcoming game.
"It was a deal where we would sit down and discuss things, and of course all the players and parents were there," Fedora said. "It was always a great atmosphere."
Fedora was superstitious, too, having the team eat the same meal each week: a chicken plate with two sides and Gatorade.
"We were winning," Fedora said, "and I said, 'I don't want to change it.' "
The Rattlers captured state championships in 2012 and 2014. Fedora gave Mallett a signed Navasota helmet. Posters of the two title-winning teams hang on the walls of the restaurant.
"That fueled the state championships right there," Mallett said.
On another wall sits a sign that says "Enter as strangers … Leave as friends," which is a motto the Malletts embrace.
"You come in, you're going to leave as a friend," Mallett said. "That's what we like to do. We like to get to know our customers on a first-name basis. The home feel of how we do things here is why I think people should stop in and try it out."
Details: 9339 Texas 6, Navasota. Sunday and Monday from 10:30 a.m. to 2 p.m., Tuesday through Saturday from 10:30 a.m. to 8 p.m.