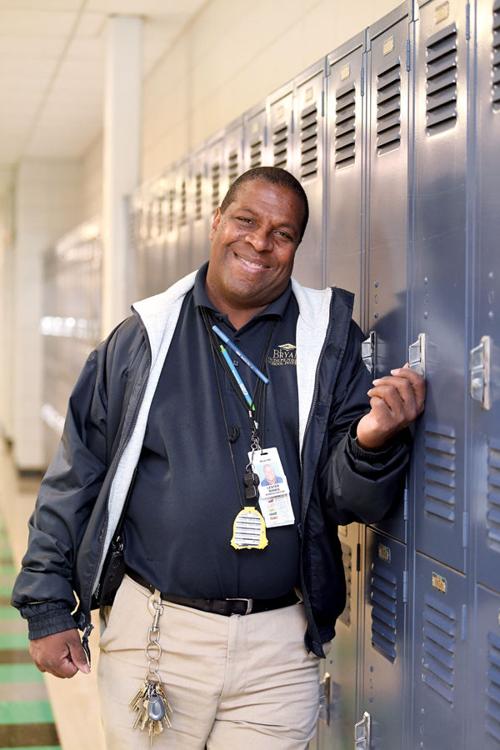 Born and raised in Bryan, Lester Banks has made his career about the students he works with as a campus monitor at Bryan High School.
A 1984 graduate of BHS, Banks attended Blinn College on a full scholarship and graduated in 1987, then returned to the high school hallways as an employee.
As a campus monitor and community service coordinator, Banks, 54, supervises staff members to provide for the safety of students, faculty and staff and assists with maintenance to keep a safe school environment.
Banks is also a self-described "jack of all trades." He helps with parking, selling football tickets, working security and supervising students completing community service on Saturdays.
He sees those Saturdays as an opportunity to get the students thinking about their goals and their futures.
"You try to put that influence and make that difference in them," he says. "It's hard, but if you let people know that you're out there and you care for them, they're going to respond to that."
Banks is a member of Central Baptist Church and volunteers with the Boys and Girls Club of the Brazos Valley and elsewhere in the community. He says he tries to show students the importance of volunteering, and the blessings that come from it in the long run. He also established the Lester Ben Banks Sr. Scholarship in honor of his father, who died in 1994, as a way to give back to students at all three Bryan high schools.
"I got a free education," he says, "so I want to be able to give it back to somebody else."
The scholarship has grown from eight to 31 awards, and Banks says he sets aside a bit of each paycheck to put into the scholarship funds.
Banks says people ask him why he is not married. His response is that if he were married, he would be divorced.
"I'm never at home," he says. "From 6:30 in the morning to 10, 11 o'clock at night, I'm constantly busy doing something. And when I get home at night, I'm ready to go to bed, get up the next day and go back at it."
---
How would you describe your role at Bryan High?
My role is to try to be an influence to kids. … I challenge the kids today. I ask them, "Who are you when no one's looking?" And when I ask them that question, my challenge to them is that when you get up in the morning, you are somebody. Can you honestly say, "I am somebody," because there's always somebody out there that's watching you, no matter what you do. There's people out here in the community that watch, and I guess, basically, I want to try to be that role model.
Growing up through high school, a lot of people look up to me and respect what I do, and I guess one of my goals was to set goals for myself and my standard. My goal was one day I can be able to come back and give back to my community, and it's amazing that I end up working with the high school that I graduated from.
I want to be the role model that people can look up to me and say, "Hey, that guy made a difference in my life." As long as I can make a difference in one person's life, I feel like I've done my job.
One of my main big goals is I want a child to feel like when they come to school that they feel safe, and they're welcome, and they'll always have somebody they can look to and talk to if they have a problem or a need.
... Like I tell people, it's not about money. It's about you giving back, giving your time. … I just challenge people to try to give back to their community because you look at it, we've got many kids in our school district, many kids in our home that really and truly don't have a family. … I have kids that honestly can call me 2 or 3 o'clock in the morning and say, "Hey I need to talk to you."
Who was it in your life that had an influence on you?
I have to say Coach Larry Brown, who was our basketball coach here at Bryan High School, and Coach Ruth Whiteley, she was our girls' basketball coach here. … Larry Brown has really made a difference in my life because if it wasn't for him, I wouldn't be able to give those scholarships to go to college, because I wasn't even thinking about going to college till the year we won the state championship. … [After Brown urged the importance of college] I went home, prayed about it, and I said, "Well, I'll start out at Blinn in Brenham." That Monday afternoon, the head basketball coach from Blinn College was here and offered me a full scholarship. That's why I do what I do. I was able to get a free education, and that's why when my dad passed away in '94, the Lord just put it on my mind.
Could you imagine yourself doing anything else?
No. I didn't think I would be able to get this far and do what I do. I really didn't. … I'm just thankful that really and truly, I can make a difference in somebody's life. That's the whole key.
Be the first to know
Get local news delivered to your inbox!