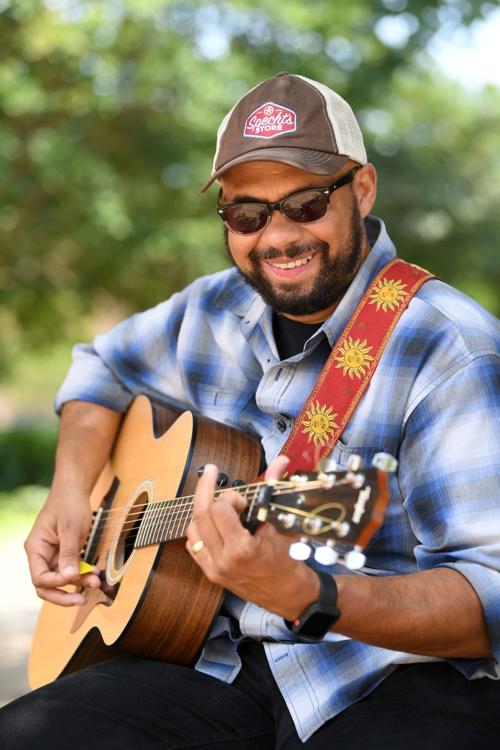 Local music fans who have seen Joey McGee perform around town might be surprised to know what his musical ambitions were in his younger days.
"I wanted to be a heavy metal shredder," he says. "… My fingers weren't fast enough."
The 52-year-old singer-songwriter grew up around all sorts of music in New Orleans. He likens the mix of soul, rock, gospel and blues to gumbo.
"It's interesting, because I didn't start music until [after leaving], but you grow up and you're getting it from the womb," he says. "The town is just saturated with music. So in that respect, it's like a soup or a stew of music that you're just a part of."
McGee started college at the University of New Orleans, then transferred to the University of Texas-San Antonio, quickly falling in love with the Lone Star State. He moved to Pittsburgh for a job opportunity and finished his studies at Duquesne, graduating with an English degree in 2002.
"I'm really into writing," he says. "I thought about teaching, but I really hated that idea. Really, it's about writing and developing myself as a writer."
Music was a constant through church groups, and he gravitated toward folk and Americana. He began playing in bands in Pittsburgh, then on his own. He also met his future wife Christine in Pittsburgh. They celebrate their 19th anniversary this summer.
But McGee says he missed the South, from the culture to the food, and the couple decided to move to Texas in 2007, with a longtime friend serving as a connection to Bryan.
McGee hosts open-mic night at Village Café, and has branched out to performing in New Braunfels, including the legendary Gruene Hall.
His latest album, released in February, is El Camino Real. The title comes from the historic Spanish trail that dates back to the late 1600s, which includes Old San Antonio Road. McGee found its path connected to his own.
"It's an uncanny parallel to my life," he says, "in that the road comes from Louisiana, passes through the Brazos Valley, down through the Hill Country and San Antonio and into Mexico."
His affection for the state is clear on the album's final track. He wrote Deep in the Heart when he was still out of state.
"When I was living in Pittsburgh, I was always telling people about Texas," he says. "Texas is God's country. Texas rocks. I was talking trash the whole time. … I was like, man, it doesn't matter wherever I roam, Texas is gonna be my home. Texas has my heart."
How would you describe the music scene here?
I would say it's emerging. It's still bubbling. … Downtown has great potential. It seems to be a music incubator. There's Rev's. First Friday has been awesome. If we can get more First Fridays going, if they can become first, second, third and fourth Fridays, I think that would be great. I think as the school grows, and as it expands in more areas, it's drawing people who are more into the music scene. … It's growing, I guess that's the crux.
How do you enjoy hosting open-mic night?
It's cool. I dig it. I've seen a ton of people from different ages, from teenagers to retirees, come through and share their art. For some instances, it's their very first time performing a song in public. There are retirees who are like, "Man, I just want to get back into guitar." And then there are a lot of students who are just stellar-ly — I don't know if that's a word — talented. To experience that and also be comfortable in my own skin as a musician, so that it's not an intimidating thing … I can appreciate where people are, and see the potential of where they can go. It's really cool.
It must take a lot of guts for people to get up onstage and do that.
I'm sure. Just to step up to a microphone. And I love that. Courage — there's a line in one of my songs that says "Courage is a virtue." Courage, it just takes guts to get stuff done. And so I can laud it and appreciate it on all kinds of levels.
So the difference between here and there … here, I feel like I gotta fight to vie for attention. It's like, "Oh, hey, there's somebody playing over there." ... At Gruene Hall, there's an anticipation of, "Man, what does this guy have to bring?" … It's almost like a positioning. Here you're much more background noise. For a lot of my gigs — not all of them — you're a lot of background noise, and there are people who do appreciate it. But there, people are going there for the explicit purpose of appreciating music and songwriters. It's like buttah. It's just smooth, it's creamy, it's great.
How is life as a full-time musician in Bryan-College Station?
It's like sales. It's very up and down. … You have seasons where you're very busy. March was a pretty busy season for me. February and March. I had just released an album. Summertime, in this area especially, it slows down and it picks back up in the fall. It's a challenge. I've done a couple of side jobs, working for a sound company, and sometimes I'll do things related to music, not necessarily performing. … It's like a hustle, man. You gotta do what you need to do to get the job done.
Be the first to know
Get local news delivered to your inbox!