Terry Price is serious about two things — football and barbecue.
The Texas A&M defensive ends coach's affection for cooking is so serious that it extends to his grilling fashion choices: He has his own traditional chef's jacket embroidered with his barbecue competition wins on the front right shoulder.
Price played on the defensive line at Texas A&M from 1986 to 1989 and started his coaching career as a volunteer assistant at A&M in 1992. He's served as the defensive ends coach for the Aggies since 2012.
Cooking barbecue was something Price picked up along the way in his nearly 30-year coaching career. He has become known for his skills on the smoker and serving up pounds of meat to his players and others.
'"I look for an excuse to cook," Price said. "I enjoy it."
Catching the 'barbecue bug'
Price first got an interest in barbecue in 1997, when he was coaching defensive ends at Ole Miss. A fellow assistant coach — Don Dunn, who coached defensive tackles — approached Price about joining him and three other staff members on a trip to the Memphis in May International Festival's World Barbecue Cooking Contest in Tennessee.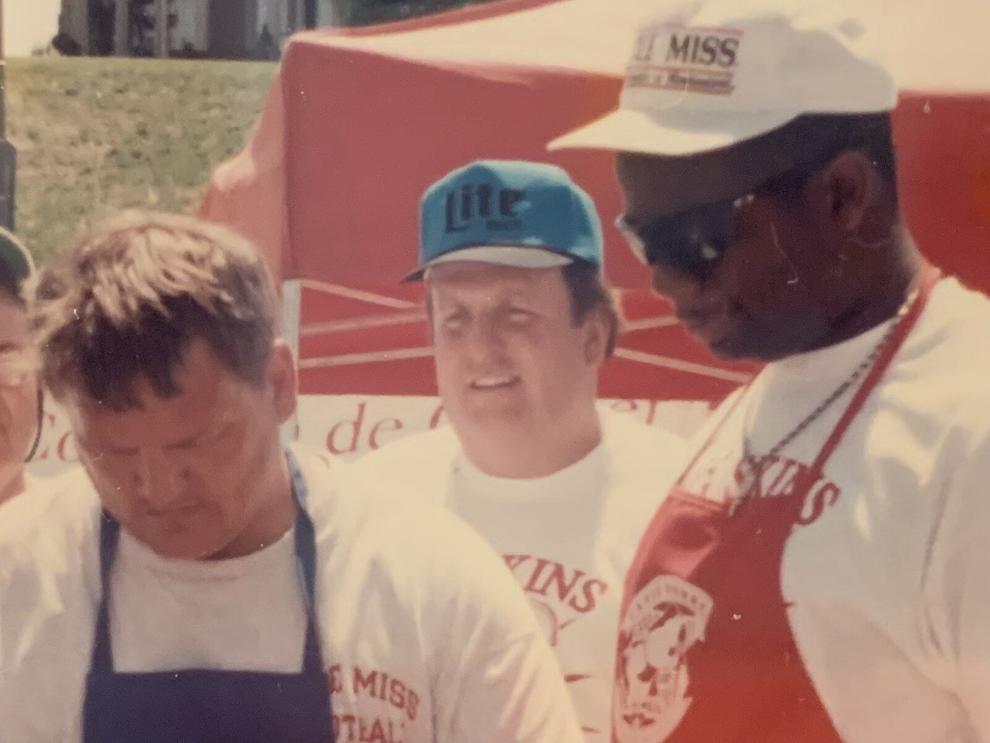 Their team name? The Pigskins.
Despite being rookies, or "patio porkers" as Dunn described, the crew of coaches came away victorious, winning first place in the vinegar-based sauce competition and earning a top 10 finish in ribs.
"You spend three days out there, spend the night out there, cooking and smoking all night long," Price said. "So that kind of gave me a fever, and I've been hooked ever since."
Shortly after the competition, Price purchased his first kettle grill to start smoking on his own. Price continued to cook with Dunn, who he coached with for a combined 14 years at Ole Miss and then Auburn from 1995 to 2008, under head coach Tommy Tuberville at both stops.
"We just started cooking on the weekends and gradually kept going, getting bigger smokers and cookers," Dunn said. "Terry and I didn't really play golf or anything, so that was really our hobby — cooking and barbecuing."
"I learned everything I know about barbecue from him," Price said of Dunn. "He's one of my barbecue mentors."
In the years since that trip to Memphis, Price has participated in other competitions, winning three cooking championships that are immortalized on that chef's jacket. Price said competition cooking requires more attention to detail.
"Everything's got to be perfect," Price said. "Skin on the chicken's got to be perfect. The ribs got to pull up a certain way. The sauce has to be perfect. Everything has to be perfect because you're cooking for judges that are gonna judge everything, every single taste they get."
The sight of that chef's jacket caused Texas A&M head football coach Jimbo Fisher to have some initial skepticism about Price's accolades.
"I said, 'Now listen, I don't know if you just sewed those on there or if they were legit,' you know what I mean? We gotta do some research," Fisher said. "But all you've got to do is taste his barbecue one time and they're legit. They were legit wins. He's really good. He's excellent. And a ton of work … the amount of work he puts in the cooking — wow, it's unbelievable."
A professional setup
Price's evolution as a cook has included an expanded arsenal of gear. He has two smokers, including a Big Green Egg, and a large open grill. He calls himself a "low-and-slow guy," and prefers cooking big pieces of meat like brisket and pork butt. With almost 25 years of experience under his belt, he said nothing is too difficult to cook.
"I try to master and get good at cooking every single meat out there, so when it's time to cook it, I'm good at it," Price said.
Brisket is the Plano native's favorite piece of meat to cook. The simple, old-school mix of salt and pepper suffices for seasoning, he said, and he uses post oak wood — a Central Texas staple — at about 250 degrees. When cooking at home all day, Price said he wraps his brisket in butcher paper when the meat reaches 165 degrees. Price goes for foil when he needs to cook faster.
"If you're in Texas, brisket's the key," he said. "I mean, that is the number one meat in Texas, and if you can cook it right, you can cook anything. It took me probably a couple of years to get it right. You know the temperature, your bark, when to wrap. There's some certain things you got to do to get really good at it."
Though he's open to sharing his brisket recipe, he's more reserved on sharing the ingredients and spices that go into his pork rub.
"If I tell you, I've got to assassinate you," Price said. "I don't want to do that right now, so the secret stays in my head."
When the Aggies' spring 2020 game was canceled near the start of the COVID-19 pandemic, Price hosted a cooking challenge for A&M fans on social media. He posted a video showing his grilling setup, including the championship-winning sauce, and interacted with fans as they shared pictures of their meals. Even Dunn tweeted photos of a brisket he made, along with their Memphis in May trophies. At the end of the day, Price picked a winner, praising the champ's brisket for its bark, moisture and smoke ring.
"That's great looking brisket!" Price said in a tweet. He encouraged others with commentary including "That's some great smoke!" and "Pulled pork looks really good!" And he offered advice to some who asked for pointers, including A&M tight end Max Wright: "Just need a little more knee bend and keep your grilling elbow tighter to your body for more power."
Camaraderie from cookouts
A&M players have come to enjoy what has become a staple for Price's position group — the "D-Line Cookout" — a tradition that started while Price was at Ole Miss.
Dunn said he and Price would have the team's defensive linemen over to his house for a barbecue dinner every Thursday after practice during the season. Dunn noted he would usually cook ribs and chicken, while Price handled brisket and sometimes fish. Most meals during their time at Auburn included Conecuh Sausage, a pork sausage company located in central Alabama.
Since then, NCAA rules changed limits on providing meals to players. A&M players now come over to Price's house for an occasional all-you-can-eat barbecue buffet, and pictures are often shared on social media for Aggie fans to envy. Price even fired up the pits this summer for a large pool party recruiting event.
"It gives the players a chance to see the coaches away from the field, from the office," Dunn said. "Most of those kids are from out of state or out of town, so it gives them the chance to get a home-cooked meal."
Menu items vary at the cookouts, but quantities are always in bulk. Price said he cooks as much as he can fit on his grills. Price's wife, Kenya, prepares sides, including signature dishes mac and cheese and baked beans.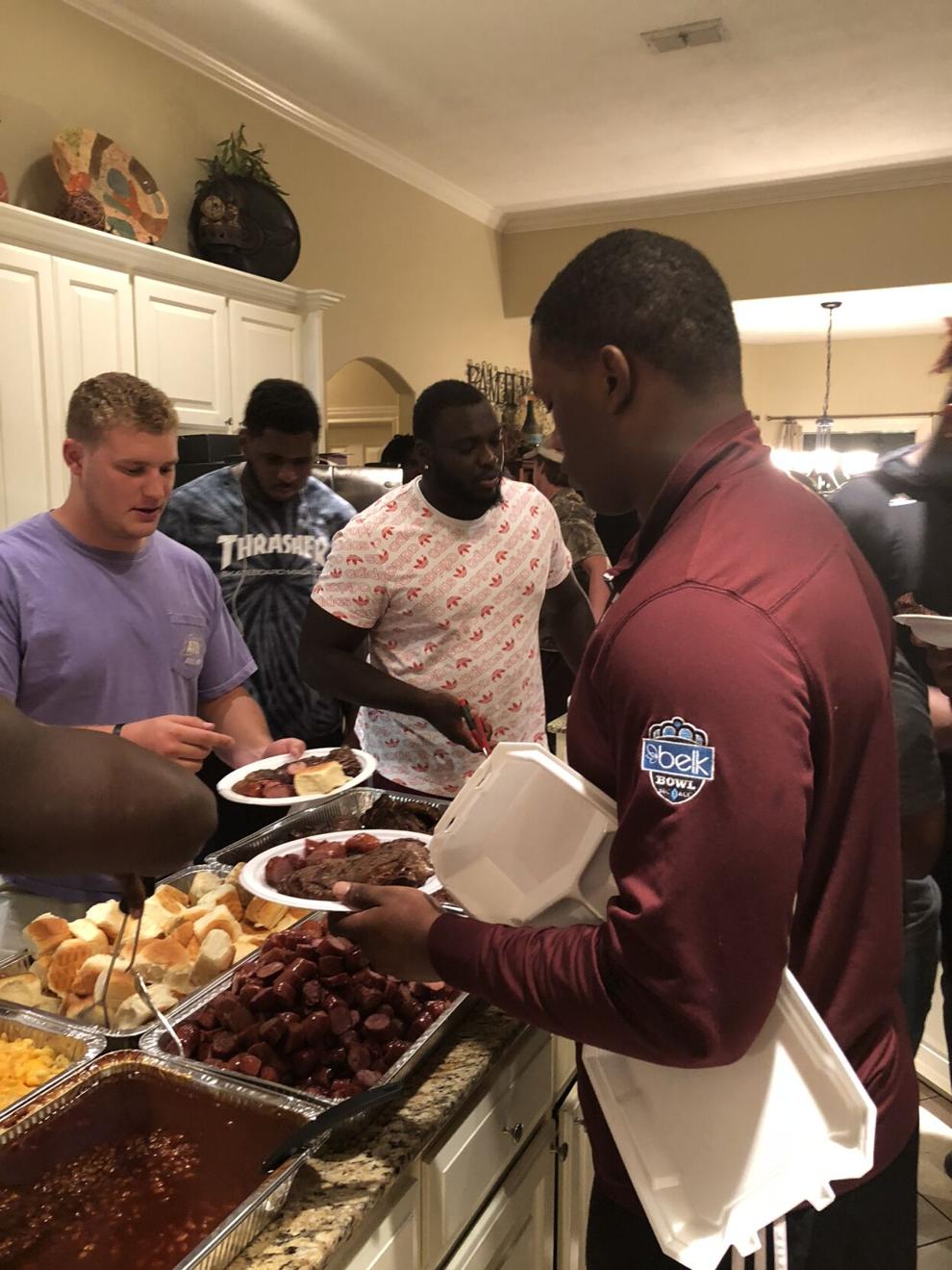 A&M junior defensive end DeMarvin Leal said it's tough to choose a favorite, before declaring a tie between Price's ribs and steak.
"Honestly, I'd say Coach Price is probably the best barbecue cook in town," the preseason All-American said. "That's the best barbecue I've had since I've been here in College Station. He can really get down in the kitchen, and really cook anything you want. It doesn't matter if it's barbecue, desserts, he can do it all, honestly."
Dunn recalled that at their Ole Miss/Auburn cookouts, leftovers were hard to find.
"They would bring their Tupperware and bring home all kinds of stuff," Dunn said. "We didn't have anything to eat after they left, believe me."
Cookout conversations stay away from discussing the game, Price said. The goal is to create a home environment for players.
"All these kids grew up going to family reunions," he said. "When they grew up, they went to get-togethers in the summertime. … They're away from home, and I want to make sure it feels like home. That's why we do so many cookouts for the guys, and when we do, we don't talk any football. We talk about our families. How your family's doing, how your mom and dad are doing. And on top of that, enjoy some really good smoked food. It works out well on both ends."
Leal said the meals provide an opportunity for the defensive linemen to come together.
"It's good to have time with your teammates outside of football," he said, "and just be able to sit down, eat some barbecue, have a good time and just chop it up and get to know each other more."
An even-keel leader
Former A&M head coach Jackie Sherrill recruited Price and coached him for two seasons. He said Price was an excellent high school player, but he was more impressed by the respect and relationship Price had with his parents.
The Aggies won three Southwest Conference championships during Price's time at A&M, and Sherrill said Price served as an even-keel leader on those teams. Price's favorite memory from his playing days was winning four straight games against rival Texas.
"An awful lot of players gravitated [toward him], but also enjoyed his presence," Sherrill said. "Terry came in at a time and was on very good football teams. A lot of his teammates had the opportunity to go on, and quite frankly, won three championships in a row. So they were not an average group of players."
After A&M won the 1988 Cotton Bowl over Notre Dame and Heisman Trophy winner Tim Brown, Price carried Sherrill off the field alongside Leon Cole. Sherrill said with a laugh, "They were strong enough to hold me," and added it was one of A&M's greatest moments in football.
"For so many years … there were only four major bowls — the Orange, the Sugar, the Cotton and the Rose," Sherrill said. "And for so many years, it was either Texas most of the time or Arkansas. And the most important thing to the Aggies was not only getting to the Cotton Bowl, which meant you won the Southwest Conference, but winning the Cotton Bowl."
Price was drafted by the Chicago Bears in the 10th round of the 1990 NFL draft, and played two seasons in the pros. He elected to return to A&M to finish his degree in sociology and begin his coaching career under then-head coach R.C. Slocum.
"The most important thing for a defensive lineman is getting rid of a block," Sherrill said, "and that's done by having the technique to do it. And Terry is a very excellent technique coach. His players use their hands extremely well."
Sherrill said that he would bet Price's first brisket didn't turn out all that well — which is the likely result for most beginners — but he wasn't surprised at Price developing his expertise.
"Knowing Terry and how determined he is, he made himself into a good cook," he said.
Developing talent
After a second stint at Ole Miss from 2009 to 2011, Price joined Tommy Tuberville's staff for a third go-round, this time at Texas Tech.
Price was an assistant in Lubbock for all of two months when he was hired by Kevin Sumlin to coach defensive linemen at A&M in February 2012. Price has been on the Aggies' coaching staff ever since, and was among the few held over by head coach Jimbo Fisher after Sumlin's dismissal in 2017.
Coaching at A&M was a dream come true, Price said.
"You work your whole life to have a chance to coach where you played, so it worked out well for me," Price said. "I got my degree from here, so this is an extremely special place. Good Lord blessed me and gave me a chance to stay on with Coach Fisher. … I've been blessed to be around some great people and to have a chance to continue to coach here."
Fisher said he's known Price for a long time, dating back to when the two coached against each other as assistants at SEC West schools in the late '90s. Fisher said he's had eyes on coaches he's faced, like Price, who he would like to add to his staff one day. Fisher did so when he retained Price in December 2017.
"He's a great recruiter and he's a very knowledgeable coach," Fisher said. "He has coached guys that have been first picks in the draft. He has coached multiple guys that weren't even highly recruited guys that end up getting drafted and do big things. He's done it here and at other schools, everywhere he has been. And he has done it himself as a player. He was a great player here himself, he played pro ball, he's been part of great defenses. He also knows A&M. You can see his love for A&M."
During Price's nine seasons at A&M, the Aggies have had seven defensive linemen drafted. Leading that list is Myles Garrett, who was the No. 1 pick in the 2017 NFL draft, the only player in A&M history to be taken first overall.
"If you go back in Terry's history as a coach and look at all of his all-conference, All-American and pro players, you're going to find a bunch, and that's the mark of a good coach," Sherrill said. "But as a recruiter, if you'll go back and look at the recruits that he has recruited at all of his stops as a coach, you're going to have some of the best recruits at D-line that's out there."
One of the highest-rated recruits Price helped bring to A&M is Leal, who is already being projected as a first-round pick in next year's draft. Leal said he wanted a coach that demanded excellence.
"Coach Price, he really just loves the game and he really wants you to know every single detail," Leal said. "Everything down to the crumb. He's just so passionate about coaching and he coaches you to the highest extent. He doesn't care how you feel. He's going to tell you to get after it and there's no excuses."
A future business?
Price's reputation behind the grill has grown in recent years. Fisher even calls him "the best barbecue guy I know." And so he's frequently asked if he would open a barbecue restaurant once he's done coaching.
Dunn, who retired from coaching three years ago and is now a pit boss at Country's Barbecue in Auburn, has ideas of reuniting with Price.
"What I'd love to do with Terry is for us to buy a food truck and just serve barbecue," he said.
Count Leal in as someone who would be first in line.
"I would definitely be a regular customer," Leal said. "Every single day, I can't [lie], even though I might gain a lot of weight doing that. But that barbecue is something else, so I would have to get some every now and then, of course."
For now, Price is content with coaching, and said he likes where the team is headed.