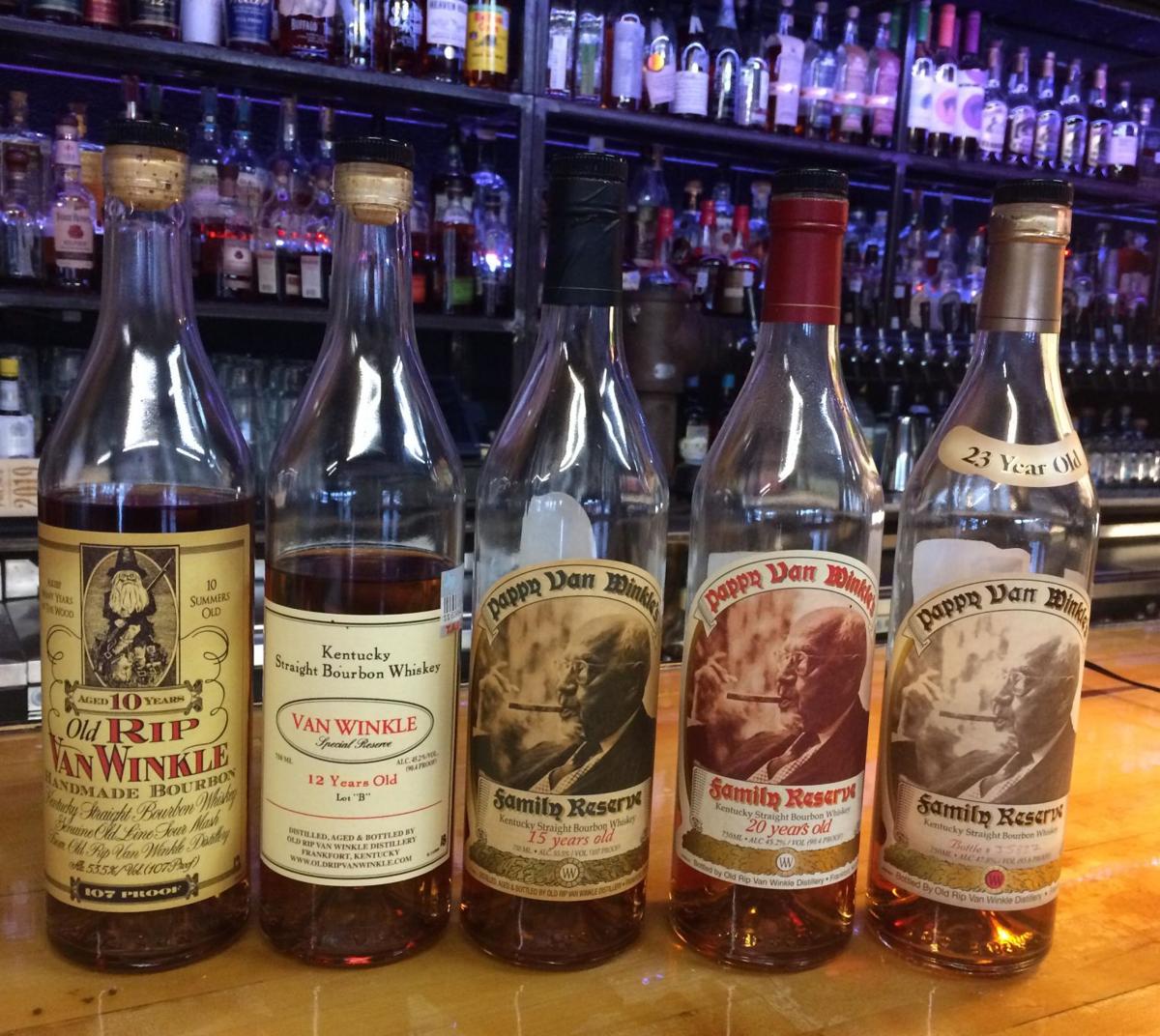 A painting by Dr. Seuss popped into my head during a recent event. The 1967 piece depicts a man handling an unwieldy yellow bird that is almost as large as he is. The title: A Man Who Has Made an Unwise Purchase.
Replace the gawky bird with a pricey bottle of booze, and that would have been me. I was on the hunt for something more tame but equally peculiar, the elusive bourbon Pappy Van Winkle. Endlessly searched for and constantly hyped, this liquor is so scarce that stores offer special raffles for it. Not to win a free bottle. Just to win the chance to purchase one.
Several bottles were being raffled off at WB Liquors in Bryan in late December, ranging from the 10-year-old Old Rip Van Winkle ($85) to the coveted 23-year version, the grandpappy of Pappy, which was being sold for an eye-opening $360.
The obvious question: Why on earth would anyone spend that much on a bottle of liquor? It's all part of the chase, like Cabbage Patch Kids and Tickle Me Elmo were to overzealous parents. (And, to a lesser but still odd degree, what Popeye's chicken sandwiches were to chicken-sandwich enthusiasts last year.) There's even a secondary market, where Pappy bottles can sell for thousands of dollars.
This is strange territory. For some clarity, we turn to an expert: Kyle Meredith, general manager and part owner of Rough Draught Whiskey Bar at Northgate. Pappy is a wheated bourbon, which isn't quite as common, he says, and that makes it smoother. And the aging process is a big reason for the interest. Bourbons that reach 15 years and older are rare, he says. For comparison, Jim Beam is aged for four years.
Distillers lose more of the liquid the longer it stays in the barrels, due to evaporation. After 23 years, only a third of it will remain, Meredith says. What escapes into the air is cleverly labeled "the angel's share." Those lucky heavenly beings.
There has been a surge in Pappy's popularity in the past several years. But the supply side of supply and demand isn't something that can be fixed any time soon. Harlen Wheatley, master distiller at the Buffalo Trace distillery in Frankfort, Kentucky — where Pappy is produced — was featured in the documentary Bourbontucky. He acknowledged that he's constantly asked about Pappy 23.
"The problem is we made all the Pappy we're going to make for 2037," he said in the 2015 film. "So 2037 is in the books for me. So I'm thinking about 2038, 2039, 2040. I'm already thinking that far ahead. And it is hard sometimes for people to get their head around that. Why didn't we make more Pappy Van Winkle 23 years ago? We didn't even know we needed Pappy Van Winkle 23 years ago."
According to Meredith, Buffalo Trace releases 7,000 to 8,000 cases (each with six bottles) of Pappy per year. Jim Beam releases more than 7 million. Rough Draught drains about 11 bottles of Pappy each year — all that it gets — but plows through more than 400 bottles of regular Buffalo Trace.
So, what does a glass of Pappy cost? At Rough Draught, it's $25 (for 10-year), $35 (12-year), $50 (15-year), $75 (20-year) and $125 (23-year). When I asked who would pay $125 for one drink, Meredith replied, "You'd be surprised."
Some order it for a celebration, like a student who defended a doctoral thesis, or a professional who gave a successful presentation, he says. Some students bring in their parents to foot the bill during Family Weekend or graduation.
"A lot of it is the name," Meredith says about the fascination. "It's good sauce. It's good bourbon. In my personal opinion, there's a lot of better ones out there, that's not as expensive. But people want Van Winkle."
Back at WB Liquors, the crowd — about 150 people — milled about, eagerly awaiting the raffle. Online registration prior to the event was required, and limited to a certain number. The traffic for WB's participating stores across the state was so strong that it initially shut down the registration site.
One bottle of the 23-, 20- and 15-year were available to the winners, as were multiple offerings of the 10- and 12-year. Whoever was selected first would naturally get to choose the 23-year-old, and it would proceed from there.
As the raffle began, the truth was hard to suppress. "I don't want to spend this much," I kept thinking. There were quickly abandoned ideas ("Hey boss, can I expense this?"), and any thoughts of a payday on the secondary market were dashed by legal issues that could ensue. A bottle could serve as the ultimate special-occasion toast for personal or family milestones. But silently, I started rooting against myself, a moment of self-sabotage.
Crisis/victory averted; I didn't win. But the lucky(ish) winners received good-natured cheers from the crowd. One winner didn't show, and missed his chance at one of the top bottles. Crowd members gave him an even louder round of applause for increasing their chances. The store employees took photos of the champions, grinning while clutching their bottles like an Academy Award.
As the event ended and the crowd subsided, I picked up something for a white-elephant gift exchange at a holiday gathering. It was Pappy's polar opposite — the cheap cinnamon-sizzler Fireball, which produced the intended groans at the party later that night. For the same price as the 23-year-old Pappy, I could've bought 22 bottles of Fireball.
The clerk handed me the not-at-all-coveted bottle after checking out. I had to ask him, "What, you don't want to take my picture?"
Be the first to know
Get local news delivered to your inbox!