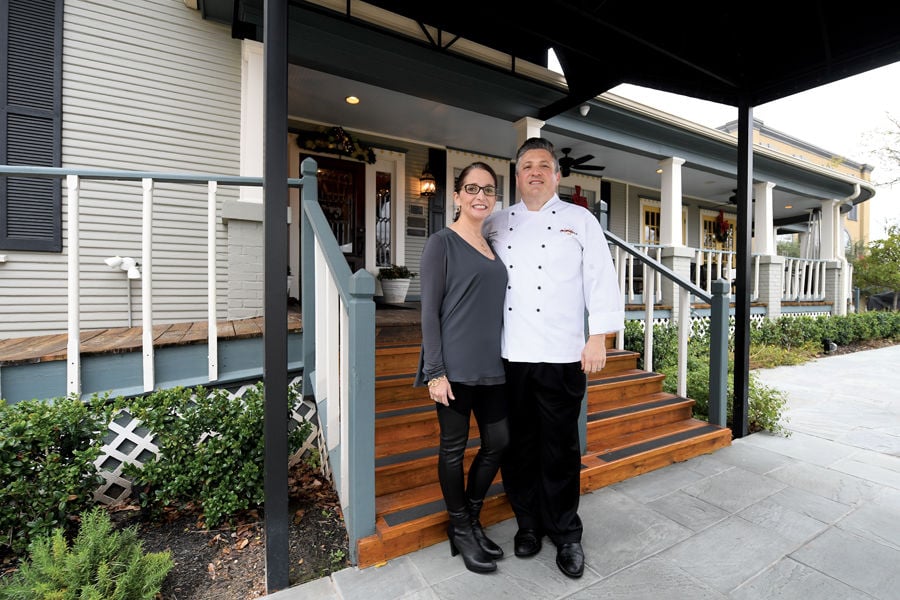 Christopher Lampo's father, Johnny Lampo, urged his son repeatedly in the mid-1990s to start a restaurant in Bryan. Christopher had spent several years abroad working as a chef on yachts that sailed around the world.
"He said, 'Hey, I've found this old house that would make a terrific restaurant.' I think my dad was looking for a way to get me to come back to Texas," Christopher said with a chuckle.
It took some persuading, but he went for it, and set about an 18-month journey of renovating a century-old Texas ranch house known as the Andrews house off Boonville Road in Bryan, east of Texas 6. "As usual, my dad was right in the end," Christopher said.
"When we decided to do the restaurant, we decided to do Christopher's World Grille, to bring back these flavors from the travel experiences that I had of being gone for 11 years," Christopher said. "I wanted to bring those back to my friends and my family here in Texas."
Christopher's World Grille is an upscale restaurant that celebrated its 20th anniversary earlier this year. To honor those travels that spawned the restaurant, a "Dine Around the World in One Night" event was held Nov. 22. Guests enjoyed a six-course meal with dishes and drinks from France, Papua New Guinea and more.
The woman who is now Christopher's wife, Sandi, came to eat at the restaurant with family and friends in August 1999. A few weeks before the fateful meeting, Sandi's brother and sister-in-law came over to Christopher during a meal, he recalled, and said, "Oh, you have to meet our sister."
"They brought her here a couple weeks later, and we said hello and talked," he said. "I went straight to the phone and called my brother — the kitchen says I turned white — and said to him, 'I just met my wife.'"
Both Christopher and Sandi's families emigrated from Sicily a few years apart in the early 1900s. Christopher, 53, and Sandi, 49, went to the same church and graduated from Bryan High School a few years apart, but they didn't know each other. They were married in February 2000. Their eldest son, Luke, is 18 and works at the restaurant. Their younger son, Dominic, is 16.
In the early '90s, aboard the private yachts on which he cooked, Christopher prepared a variety of dishes for his international cast of crewmates.
"Working with crew members from all over the world, I always wanted to know, 'Tell me how your mom cooked,'" Christopher recalled. He would then, whether it was an Indian curry or a Philippine adobo, strive to make the dish how his yacht co-workers described.
"It inspired me to bring my friends, family and Bryan-College Station community some of the things that I got to see," Christopher said.
The rooms in the restaurant are designed to give an international flavor and also keep some of the original feel of the Andrews home. As it developed and took off in popularity, requests for large groups increased, so a banquet room was added to the original structure. It seats more than 120 people. Early this year, an outdoor covered terrace was added.
Christopher said that as a young child, he demanded to cook his own breakfast, and recalled his mom helping him crack open eggs to do so. He made his first cookbook at age 10, though he said it "only" had three recipes.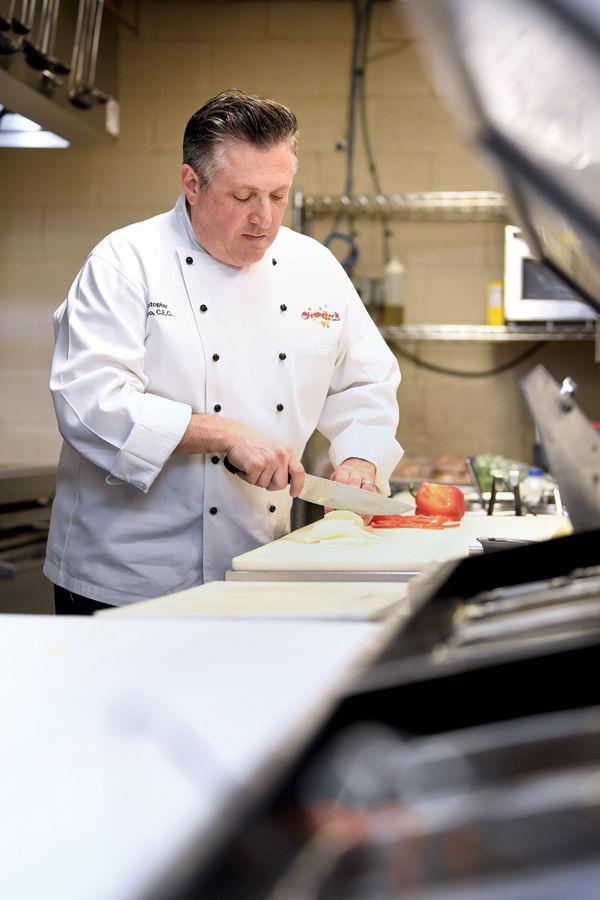 "When my brother's friends would come play in the yard, we had a little garage window and I would hang a menu out the window and sell snacks while they played football," he said.
A friend of his parents suggested he look into culinary school. Christopher graduated from the Culinary Institute of America in New York and earned a hospitality degree from Florida Atlantic University.
Sandi said that she loves to see Christopher doing the job he was "born to do." She is a clinical associate professor of marketing at the Mays Business School at Texas A&M. She, too, loves her work, though it took her longer than her husband to find her passion.
"I love helping the students figure out what they want to do. That is the coolest thing — and to see them do things they never thought they were capable of, it's inspiring," she said. "It's a fun place in their lives to be able to watch them grow."
Christopher said that working for former President George H.W. Bush and Barbara Bush was the pinnacle of his professional life. For 18 years, Christopher was the Bushes' personal chef when they were in town, regularly preparing meals for them at their residence on the Bush Library grounds. He also cooked for a number of guests and dignitaries, including British Prime Minister Tony Blair.
"You try to do the best you can in the career you choose, and for me, to be able to serve a former president and his family, and the international community — and they trust you to cook for the king of this and the prime minister of that? That's pretty cool that they trust your skills and your instincts on that, because chef is a very personal role," Christopher said.
President Bush's most-requested item was a cream of mushroom soup, he said, and he also loved lamb and mint jelly. With a laugh, Christopher recalled Mrs. Bush calling him ahead of time to make alterations to prepared meals.
"Getting the call from Mrs. Bush and hearing her say that, 'No, we're not having the bacon sandwiches for lunch.' 'Yes, ma'am. Chicken? You got it, ma'am,'" Christopher said with a smile. "It didn't matter that it was three hours before the function and we'd already prepared it."
The Lampos said that the restaurant has served as an occasion spot for people in the Brazos Valley and in Texas more broadly, with numerous marriage proposals taking place there.
"We are the place where people are celebrating engagements, anniversaries and birthdays, so their special memories are part of our special memories, too," Christopher said.
Both Lampos expressed gratitude for local community members and said they feel embraced by their home region.
"We both grew up here, went away for awhile, traveled, and found our way back here," Sandi said. "Through travel, we have learned how special this Brazos Valley community is."
Texas A&M personnel and other business leaders often bring people from out of town to eat at Christopher's, Sandi said.
"It's good from a university perspective, whenever they're bringing people in from all over the world and urban areas in the country, and we can show them what Bryan-College Station has to offer," she said.
Ed Rister, an agricultural economics professor at A&M, heads the Agribusiness Entrepreneurship Program, which strives to give A&M students access to successful entrepreneurs and other business leaders as part of their educational formation. Rister said that he brings students and business leaders together to dine at Christopher's, and that the program also hosts dining etiquette events there.
"We're grateful for the value Christopher and his team place on creating such a welcoming space for our program," Rister said. "The conversations that take place among students, entrepreneurs and mentors are always rich and substantive. The elegant setting, professional and friendly service and excellent cuisine ensure every dinner is special and meaningful for our students and guests."
In reflecting on the 20th anniversary of the restaurant, Christopher praised the staff members who have worked there over the years.
"This was local talent, and we could never have had our reputation without their passion," he said. "Twenty years goes by really fast."
Be the first to know
Get local news delivered to your inbox!