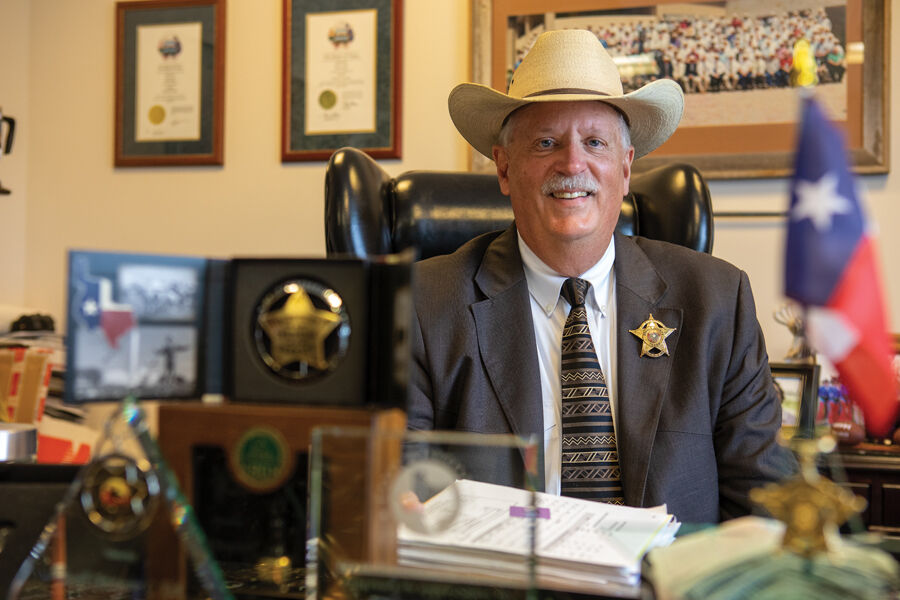 Brazos County Sheriff Chris Kirk has many convictions, including this one: When bad guys and good guys face off, the good guys are always those wearing white Stetsons. It's why he's historically insisted his deputies wear white or cream-colored cowboy hats.
Kirk will hang up his own hat at the end of the year as he retires from his longtime position. As he reflected back on his life in Brazos County, he said he hopes that the little traditions he leaves behind will carry on, along with the heart and compassionate character he has tried to instill in his department's operations. 
The 68-year-old Kirk has served six terms as sheriff. The Illinois native moved to Texas and graduated from Stephen F. Austin State University. Kirk taught briefly at the university before moving his young family to Bryan-College Station, chasing a doctoral degree from Texas A&M.
While studying in Aggieland, Kirk needed a job that would allow him to work nights. In 1980, he took a position with the Brazos County Sheriff's Office as a jailer. And so began his 40-year run. Once he got a taste for law enforcement, he never left.
"Looking back, I have to say that the good Lord led me to where he needed me, and I have no regrets whatsoever," Kirk said. "It's hard to explain what I like about law enforcement. A lot of it has to do with the service, serving the community. To take on this job you have to have a heart for the community. And it's exciting. You're right in the middle of the best, and of the worst."
Kirk was an investigator for 14 years, focusing on solving crimes against children, and honing his skills with crime scene investigations. Ed Frank, a longtime deputy who retired in 2016, recalled how Kirk was the investigator deputies always wanted to work with, and that he was always helpful to rookies at a crime scene.
To this day, Kirk carries an old pair of handcuffs inscribed with his name. Kirk said he's taken great joy in placing the handcuffs on child abusers. The sheriff has a passion for protecting children, having served on the board of directors as president of Scotty's House child advocacy center in Bryan for 20 years.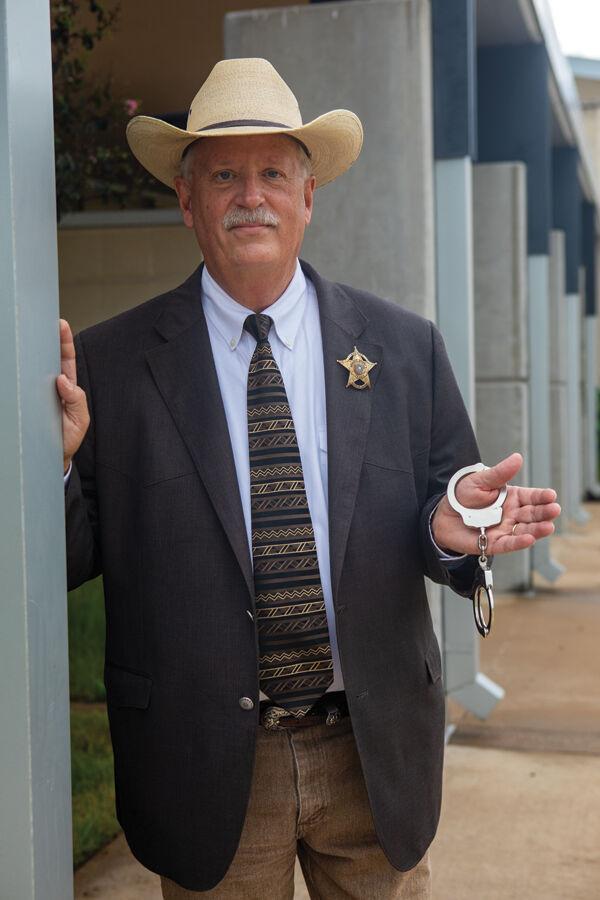 Margaret Lalk, a now-retired assistant district attorney for Brazos County, remembers working alongside Kirk through prosecuting cases and on a multidisciplinary team at Scotty's House. She said she has vivid memories watching Kirk interview traumatized children.
"Kids and dogs like Chris, which says a lot," she said. "He was wonderful, calm, slow-paced and laid-back. He made the kids comfortable, and was absolutely excellent with children, because they were talking about things they didn't want to have to talk about."
Sheryl Kirk, his wife of more than 25 years, can attest to her husband's love of children. She and Kirk met in the early '90s after both had gone through separations, and were raising their respective children as single parents. When the two were married in 1993, they became a blended family.
"I'm very proud of him," Sheryl said. "He is the most amazing man I've ever met. He was wonderful to my teen children — and you can just imagine a father getting three teen children at once."
Friends at the department had suggested that Kirk should run for sheriff, after nearly 15 years of solving crimes. He did and was elected in 1996. Sheryl said her husband wasn't much for the game of politics, but he wanted to lead.
Kenny Elliott, current justice of the peace for Brazos County's Precinct 1, said Kirk has done an excellent job of leading the county. He notes that when widespread DNA use increased among law enforcement agencies, the technology was expensive. But Kirk wanted cases solved, he said, and ensured that his investigators had what they needed.
"The thing that impresses me most is that he let investigators do their job, whatever it took," Elliott said. "That was one of the things that made our department so successful."
Another jewel in Kirk's crown was the construction of the Brazos County Detention Center, erected in 2009 under his direction. Kirk has since set the stage and standards for how the jail is operated, with a focus on dignity for inmates and a chance at rehabilitation through healthful reentry to society.
Longtime jail administrator Wayne Dicky, who will replace Kirk after winning the Nov. 3 election, said Kirk has held a balanced and thoughtful philosophy in directing the jail. He has allowed Dicky to manage the facility in a somewhat hands-off manner, but would share deliberate expectations for how the jail should be run, Dicky said.
"First and foremost for him, it's about protecting our county, and that does mean holding people accountable," Dicky said. "At the same time, we know that providing an opportunity for education and some kind of programming for people while in jail is important as well."
As retirement approaches, Kirk said he feels the time to depart is somewhat overdue.
"I think I am leaving the department in a good place," Kirk said. "I am very proud of what we do here. And there are not many people left in the organization that have the history I have — in fact, I'm the only one left — so that is kind of sad that we're losing the institutional memories. But at the same time, if you look at where we were when I took office in '97 and where we are today, we have done some really incredible things."
Sheryl plans to step away from her job as a legal assistant, and the couple plans to make cross-country adventures and go on hunting excursions as they begin their retirement journey.