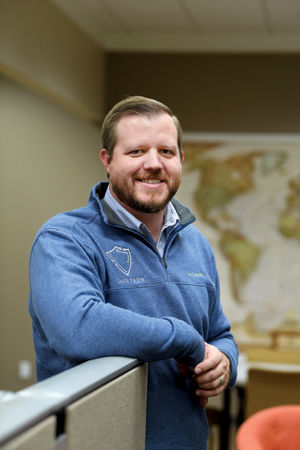 Caleb Holt moved to College Station to attend Texas A&M University in 2005 and made the city his permanent home after he graduated. Since then, his work has focused on technological advancements for the safety of his community and beyond. 
Holt is from Smyer, Texas, and he started his educational journey at a junior college in Oklahoma before transferring to A&M on a livestock judging scholarship. He graduated with a degree in animal science in 2007 and then earned a master's degree in agribusiness in 2009.
From 2008 to 2019, Holt worked at Texas A&M Engineering Extension Service, and worked closely with the Department of Homeland Security and the Office of the Secretary of Defense. He and his team helped change technology from its original purpose into useful items for first responders. 
In 2019, Holt left TEEX to start the nonprofit Make Safe Tech Inc. and the for-profit Axle Box. Holt said the two organizations work together to bring safety-technology innovators from around the country to Bryan-College Station to connect them with resources that can help their products get into the public sector. The products that inventors bring to Holt and his team to test, develop, complete or market vary, but are all meant to be useful to first responders and military personnel.  
Intelligent fiber, for example, is a hydrophobic material that cannot absorb water but would be useful to clean up oil spills. Automatic Injury Detection is printed circuitry that could be worn under a vest by people in the military or police force to send a message for help if they are shot or stabbed. The Fold AR is a gun that can fold down to about 9 inches, technology that Holt said can be helpful for fighter pilots who may have to eject over a combat zone, or for covert military operators.
Holt and his wife Leslie have three children. The two oldest hold "junior executive" titles, which allows them to sit in on any meeting, Holt said.
Outside of his career ventures, Holt is a member of the College Station Noon Lions Club, and previously served as the organization's president. Through that connection, Holt became the fundraising chair for the Fun for All Playground, College Station's all-access playground. Over six years, Holt helped raise $2.8 million for the playground, which opened in August. Holt has also been on the board of directors for Texas Lions Camp for children with disabilities. Holt is the chair of the Technology Council for the International Association of Fire Chiefs.
Much of the 11,000-square-foot Make Safe Tech facility on Harvey Road is still in its early stages of development. Holt's vision is to make the world a safer place with the help of innovative technology.
On the mission of Make Safe Tech and Axle Box:
Safe Tech has a very simple mission: bring first responders and people in the military together with people that make safe tech. That's essentially what we're trying to do. And so that's why this space was so critically important. We can bring first responders to town, we can put them in the conference room, and right now I can show them 15 different pieces of technology and get their feedback.
What made you want to stay in College Station after you graduated, along with your job at TEEX? 
People, trees, water and grass. If you've ever been to Lubbock or to Smyer, we don't have trees, water or grass. So that's jokingly what I tell people. I also think that many people that graduate from A&M wish that they could stay in town, and it's now my mission to make sure that there's an opportunity for them to stay in town if they want to. … And we just want our kids to grow up, and I think this is the best community to do it in. … I think in terms of parents wanting the best for your kids, I feel like the schools are as good as they get here. That's ideal for me, because I'm working, bringing companies here, and I'm looking for 27- to 37-year-old founders. People who are going to be getting married, having kids. And that makes College Station a better sell. Everybody wants to focus on, "Get them after graduation." Let them go learn how cool College Station is. They'll come back.
On getting involved in the community:
At 5 p.m. the night that I graduated with my master's, my dad, whose name is Charlie Holt, he told me, "You have one year to join a service organization." He called me one year later, five o'clock, right when he told me. He said, "Did you join one?" I said, "No, I haven't joined one." He said, "Great. I booked my airfare. I'll be there on Monday. We're either going to find you a service organization or we're going to make one." ... So I thought, "I think the Lions Club meets in the College Station Hilton." ... The membership chair's name was Tom Holt, and I was like, "It's a sign. I've got to be in Lions Club." ... Right around [2014] we started working on the Fun for All Playground. ... My dad [helped] build a park in Lubbock for kids with disabilities, specifically muscular dystrophy. ... I was very committed to trying to follow my dad's footsteps and help build a park here. 
What kind of role does your family and home life play in your career path and community involvement?
I want to build an entity that I can create a legacy. I want the legacy of this organization and legacy of the company to be that technologies that enhance public safety and first responders, war fighters, came through Safe Tech, and I want that to be something that I can leave for my kids.
Be the first to know
Get local news delivered to your inbox!