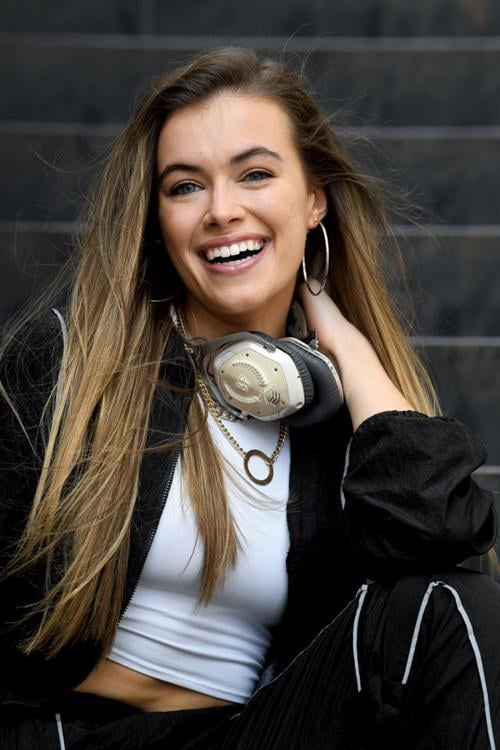 A work night for Bridget Frank starts at 10 p.m. and keeps her out until 3 a.m. The life of a DJ can be a tiring one, including maintaining the upbeat personality that will keep clubgoers entertained. It also comes with an extra layer of effort for the 22-year-old Texas A&M student.
Frank is legally blind, but the Dallas native finds ways to overcome the challenges her visual impairment presents. Setting up her equipment at Icon Nightclub and Lounge in Northgate every Friday means getting help from staff members, and she has to zoom in on her computer screen to see her song selections. She takes her own DJ controller to gigs, because while she can't see the knobs, she knows where they are. 
It's muscle memory, she said. The extra steps go unnoticed by most audience members.
Understanding Stargardt Disease
In 2009, Frank was finally able to put a name to what was making it increasingly difficult for her to see the white board at school — Stargardt Disease.  
She had needed glasses since the third grade, and annual checkups before the school year were a normal part of her routine. Before she went to sixth grade, her eye doctor found what looked like specks on her retina. Frank was sent to a specialist who said the spots were a fatty build-up that her body couldn't properly flush out. It makes Frank's central vision extremely blurry, while her peripheral vision is clearer.
It's a genetic disorder under the umbrella of juvenile macular degeneration that will continue to deteriorate Frank's vision, but will not leave her completely blind.
Frank said she can identify the basics — people versus objects, the general features of someone's face. But if Frank's mother was sitting one table away from her in a coffee shop, she would never know it was her. 
Stargardt Disease has made everyday activities more difficult. Frank can't drive, and has to depend on friends and ride-sharing services. She's had friends ask why she didn't acknowledge them on campus when they waved to her. She just didn't see them.
Frank said she stays involved in school and work so she won't focus on the challenges as frequently. 
"You can maintain a relatively normal life with it, so I try not to let it hold me back," she said. "I think if I was in my mind more, and wasn't as busy, it would hold me back more. But I just keep doing things, keep going. Everyone has their own struggle. Mine is fine. I just work harder."
Overcoming visual impairment
The testing center in A&M's Department of Disability Resources was Frank's deciding factor when she chose to become an Aggie. The center is fully equipped with video magnifiers, or CCTVs. The device is essentially a computer monitor with a camera at the bottom. Users can place books, papers or other materials under the camera, which magnifies the images onto the screen to make them visible to people with visual impairments. With the help of the machine, Frank was able to fill out scantrons on her own for the first time, and read papers she received in class. 
Frank's computer helps her get through the day when she doesn't have access to a CCTV. She downloads all her textbooks and school material to her laptop so she can zoom in to read. Professors frequently provide her with their PowerPoint presentations before class, she said, so she can have time to look at any graphs or charts that would be impossible to see projected on a screen across the room from her. 
The laptop comes in handy at Icon too, when she is trying to quickly find songs she wants to play. Frank has mostly memorized her personal DJ controller that she takes to all her gigs, and if she is ever in doubt, she uses a magnifying app on her phone to zoom in on parts of the board she is less familiar with.
That app helps in other situations, Frank said, as she navigates her time serving as a senator in the Student Government Association, and in Zeta Tau Alpha sorority. She frequently uses it to see items before she purchases them, read writing that is too small for her to see or to better understand her surroundings. 
It's second nature at this point, she said.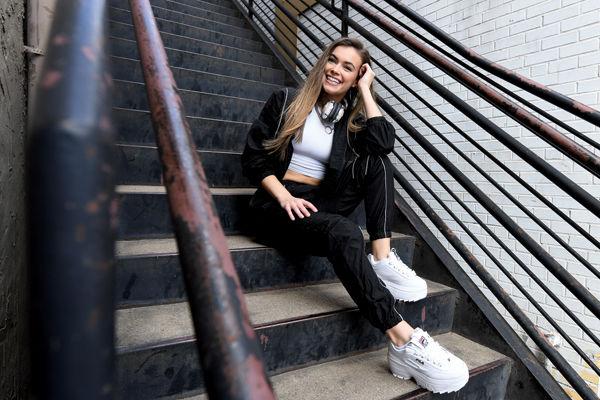 Frank credits her parents, David Frank and Pam Skaggs Frank, for pushing her to find something she loves. David drove her to nightclubs in Dallas when she was in high school as she started to pursue DJing.
"They're so supportive of me," Frank said. "They're never like, 'I don't know if you should be doing it.' It's always, 'Keep going. Just see where it takes you, and if you're not happy with where it's taking you, then find a different place.' And right now, I'm thrilled with exactly what I'm doing."
David said he has watched his daughter's love for music evolve, starting when she took dance classes in sixth grade and when she started composing her own music in high school. He recalled being shocked at the diagnosis in 2009.
"It seemed more traumatic for me and her mom, because Bridget handled it with dignity and grace," he said. "It's unbelievable. I never really heard her complain about it. She never used it as an excuse."
A&M senior Madeline Hicks has been close to Frank for four years. They moved in together two years ago and worked together during the summer when Hicks would help Frank set up her equipment at Icon.
Hicks said Frank has changed a lot since they first met, evolving from someone who was fairly shy to becoming confident in her musical talents, and willing to speak about the challenges she faces.
"She's honestly my inspiration," Hicks said. "She has her visual disability, and people don't really realize how inaccessible the world is when you can't see, but she just goes about life just like she could see. It's been really amazing to see all of her growth in just a short amount of time."
Frank was 18 when she started performing in Dallas clubs, and gaining respect took time. Early on, a club employee met her with thinly veiled hostility, she said, making remarks about her gender and doubting her taste in music as he helped her set up her equipment. Halfway through her set that night, he apologized, saying she was welcome back any time. 
For Frank's first two years in College Station, she focused on school, and only performed at a few events for her friends' organizations. Eventually, she felt like something was missing. 
"I was lacking that creative outlet," Frank said. "[After events] I would be like, 'I wish I could do this more,' and then I said, 'What is holding me back? Why am I not doing this?'"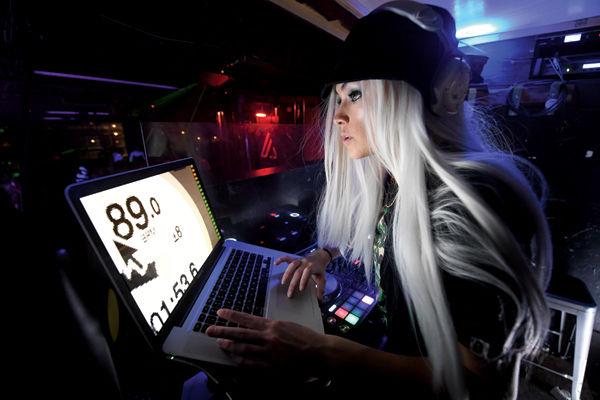 During the summer, Frank started performing at Icon every Friday, making it the most frequent gig she's held. She has continued to develop her persona as a DJ at Icon — she goes by "DJ B."
Frank said she has had a love for music since childhood, developed in part by her parents' eclectic tastes and her own fascination with electronic dance music, or EDM. 
Dubstep — the "metal" of EDM, as she describes it — is Frank's favorite, because it is more intense than other branches of the genre. The music she plays at Icon is mainly mixes of rap and pop music.
Frank said she wants to become a producer to create her own music — she mentions Skrillex and Marshmello as examples — rather than mixing songs. She is reading a music theory textbook to research how to accomplish that goal. 
After becoming interested in EDM, Frank said she realized the lack of female artists in the genre, and wondered if she had a better chance as a backup dancer than a DJ. Now, Frank said she sees her dreams as achievable. 
"It took me a while to realize that I can figure it out," she said. "At Icon, I'm not playing any originals, but I would love to and then eventually grow from there."
In some ways, Frank said her visual impairment is an asset she needed to be a DJ. Without it, she said she thinks she would be nervous to perform. Not being able to make eye contact with people helped her have the confidence to wear the costumes that make up DJ B. 
"It makes it feel like everyone is blurry and anonymous," Frank said. "I always think, 'Nobody is looking at me. Everyone is on their phone.' That's how I try to rationalize it. I'm trying to make the lemonade out of the lemons."
Be the first to know
Get local news delivered to your inbox!