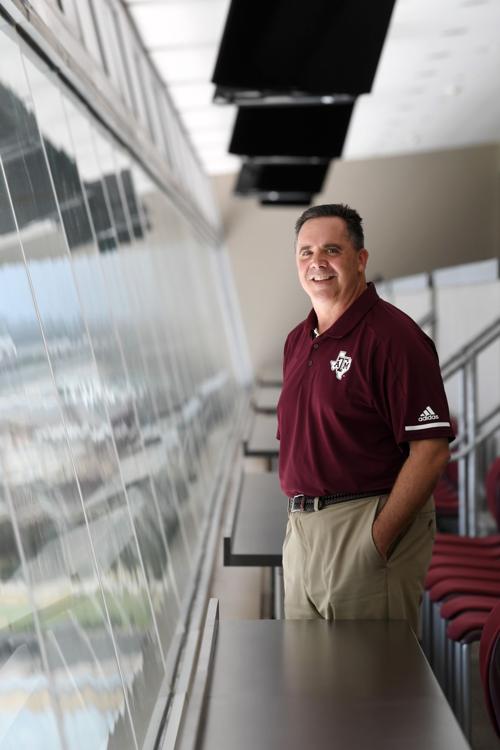 There is a certain level of trust that Texas A&M play-by-play man Andrew Monaco has enjoyed in his first year of work in Aggieland.
An example is the "ride-along" segment he hosts for A&M's 12th Man Productions' YouTube page. The bubbly Monaco picks up a different A&M coach and drives them around College Station in a new Ford, learning tidbits about his passenger through conversation.
"You all have a lot of trust," Monaco joked of his interactions with the coaches. "You have no idea how I drive and you still got into this Ford vehicle."
The Aggie fan base has had a similar experience, with Monaco driving A&M football and basketball radio broadcasts after taking over for longtime broadcaster Dave South prior to the 2018 season.
"I met with him before the season last year and found him to be a great guy," South said. "He's talked to and asked me a lot of questions about how we had been doing it, and asked me for my opinion on a few things and I gave them to him. As far as I can tell, he was well-accepted by the Aggie fans last year."
Monaco's first football season was filled with calls of historic moments, from a near win against No. 2 Clemson to the seven-overtime thriller against LSU. However, it was his first time in the booth that has burned a memory in his mind — a 59-7 Aggie victory over Northwestern State.
"Because it was a combination of new and, for me, so exciting to finally be here, that's why Northwestern State is so exciting for me," he said.
Monaco observed what unfolded on the field below him and put it into words, but he said he found the emotion and history of the moment through his broadcast partner, former A&M safety Dave Elmendorf. Their interaction fit into Monaco's broadcasting philosophy.
"I've always taken the approach, it's just a couple of guys watching a game together and people just happen to be listening," Monaco said. "But that's what it feels like. To me, that's where the joy has come in."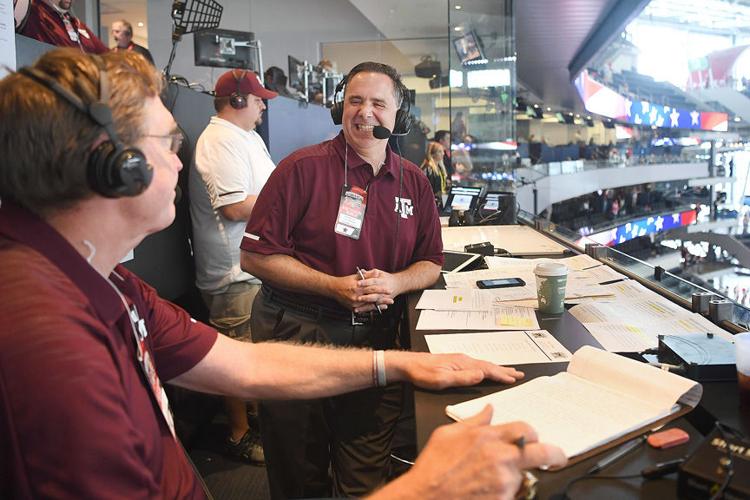 The chemistry between the two began in an unlikely place. Prior to the 2018 season, Elmendorf asked Monaco if he would help call a charity flag-football game for local youth. The two quickly realized they would work well together.
"We did it and we just had a blast together," Elmendorf said, "but it was so beneficial for both of us because we got an opportunity to feel the timing."
Monaco said he has found a football mentor in head coach Jimbo Fisher. Through fall camp, Monaco could be spotted under a sharp, woven A&M sun hat, jotting notes on individual drills. Each Monday, as the local media gathers to quiz players and Fisher alike, Monaco stands in the background, listening for key talking points the team emphasizes each week.
Not only is that research incorporated into his weekly game broadcast, but it also becomes conversation points between Monaco and Fisher during the coach's weekly radio show at Rudy's Bar-B-Q in College Station. Not unlike his approach in the broadcast booth, Monaco and Fisher banter back and forth on the intricacies of the world around them like two old friends who have watched football together for decades.
"It's like taking a master's class in football, doing the Jimbo show every week," Monaco said. "I love hearing what he says on a Monday media availability, and you can tap into a topic that he is passionate about, and we can talk about it a little bit more."
"I also like the life lessons," he continued. "I don't think it's just football or basketball lessons. I think there's these life lessons, and I love to hear that."
The season offered Monaco a once-in-a-lifetime lesson in sports broadcasting. As A&M players battled through a seven-overtime, 74-72 victory over LSU, Monaco, Elmendorf and sideline reporter Will Johnson remained on air through the marathon. From pregame chatter to postgame recap, the broadcast team was on the air for seven and a half hours. Not one minute felt like work, Monaco said. Fisher presented him with a game ball for his efforts, which sits on his mantle.
"People always ask, 'You must have been exhausted,'" Monaco said. "And I really wasn't. You just get so caught up and you can't wait to see how it plays out."
College athletics are often referred to as the "front porch" of a university. If that is the case, Monaco is right there, ready to welcome anyone who passes by into the fold.
"We're never hurting for conversation and we're never hurting for laughs," Elmendorf said. "We really have fun together. We truly enjoy broadcasting together, and he's just a good guy, and I think we're pulling off what his vision is for broadcasting — just sitting around and talking about the game."
Be the first to know
Get local news delivered to your inbox!