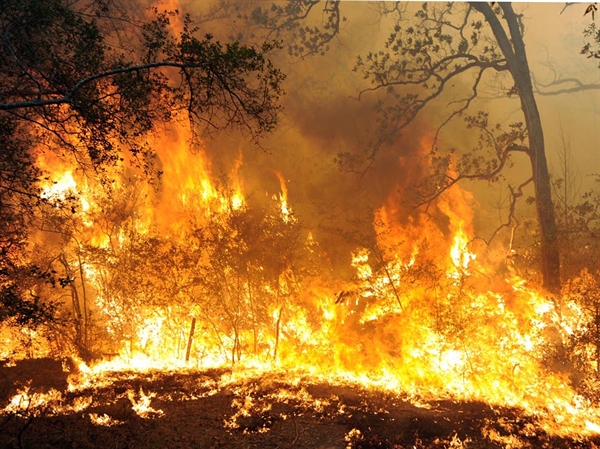 I was enjoying Monday's laid-back Labor Day atmosphere when it was suddenly cast aside by urgent tone-outs on my scanner. The request: Every Brazos County volunteer fire department was asked to help get a massive wildfire in Leon County under control. Shortly afterward, I was contacted by my editor, Kelly Brown.
"Texas is on fire", she said, and I only realized how true that statement was when I clicked on a website she sent me that listed all current fires in the Lone Star State.
There were dozens and dozens of conflagrations, some coming under control, some totally out of control.
The Leon County wildfire was rated as 0 percent under control.
So Kelly killed all other assignments to send me there, as I was the only shooter working at the time.
As I made my way down OSR towards Normangee, my scanner told me that all the Brazos County fire trucks were making plans to convoy to a small Texas hamlet named Flynn, located between Normangee and Jewett.
I could see the smoke from 15 miles away.
Once on scene it was obvious that firefighters were all too few in number to handle the monster that was burning in their midst. The column of smoke from the main blaze was hundreds of feet in the air, with a menacing red glow pulsing from the fire's center.
Winds were whipping up the flames in large wooded areas where tiny firestorms created their own torrid rushes of air, making the path of the fire unpredictable.
A local man was kind enough to give me a good tip on which of the many small roads to take to get to the fireline. Police and firefighters were so busy evacuating residents in danger that I was pretty much left alone, so I followed his instructions and made my winding way down a sandy road that dead-ended in a deer lease. 
There was a fella in a truck just sitting there looking at the smoke, maybe wondering if he was safe. He was generous in allowing me to venture down a footpath that wound back to where the center of the blaze seemed to be located.
As I made my way down the dry dirt path, the wind kicked up and I could hear loud crackling sounds, like those that pop from a camp fire, only louder.
I've never approached the fireline of a wildfire in all my 30-plus years of shooting photos for newspapers, and I have to tell you, I was scared stiff for a minute. The urge to turn and run was pretty high, but I figured since I got this far I may as well proceed.
Important note to others: Don't try this. I was lucky today.
The sounds kept getting louder, and soon I saw what was making them — blazes lasting maybe 15-25 seconds or so, that singed entire trees of their leaves and branches, only to die down to brush-level flames constantly pushed by high winds to the next large batch of vegetation, where the spectacle was repeated. It was a striking sight.
I played the fireline as smart as I could, always looking around for little conflagrations made by embers blown to areas surrounding my location by the mighty main burn, making sure that I wouldn't get trapped by the fire. This was easier than it sounds, as the wildfire was relatively slow-moving although, just like a lava flow, it was deadly up close. I wanted nothing of that.
In this cautious manner I changed position as the fire allowed, working my way up, until I was clear of any interference from unburned trees in my view of the massive line. It was amazing.
But I couldn't just stand there and admire it. It was moving.
So I shot away and captured some of the coolest fire photos I've ever taken.
But if there ever was a situation where I needed to shoot and scoot, it was this one. I knew I was safe to retreat by constantly checking behind me for hot spots, so I got what I could and got the heck out of there.
When I made it back some half-mile down the path to the deer lease, the guy's truck was there but he was gone. I yelled for him several times, but no response, so I just packed it in and drove to greener pastures.
My idea then was to get some shots of firefighters but, in spite of my looking far and wide for them, I only located one guy. I took a good 45 minutes to do this, got my car stuck in a sandy road, was yanked out by a couple of good old boys, and continued searching but to no avail.
The rest of the firefighters, I reasoned, were buried in the bush trying to contain the fire, so I headed back to the deer lease to thank the guy who let me get the cool fire photos.
It was standing 45 minutes earlier when the guy in the truck and I talked in the pleasant sunlight.
Now it looked like a war zone.
The fire had come and gone, leaving his cabin destroyed, ruining several vehicles, including a Winnebago. It just smoked the whole place away. 
Much of the property was on fire when I returned and, being careful as I could, I parked my car in a nearby safe spot and ventured out to record the scene.
It was like an army had come and torched a village. Furniture, grills, rooftops, boats, tools, electrical utilities, fences-everything was smoldering-some still burning hot. 
I knew I needed to work fast. I'd done well so far, but this deep in I just didn't think my luck would hold for too much longer.
But it did, and I made it out safe and sound, taking with me everything I'd brought, unlike many Leon County residents who lost their homes and property in what seemed to be a breathtakingly short manner.