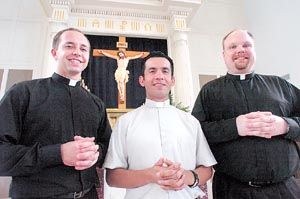 Three Texans to be ordained in College Station church
Eagle photo/Butch Ireland
From left: Deacons Brian Eilers, Efraín Villanueva and Patrick Ebner will be ordained Saturday at St. Mary's Catholic Church in College Station.
Brian Eilers' grandmother taught him to recite the rosary.
In high school, it was Eilers' grandmother who gave him a copy of the true story "Playboy to Priest" about the Rev. Kenneth Roberts' conversion to Catholicism and eventual ordination into the priesthood.
In the midst of a massive international spiritual gathering of hundreds of thousands of Catholic youths at the 1993 World Youth Day in Denver, Eilers saw Pope John Paul II. But it wasn't until a Mass led by his hero, Roberts, during World Youth Day that Eilers felt a decisive momentum.
He stepped forward to the altar when Roberts called on those willing to lead a religious life in the priesthood.
" I realized that this is what God is calling me to do, so, with tears in my eyes, I went up," Eilers said Friday.
This weekend, Eilers will take the final step toward fulfilling the call to the priesthood he first felt more than 10 years ago.
At 10:30 a.m. Saturday, Eilers will join Patrick Ebner and Efraín Villanueva as the three are ordained as Roman Catholic priests in the Diocese of Austin. More than 1,000 family, friends and faithful are expected to attend the event at St. Mary's Catholic Center in College Station.
Diocese spokeswoman Helen Osman described the ordination as a "celebration of the diocese's faith and commitment to God."
Both Eilers, 28, and Ebner, 32, graduated from Texas A&M University. A&M is among the nation's secular institutions that produce the most graduates who go on to a religious life in the Catholic priesthood, monasteries and convents, Osman said.
Villanueva, 34, is from San Luis Potosi, Mexico.
In the past seven years, 58 Aggies have entered seminaries, convents or monasteries. Another seven will enter religious life this fall, said the Rev. Michael Sis, pastor at St. Mary's.
" Students who come to A&M have a higher level of religious practice, no matter what the religion," Sis said. "While they're here, students are in an environment that fosters their faith practice."
The ordination of two Aggies at St. Mary's, known for its ministry among A&M students, comes 100 years after Catholics first worshipped on campus, Sis said. In 1904, the first Catholic Mass was celebrated in a civil engineering classroom.
In most cases, priests work for life in the diocese in which they are ordained. Eilers, Ebner and Villanueva will vow their obedience to Bishop Gregory Aymond of the Diocese of Austin on Saturday.
One of the ceremony's most emotional aspects follows the vow of obedience. Ebner, Eilers and Villanueva will lie prostrate with their hands supporting their foreheads as a choir of 35 leads the congregation in the Litany of Saints to ask each saint for prayer and aid for the new priests.
" The whole congregation is praying and singing together, asking the Holy Spirit to guide [the priests]," said Sis, who was ordained 18 years ago. "It's a moment of total giving of oneself. It's tangible. It often brings me to tears."
The principal act of ordination occurs when the bishop lays his hands on the new priests and says the prayer of consecration. After kneeling before Aymond and having their hands anointed, the priests will be vested, wearing a stole and chasuble over both shoulders to symbolize their newly pronounced authority.
The Mass brings Eilers and Ebner back to the church parish in which they once sat and contemplated as students, and in which they most recently aided Sis as deacons at the pulpit.
" I do feel very grateful to have been a part of their preparation for priesthood, and to witness this new generation of leadership," Sis said. "It's a great sign of hope for me."
Ebner was born and raised Catholic, graduating from A&M with a degree in business before becoming a toy store manager. He didn't speak with Sis about becoming a priest until after his management experience.
" You think about what you're going to do the rest of your life," Ebner said, recalling leading youth retreats to high schools through St. Mary's and working with Aggie Awakening, a group that mentors college students in their conversion and renewal of faith. "It was God's divine providence. He wanted me for some reason to come to A&M, and to guide me from there."
In 2000, the Austin Diocese — which spans 25 Central Texas counties and comprises 450,000 Catholics — saw only one priest ordained. In 2003, two priests were ordained in Temple, Osman said. The three men who will be ordained at St. Mary's on Saturday will be the only ones to enter the priesthood in Central Texas this year.
Sis said religious leaders face a new reality in which society accords far less respect to clergy members than it did decades ago. Young people in modern society also are less confident in proclaiming their faith and in making commitments. A new priest must be ready to grapple with the shifts in society's values, Sis said.
" He has to be very committed to his faith," he said. "He has to draw his strength from a deeper well than public affirmation."
But the diocese continues to see an increasing number of young men entering seminary.
Ebner was one of about 14 in his seminary in Columbus, Ohio, from the Diocese of Austin when he first entered in 1997. But as he graduated this May, there were 30, he said.
" There's still a lot of challenges," Ebner said. "We as priests are really going to have to support and protect the sanctity of marriage. We have to help youth to remain chaste. But we'll continue to bring God's message, and that's something that's never changed in 2,000 years."