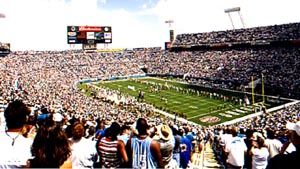 Super Food for a Super Party
Alltel Stadium in Jacksonville, site of Super Bowl XXXIX.
The Super Bowl pretty much means Super Food for a Super Party.
Friends, family and football fanatics gather on what's typically a chilly day. (Did someone say chili?) And they eat, talk, watch the game, laugh, cheer (or cry), eat some more, watch the game some more. Well, you get the picture.
If you're tired of serving the same old chili or chips/salsa or faux Buffalo wings, check out some of these recipes with a twist.
You might want to start with Taco Chicken Wings that are incredibly easy and fast to make; 45 minutes in all, and they're oven-fried. Then nibble on some Tortilla Roll-Ups, served with salsa, or consider Hot Corn Dip with Crispy Tortilla Chips. The dip and chips recipe is easy to make, takes only 30 minutes prep time and 35 minutes to cook, and makes 12 to 18 servings.
If you want a non-Mexican food dish, Steak Bites with Bloody Mary Dipping Sauce is also easy and quick — 10 minutes of prep time, 8 minutes to cook.
Do you have a house full of football fans to feed? Consider one of these chili dishes — or all three, if you've got a passel of folks, including non-meat eaters.
Serve these foods with your favorite chilled and/or hot beverages, and all you need as dessert is for your favorite team to win.
• Use your empty dishwasher or washing machine to ice down extra cans and bottles of drinks. When the ice melts, the water just drains away.
• Freeze empty plastic bottles and/or clean milk cartons in advance to make blocks of ice for keeping coolers cold.
• How much brew to buy? As a rough guideline, plan on stocking five six-packs for 10 people, based on a 12-ounce serving for a typical party of beer drinkers. Adjust accordingly to the consumption level of your crowd.
• Slow cookers make good sense for casual parties. They are perfect for holding chilis, soups, stews or hot dips. Turned on low, they are wonderful for keeping party foods hot throughout the event.
• Chicken wings are an economical party food (look for sales at your local market and pick up big quantities for next to nothing). Use your slow cooker to keep cooked wings warm during the party.
• Sushi is especially appropriate for football parties. Sushi rolls make perfect casual party food and they're really economical too.
• A sandwich buffet is one of the easiest ways to entertain. Put out an array of breads, meats, cheese and sandwich fixings and let everyone help themselves. If you want to go all out, cook a whole turkey or ham ahead of time and slice it for sandwiches at the party.
• Clear your tables in the viewing room to be void of anything that can be knocked over, or be in the way of drinks and food.
• Have food prepared ahead of time so you can enjoy the game. Keep it on warming trays on a table near where you plan to watch the game.
• Keep paper towels and a wet rag handy so you don't miss anything running for them to clean up knocked over messes.
• Make cocktails by the bunch instead of individual ones.
• Keep a cooler full of beer handy and a tray to clear, rinse and recycle during timeouts.
• Tape the game to catch the parts you might miss. Don't miss a second of fun, even if it is after the fact. After the game, you can all catch your favorite highlights and those super-expensive but hilarious commercials.
• 10 Players — Here you put 10 numbers in a bag (0 through 9). You can either have prizes or a pool for this one if gambling is legal at your house. Each of the 10 players takes a number. At the end of each quarter, you add up the total of the last digit of the scores. That number is the winning number, and the player who has that number is the winner of the prize or one-fourth the amount of the ante, if you are playing by the quarter.
• 100 Squares — It doesn't matter how many people play this game. Each person puts in a designated amount of money if gambling is legal at your house. (If not, divide 100 squares by the amount of guests and they get to fill in that many boxes with their names and you provide the prizes.) After the sheet is filled with names, you pick numbers (0 through 9 in a bag again) twice (for each team), and label the rows and columns accordingly. The ending numbers of each quarter determine the winners. For example, if the score is 24 to 17, the winning number would be 4 and 7, that is on the right square for the teams. One team has the vertical side for numbers and the other has the horizontal. Word of advice: Specify the final score or fourth quarter as the ending win.