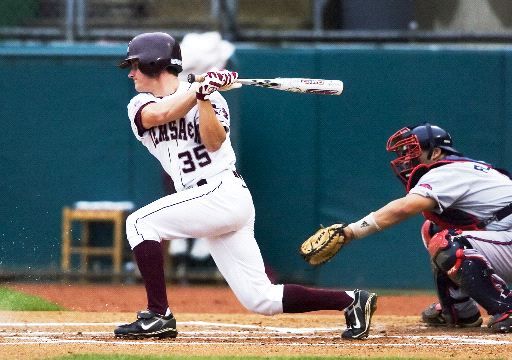 Ben Feltner strolls to the plate with the song Bennie and the Jets blaring throughout Olsen Field.
Within a few pitches, it's his own jets that turn up the crowd noise as he speeds down the line to first base in 3.5 seconds for another bunt hit.
"I had a different song [picked out], and then the coaches said I should do that one, that the crowd would like it," Feltner said. "I knew of the song, so I thought it was a good idea. I thought, why didn't I think of that?"
Feltner's ability to get down the line about half a second faster than the average player is the biggest reason he has 18 bunt hits and 28 infield hits. That's 13 more bunts and 17 more infield hits than anybody else on the team.
"He's probably the fastest player we've ever had. He has world-class speed," Texas A&M hitting coach Matt Deggs said. "His speed changes the game, the whole dynamic of the defense and what their pitcher is trying to do because they pay so much attention to him. What he brings to the table is he can bunt anytime, anywhere and in any situation."
Feltner's speed has many teams defending him like a softball team would, with the corner infielders drawn in almost even with the pitcher. The 5-foot-11 junior who just began switch hitting last year at Temple College welcomes the challenge.
"I've seen them try a lot of things. One time they were all next to the mound," Feltner said. "Sometimes I feel like I want to bunt just to beat [the defense]. I did it a couple of times. It was pretty cool."
It may have been cool, but that same situation is when Deggs believes Feltner can most improve to help the team and later his chances of making it into the major leagues.
MATCHUP: Oklahoma State at Texas A&M
WHEN: 6:30 p.m. Friday; 1 p.m. Saturday; 1 p.m. Sunday
WHERE: Olsen Field (7,053)
RECORDS: A&M (31-8, 8-6 Big 12), Oklahoma State (29-9, 8-4)
RADIO: WTAW, 1620 AM
TICKETS: $5 youth; $7, $11 adult (Sunday's tickets are two for one)
"Everyone knows he's going to bunt, so exposing that defense is what he needs to get better at," Deggs said. "Where the corners are in, the middle guys closer and the pitcher on edge, he needs to work on driving ground balls through those open spaces."
Feltner is batting .312 coming into this weekend's key Big 12 series against Oklahoma State at Olsen Field. As good as that is, the second-year switch hitter is still trying to be more selective at the plate. Of the eight Aggies with at least 100 at-bats, Feltner has the worst on-base percentage at .369. He also is second in strikeouts, only one behind Blake Stouffer who bats behind Feltner in the No. 3 hole and leads the team in RBIs.
"Ben's whole key for us is his on-base percentage," Deggs said. "He's the straw that stirs the drink, even though he hits No. 2. When he reaches base, great things happen for us."
Feltner has stolen 23 bases in 24 attempts. The only time he was caught came against Texas-San Antonio on a pitch out. His theft earlier in that game gave him 22 in a row.
Jason Tyner owns the Aggie record for steals in a season with 41 in 1996. Feltner stole 39 last season at Temple College.
"I was supposed to go the pitch before, and [Brandon] Hicks took a pitch for me," Feltner said of his one caught stealing. "I didn't get a good jump, so I stopped and thought, 'Oh great, Deggs is going to be mad' because Hicks had to take a strike.
"I went on the next pitch and had a decent lead but still was unsure about it, and then I was about to fall over the whole time. I knew I was going to get thrown out."
Feltner was a sprinter at Leander High School, where he says he ran a 10.4-second 100 meters and broke 22 seconds in the 200.
In his one chance to be electronically timed in the 40-yard dash at A&M, he ran a 4.36, an outstanding time for running backs and defensive backs.
There is a list of the fastest times by A&M's football players where the Aggie student-athletes work out.
"I'd be up there, but there are a few faster," Feltner said.
Feltner began playing baseball at age 5, but it wasn't until last season that he received any extended playing time. That was also when he started switch hitting at the suggestion of his roommate Brian Ruggiano, who also transferred to A&M.
"I never thought I could do it," Feltner said of batting from the left side. "Over the summer I got two hits left-handed. I was horrible, but in the fall I started bunting, and it was OK but still a little uncomfortable."
Although Feltner can drive the ball better right-handed, Deggs says "he handles the bat better and has a few more weapons left-handed" because of his hand-eye coordination from that side.
For a junior in college, Feltner has such little experience switch hitting, but with his work ethic - Feltner sneaks into the batting cages at night - Deggs believes there is no limit to how much he can improve.
"He's still raw, still learning to play, but he works at it and he fits right into our mode," Deggs said. "He's a track guy whose learning the game.
"He's one of the first ones here [to practice] and one of the last ones to leave. He'll grow by leaps and bounds and has already this year."
And then maybe they'll play Rocket Man when he comes to the plate.
---
NOTES - During one practice, Matt Deggs told Ben Feltner to lay down 1,500 bunts. "I got to 580-something," Feltner said. ... Feltner has six sacrifice bunts. He would have more but because of his speed, it is sometimes ruled that he's bunting for a base hit and is not given the sacrifice. ... He recently was drafted by the Chicago Cubs in the 38th round and hopes to go pro at the end of this season. "He could be very special in three or four years," Deggs said.