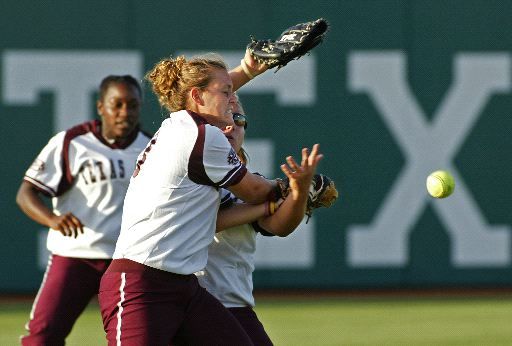 Texas All-American Cat Osterman didn't have her best stuff, but she nearly got the best possible results.
Osterman tossed a one-hitter and led the second-ranked Longhorns to a 1-0 victory over Texas A&M on Wednesday night at the Aggie Softball Complex. Texas is on the verge of its third Big 12 Conference regular season title, all during the Osterman era.
The 6-foot-4 left-hander was one out away from her sixth no-hitter of the season when A&M's Rocky Spencer lined a single to left field. That pushed Megan Gibson, who had walked, to second, giving A&M (32-14, 11-5) its first runner in scoring position.
But the rally ended there. Osterman calmly struck out Jami Lobpries for her sixth one-hitter of the season. It was also Osterman's 12th strikeout, which is her fewest this season in 10 conference starts.
"I didn't have my best stuff, but by no means was I off my game at all," Osterman said. "I felt like I was throwing pretty well. I was struggling a little bit with my dropball. It was kinda inconsistent, which I don't like because everyone knows that's my primary pitch."
Osterman said her game plan was to play for outs, not strikeouts, because A&M is such a good-hitting team.
"I did get behind a lot more in the count than I would like," Osterman said. "But I made the pitches that needed to be made. I got them to pop up a lot or ground out, so I was able to rely on the defense tonight, which was very comforting."
The Aggies worked the count well, drawing three walks and working the count to 3-2 seven other times before making outs. A&M forced Osterman to throw 127 pitches, only 74 of which were strikes.
Still, the A&M batters were often too anxious.
"I didn't think we stuck to our plan at the plate as well as we needed to," A&M coach Jo Evans said. "We swung at a lot of dropballs that were out of the strike zone. I think I can remember at least five times we had full counts and swung at ball four. You never know what can happen if you can find that walk. We just need to be a little more disciplined at the plate, and that's tough with [Osterman] because you have to be aggressive when you get your pitch."
Osterman, who is 8-1 lifetime against A&M, didn't have a three-pitch strikeout, but the Aggies had few really good swings at her.
"I was proud of the way Cat battled tonight," Texas coach Connie Clark said. "Cat had to settle in rhythmically, and I thought she did a great job in playing pitch-by-pitch. Her riseball was tremendous tonight."
Osterman purposely pitched around Megan Gibson, who leads the Aggies with 11 home runs. Gibson hit a three-run homer last year in Osterman's lone loss to A&M.
"My main concern was I wasn't going to let Gibson beat me again," Osterman said.
Gibson walked with one out in the fourth, but Amanda Scarborough flew out on a 2-0 pitch, and Holly Ridley did the same on a 2-1 pitch.
The only drama for the partisan crowd of 2,053 - the second most in school history - was in the seventh when Osterman again walked Gibson. Scarborough then fell behind 0-2 in the count, failing to get a bunt down on the second strike. She recovered by fouling off three pitches and worked the count even but was called out on a perfect outside pitch.
"I didn't want to put [Scarborough] on behind Megan," Osterman said. "You saw how she fights and battles at the plate. The pitch I was able to get her on was an outside curve. That's a pitch in particular that's hard to read. It probably was one of the better pitches I threw all night."
Osterman (30-1) won her 14th straight and was all of one pitch better than Scarborough (15-7), who was nicked for a run in the first. Texas' Amber Hall flared a two-out single into center field, then stole second. Megan Willis singled off the left-field fence on a 2-2 pitch to drive in Hall.
Scarborough pitched around errors in the fourth and sixth and finished with a four-hitter - all singles.
Texas (46-5, 12-2) needs just one more victory in its final three regular season games to close out Nebraska (36-8, 10-4), A&M and Baylor (33-17, 10-5) for the Big 12 title.
Texas had put some suspense in the regular-season race when No. 2 pitcher Meagan Denny lost to A&M earlier this month. But the Longhorns won six straight Big 12 games behind Osterman following that loss.
Denny lost at Kansas on Sunday, opening the door for A&M, but Osterman may have closed it again Wednesday.