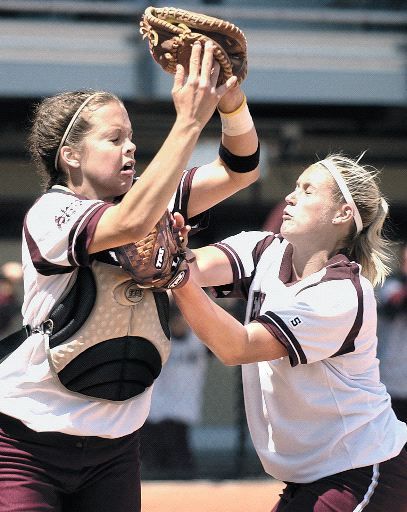 An ill wind blew through the Texas A&M Softball Complex on Saturday, and the Aggies were much too shaky to stand up to it and the Oklahoma Sooners.
Oklahoma freshman D.J. Mathis pitched a solid five-hitter as the Sooners knocked Texas A&M out of the Big 12 lead with a 4-0 whipping on a windy afternoon.
The 16th-ranked Aggies (26-11, 5-2) fell behind in the second inning and threatened to score only in the sixth. A&M started the day tied for the league lead after beating top-ranked Texas in Austin on Wednesday.
"I didn't like our approach at all," A&M coach Jo Evans said. "I thought we were passive, and I didn't think we had much intensity at all. I'm disappointed in our team. I think we gave them the advantage."
The No. 21 Sooners (26-13, 3-5) won their third consecutive game and seventh of their last eight. Oklahoma, which has reached the NCAA Tournament in each of coach Patty Gasso's 11 seasons, is trying to climb out of a hole after going 1-5 to start Big 12 play.
"We're in a place in the conference that we aren't really familiar with," Gasso said. "We've had some struggles on the mound, playing a lot of 8-6, 7-5 games. That's why it was so tremendous to see D.J.'s effort. That's what we've been waiting for."
Mathis, a lefty from East Alton, Ill., wasn't overpowering, but she hit her spots and changed speeds well, keeping the Aggies off-balance as she lifted her record to 10-3 with her first seven-inning shutout for OU.
"That's definitely one of the best performances I've had since I've been here," Mathis said. "I felt like I was out there dominating."
A&M's only hits in the first five innings were two-out singles by Megan Gibson in the first and Jamie Lobpries in the fourth. The Aggies didn't advance a runner to second base until the sixth, with OU ahead 4-0.
"I thought our team was not aggressive at the plate," Evans said. "We saw a lot of pitches to hit, and I didn't feel like we went up there attacking the ball."
The Aggies loaded the bases in the sixth on a bunt single by Jamie Hinshaw, a walk by Sharonda McDonald and a one-out single by Amanda Scarborough. Mathis, however, won an 11-pitch battle with Lobpries, enticing a pop fly to second, and she escaped harm by striking out Rocky Spencer.
"She's starting to kind of come into her own as a freshman and figure things out," Gasso said. "What I liked was that when we needed to get out of an inning, she got a big K, and that's not really what she's known for."
The wind that howled in from left field bothered the Aggies much more than it did the Sooners. A&M made a couple of great defensive plays, but the Aggies let at least three catchable fly balls fall for hits.
"We could have gotten out of some innings," Evans said. "I thought we handled the wind poorly, and I thought that was a big difference in the game. It's not like we haven't practiced and played in a north wind."
A fly ball that should have been the second out of the second inning dropped in front of left fielder Lobpries for a hit and bounced past her for an error. OU cashed in with three more singles to grab a 2-0 lead.
Samantha Ricketts singled and scored in the fifth and drove in a run in the sixth as part of her 3-for-4 afternoon.
Overall, the Sooners piled up 13 hits, the most against the Aggies this season. Gibson (12-4) pitched all seven innings and took the loss.
The series will conclude with a single game at 3:30 p.m. Sunday, which will be televised by ESPN (Ch. 27).