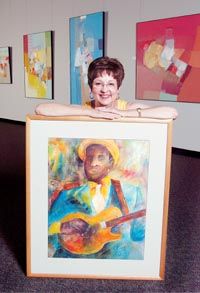 New home, new show for Brazos Art League
Eagle photo/BUTCH IRELAND
Nita Harding, president of the Brazos Valley Art League, with her painting "Jazz Man" in the Texas Gallery of the P. David Romei Arts Center
The Brazos Valley Art League christens its new home in the P. David Romei Arts Center with its first art show in the Texas Gallery.
Featuring artwork by league members, the free show opens with a reception from 5:30 to 7 p.m. today at 2275 Dartmouth St. in College Station.
" A lot of the artists will be there," said Nita Harding, league president. "We'd love for the public to come and meet the artists and see the wonderful work they have done."
The show, which will run through Aug. 31, includes work by professionals, semi-professionals, non-professionals and adult students. Harding expects close to 75 entries. The gallery is open from 9 a.m. to 5 p.m. Monday through Friday.
" We want to show the variety of art available in this community," Harding said. "There will be works in oil, acrylic, water media, mixed media, pastels, photography and three-dimensional, such things as sculptures and jewelry. There will be artwork for sale."
Proceeds from the sale of artwork will go the league scholarship fund.
A $500 scholarship is given each year to a local high school student (or more than one) planning to get an art degree.
The Brazos Valley Art League was formed in 1975 when art groups in Bryan and College Station merged.
The league had its meetings in the Brazos Center until the Romei Center was built in 2003.
" We have an office in the Romei Center, and we offer classes there," Harding said.
Beginning in the fall, classes will be offered in oils, acrylics, watercolors, portraits and drawing.
Call 680-8069 for schedules and tuition costs.
The Texas Gallery, which had been run by volunteers in the Arts Council's previous locations, was turned over to the league.
" We schedule the shows and hang the shows," Harding said. "Marci Boone chairs our gallery committee. We have 2005 all scheduled."
League membership costs $20 a year, and it is open to artists and non-artists.
" We welcome people who just appreciate art," Harding said.
The league meets at noon the first Monday of each month in the Romei Center. The only exception is in September when the meeting is on Sept. 13 due to Labor Day. Each meeting has a demonstration or lecture.
The league is a member of the Lone Star Art Guild, a collection of 18 clubs in Central Texas. BVAL members are eligible to enter shows at any of the other clubs.
Although the July 1-Aug. 31 show is noncompetitive, Harding said the league will have juried shows in the fall and spring.
" In May, we will award first-, second- and third-place ribbons in each category, and the winners can compete at the state convention," Harding said. "We hosted the convention this past May and had 600 paintings to hang and be judged. It was quite an undertaking."
The league has an art library with books and videos and offers two workshops a year with nationally known artists as instructors. A painter group meets at the Romei Center from 9 a.m. to 4 p.m. each Wednesday to paint.
" One of the most fun things for me is socializing with other artists," Harding said. "It's so great to have art buddies who know what you are talking about. We also go to galleries and shows in other cities. We've got a wonderful group of people."
The Romei Center has been a great addition to the community, Harding said, and the league has been a significant contributor to its construction.
" We saved our money from all those shows in the mall for all those years, hoping for something like this. We now have this beautiful place for all the groups to meet. Each reception we have draws more and more people. It's just a lot of fun," Harding said.
Members can show their works at the center all year long.
" There is always artwork on display, and the public can come in an enjoy it," Harding said.