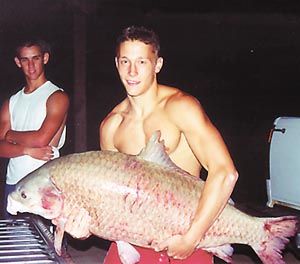 Photo special to The Eagle
Countless people will return from their summer vacations armed with stories about the one that got away — the surefire record-setting fish that snapped their line or managed to steal the bait.
James Harris made sure his big summer fishing story had a happier ending earlier this month by taking matters in to his own hands. Literally.
Harris snatched a 65-pound carp with his bare hands July 7 in a stock pond at a friend's ranch.
Harris, his twin brother, Kent, and some friends were riding a jet ski at Howard Cargill's C6 Ranch just before sunset when they noticed a large fish swimming around them.
They had no idea how big the fish was, James Harris said, but he decided to try and catch it.
"We saw the carp swimming up, swirling around the top. Me and this other dude saw it and were messing around with it, but we didn't think we could catch it," Harris said. "Then it swam by me and I just jumped on it."
Harris, 18, said he was about waist-deep in the water and got his arms around the fish's large body, which took away the carp's ability to fight. He then walked it up to the shore as his friends stood and watched.
"I had a pretty good grip on it, but it was so fat," he said.
Harris doesn't know if his catch would was a record, but it is bigger than some carp posted on some lists of Texas' biggest fish.
Texas Parks and Wildlife list records for three different species of carp, ranging from 90 pounds for a bighead carp to 34.63 pounds for a common carp.
After posing for pictures with the fish, Harris, who graduated from Bryan High in may and will attend Texas A&M University in the fall, released the fish back into the pond, where the ranch owners figure it must have been living for at least 20 years.
He said some people around the ranch recalled something large brushing up against a swimmer's leg a couple of years ago, but nobody would have guessed there was a fish that large living in the stock pond.
"That was a big fish," he said. "I'm not so sure it wasn't the same fish."