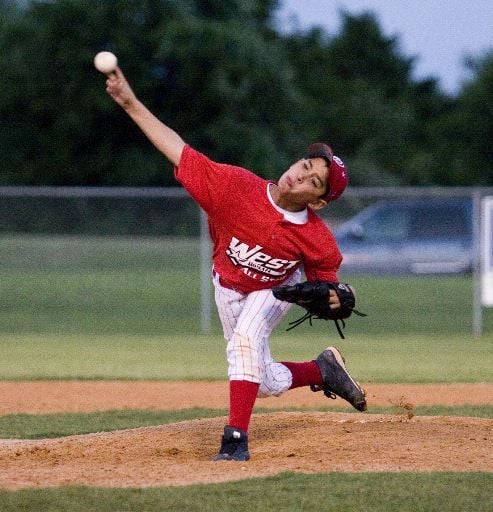 Bryan West 1, College Station American 0: Tutti Zamora knocked in Andre Allen as Bryan West scored in the top of the seventh to win an extra-innings pitchers' duel against College Station American 1-0 at Southwood Valley on Friday night.
Willy Amador pitched the first six innings for West, nothcing 12 strikeouts. Reliever Chuy Contreras worked the seventh to get the win.
West, 1-1 in pool play, got hits from Steven Savala, Allen Quintero, Amador and Contreras.
American starter Blake Price pitched six scoreless innings. Second baseman Alex Lampo led the defense for CSA, which moved to 1-1 in pool play.
---
Bryan North 13, Bryan East 1: The Bryan North boys won their third consecutive game and clinched a spot in the District 33 bracket playoff with a 13-1 win over East on Friday at Bonham.
Chris Johnson pitched all five innings of the run rule-shortened game, earning the victory while allowing three hits and striking out eight.
Tyler Matcek collected a home run and a double to lead the North attack, and A.J. Pulliam also had two hits. North's other hits came from Cory Collet, Cooper Powell, Jeremy Pfuntner, Blake Akbari and Johnson.
Bryan Bagley produced the East run with a homer.
Pfuntner led the North defense with a fine diving play at second base.
North will finish pool play against Bonham at 3 p.m. Sunday.
---
Bryan Harvey 3, College Station National 0: Thomas Pharr allowed just one hit in five shutout innings, striking out six to lead Bryan Harvey past College Station National on Friday in pool play.
Zac Slaydon struck out one in an inning of relief to preserve the shutout for Harvey (2-0)
Pharr, Slaydon, Matt Muniz, Matt Fuller and Carson Bohler each had a hit for Harvey, which will face College Station American at 10 a.m. Saturday at Southwood Valley in another pool-play matchup.