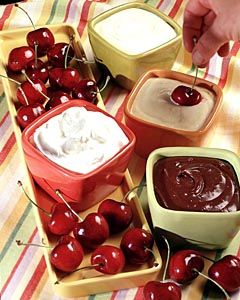 Life is like a bowl of cherries
• Life is like a bowl of cherries
This summer, life truly will be a bowl of cherries. A really big bowl, thanks to a record crop of Northwest cherries headed our way starting this month.
To make things even sweeter, record high temperatures in California caused the spring cherry crop there to ripen early. California cherries arrived in early May, about two weeks ahead of schedule. Those cherries were the light-red Brooks variety, but they soon will be followed by the Bings — the gold standard of cherries with their large two-bite size, dark-red color, sweet flavor and firm texture. The California Bings will last until early June, about the time that Washington and Oregon Bings will start arriving.
" For consumers, this will be a great summer for cherries," says B.J. Thurlby, president of the Northwest Cherry Growers, an association of farmers from Washington, Oregon, Utah and Idaho. Barring unexpected bad weather, he estimates the region's cherry crop this year will produce about 110,000 tons of fresh cherries. That's about 12 million of the 20-pound boxes that growers ship to supermarkets. Last year's record crop produced about 11.5 million boxes. Northwest cherries make up about 65 percent of the cherries grown in the United States.
Cherry prices should be about the same as last year, Thurlby says. Because it's early in the season, California cherries have been selling for about $5 a pound. As the harvest gets fully under way in the coming weeks, that should drop. The average retail price of cherries last year was around $2.59 a pound, says Thurlby, with some markets offering cherries for July 4 parties at a low $1.49 per pound.
The last decade has seen major changes in the cherry business, both in California and the Northwest, say cherry experts.
California growers have carved out a market for themselves in May and June by planting new varieties that ripen early. These new varieties, like the Brooks, are being planted south of Fresno, in a region of central California's San Joaquin Valley previously considered too warm for growing cherries. Stephen Southwick, an extension specialist with the University of California, Davis, who helped develop the Brooks cherry, says the variety tolerates warm weather better than does the Bing, which is grown at the cooler, northern end of the valley, around Stockton.
Acreage planted with the new varieties has been steadily increasing, thanks to the increasing demand for cherries in the United States and in Asia. "A lot of our best fruit never gets shipped to U.S. markets because Japanese and Asian buyers are willing to pay more for fruit," says Southwick.
The new varieties have allowed California to extend its cherry season by about a month, according to Jim Culbertson, executive manager of the California Cherry Advisory Board. That usually means that the California cherry harvest starts in early May. This year, however, it started at the end of April, thanks to the West Coast's record warm temperatures.
While California growers have worked to bring cherries to market earlier, Northwest growers have been working to make the season even longer.
" Cherry season used to end right after July 4. By July 15, we were finished," says Thurlby. But in the last five to six years, he adds, "growers have started planting later varieties so consumers can have cherries through August."
These later varieties include both red and yellow cherries. The red varieties are "Bing clones," Thurlby says, called Lapins, Sweetheart and Skeena. "They're all high-sugar, large-size and firm," he says. They're grown in the Washington mountains because the high altitude slows down ripening so they can be harvested late in the summer.